Try the royal suite – we dare you to live like a king (or queen)!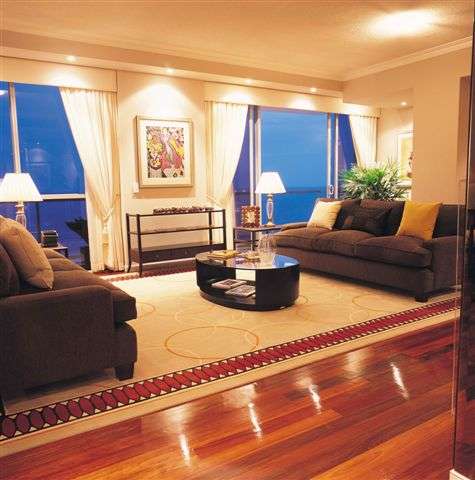 Space for 10 people and the ultimate in luxury holiday accommodation
Sometimes (if not always) when we go on holiday, we want to simply relax; other times we want to try out new experiences. Well, relaxation we can certainly promise you – all of our apartments, located in some of Surfers Paradises top resorts, are designed for relaxation and all the amenities of the resort are right on your doorstep.
New experiences? Well, we can provide those too and at a very affordable cost. On your next Gold Coast adventure why not come and try out 'how the other half lives'? There again, it's not really the 'other half' – probably better to think of it as the top one percent. But if you want the experience of coming to the Gold Coast and living like a king or a CEO, then we have the perfect deal for you!
Apartment 1362 on Level 36 of Skyline Tower 1 at the renowned Chevron Renaissance Resort is an immense (280m2) sub-penthouse apartment where you can really live like a king. Or better still, with the option to have your entire 'royal family' there with you.
This immense apartment has three bedrooms each with its own en-suite bathroom and with queen-sized beds in each of the bedrooms. The master bedroom has a full-sized spa bath as well as its own TV and DVD player. There is also a separate powder room for guests off the main lobby. Up to 10 people can fit easily into this apartment if you order the four extra foldaway beds available with your booking.
The living areas will take your breath away! Luxury and opulence surround you with no less than three separate living areas including an informal meals area as well as a formal dining room. The arrangement is ideal as adults can dine separately from the children.
The main lounge area includes a flat screen TV with full DVD entertainment unit plus Foxtel Premium. There is also unlimited Wi-Fi available in the apartment at no extra charge.
So what are you waiting for? Treat your family to the holiday they deserve and one they will remember for their lifetime. Go online to HRSP.com.au today and book this wonderful apartment for your own exclusive use; and if you want to feel royally magnanimous, invite others to join you.
The homage you get will be well deserved. The experience you get will be unsurpassed.