Book Surfers Paradise Accommodation in the tallest tower!
If you're considering a Surfers Paradise holiday, know you will have a lot to look forward to. Surfers Paradise is the holiday destination for all travel types; friends, families and couples will have no trouble filling up their holiday itinerary. In fact, if anything you'll have trouble narrowing down the options!
But what about accommodation in Surfers Paradise? With so much on offer, it can be even more difficult selecting the right accommodation for your requirements, and budget. Fortunately, HRSP has just the answer. Our luxurious holiday apartment at Unit 4204 offers you the ultimate holiday experience that you will cherish for a lifetime.
The Resort
When you choose to stay in Apartment 4204, you will have the prestige of staying in one of the world's tallest residential towers. You can enjoy magnificent panoramic views of the Gold Coast, which is unmatched elsewhere in Australia.
The resort itself is luxurious and elegant to say the least. Some resort facilities include indoor and outdoor pools, a gymnasium, steam rooms, spas and saunas and a children's games room. The resort also offers BBQ facilities and features conference and meeting facilities. With an on-site dining precinct, convenience store and salon, you need not even step out to enjoy a great holiday!
Stay at Apartment 4204 and you get access to all these world class resort facilities and amenities.
Apartment 4204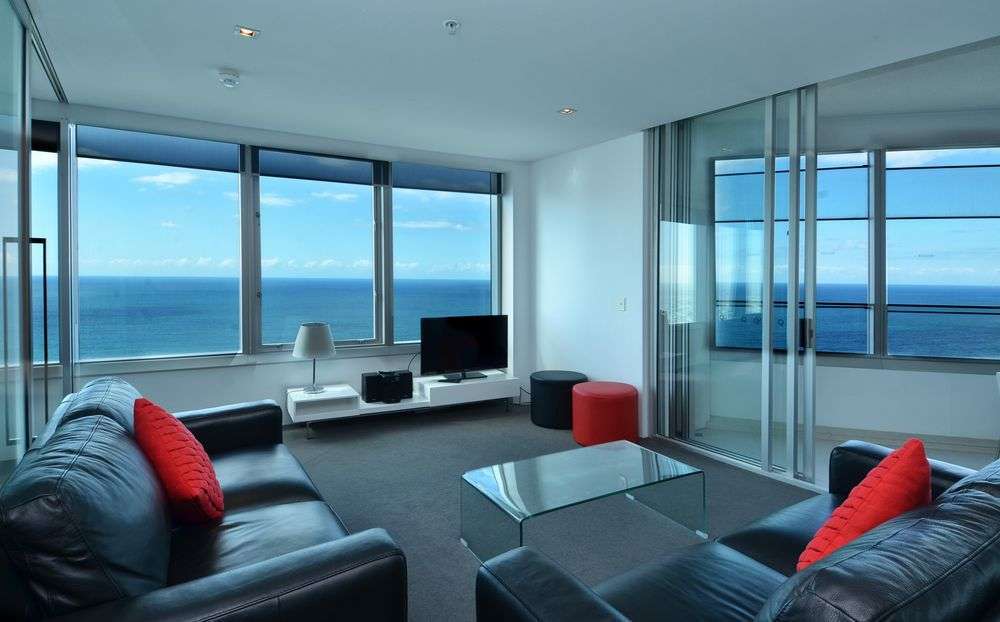 Apartment 4204 is a stunning 2-bedroom apartment that sits high above the rest of Surfers Paradise on the 42nd level. The apartment offers unobstructed views of the Pacific Ocean which will add a lot of charm to your holiday. Modern and sophisticated, Apartment 4204 is packed with superior amenities to make your holiday experience much more memorable.
This spacious, air-conditioned apartment includes Foxtel premium, entertainment systems, free car parking, a gourmet kitchen, laundry facilities and more!
The master bedroom of this unit features a queen bed, a walk-in wardrobe and an ensuite bathroom. The second bedroom is equipped with two single beds and shares access to the common bathroom.
For such an upscale apartment, Apartment 4204 is available for just $225 per night when you book through HRSP. Good luck finding such high quality private rentals at such prices elsewhere in Surfers Paradise!
Take a look at what one of our guests had to say about their stay:
"My family and I spent 4 nights at Q1 Resort, Apartment 4204 during our last Christmas holiday. The apartment was fantastic and everyone in the family absolutely enjoyed the stay. The apartment was easy to locate and convenient to access to various attractions. A free complementary car park was a bonus. The actual apartment was as advertised on the website, nothing less. Dealing with HRSP has been pleasant throughout the booking process from enquiry to confirmation." – Evelyn
Please note: Tariffs mentioned sleep up to 4 guests. Extra beds will be provided on request for a small additional fee.
So go ahead and book Apartment 4204 through HRSP.com.au. You can bet that you'll have a great holiday by staying with us!