Introducing Orchid Residences, Apartment 12103
Style, luxury, sophistication; these are just some of the words the come to mind when describing one our newest additions, Apartment 12103 at Orchid Residences.
Continue reading this article to discover what this apartment has to offer. Hopefully, after reading through, you'll consider booking this apartment for your upcoming holiday.
1. Upscale holiday accommodation in the heart of Surfers Paradise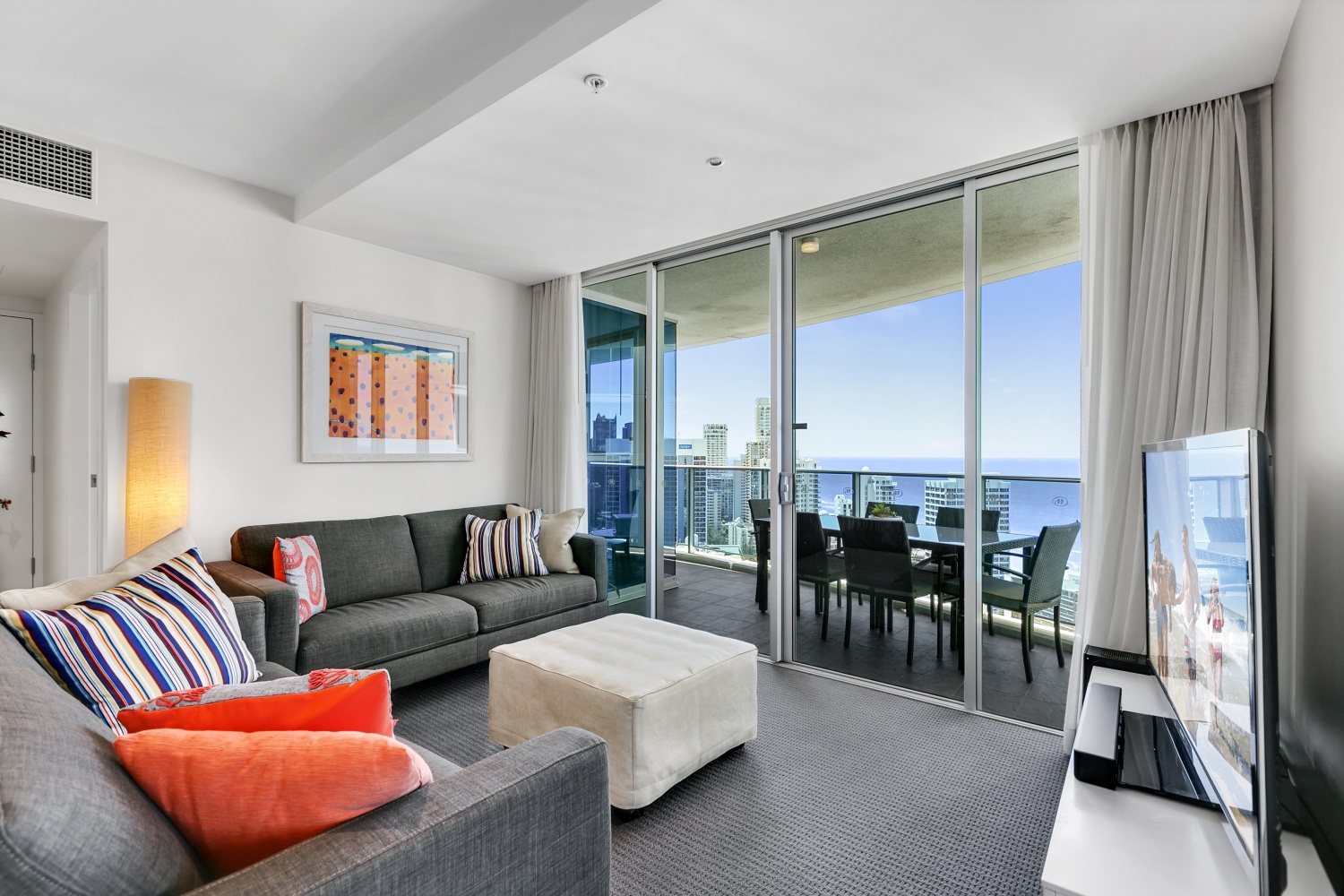 When it comes to the finest accommodation in Surfers Paradise, nothing beats Apartment 12103 at Orchid Residences. This sophisticated 2 bedroom apartment is located high above Surfers Paradise on the 21st level of Boulevard Tower of Orchid Residences.
Apartment 12103 is both completely self-contained and fully furnished. It includes 2 bedrooms, 2 bathrooms, a fully equipped kitchen, laundry facilities and separate dining and lounge areas. It is also fully air-conditioned and features stunning interiors and beautiful décor.
But that's not all! Apartment 12103 at Orchid Residences is also co-located within a 5-star hotel. And the hotel's facilities are just as impressive. By staying in Apartment 12103, you can enjoy the hotels spa and sauna, four swimming pools, two fitness centres, a theatre, BBQ facilities, onsite restaurants and bars and much more! Accommodation in Surfers Paradise does not get any better than this!
2. Stunning amenities and facilities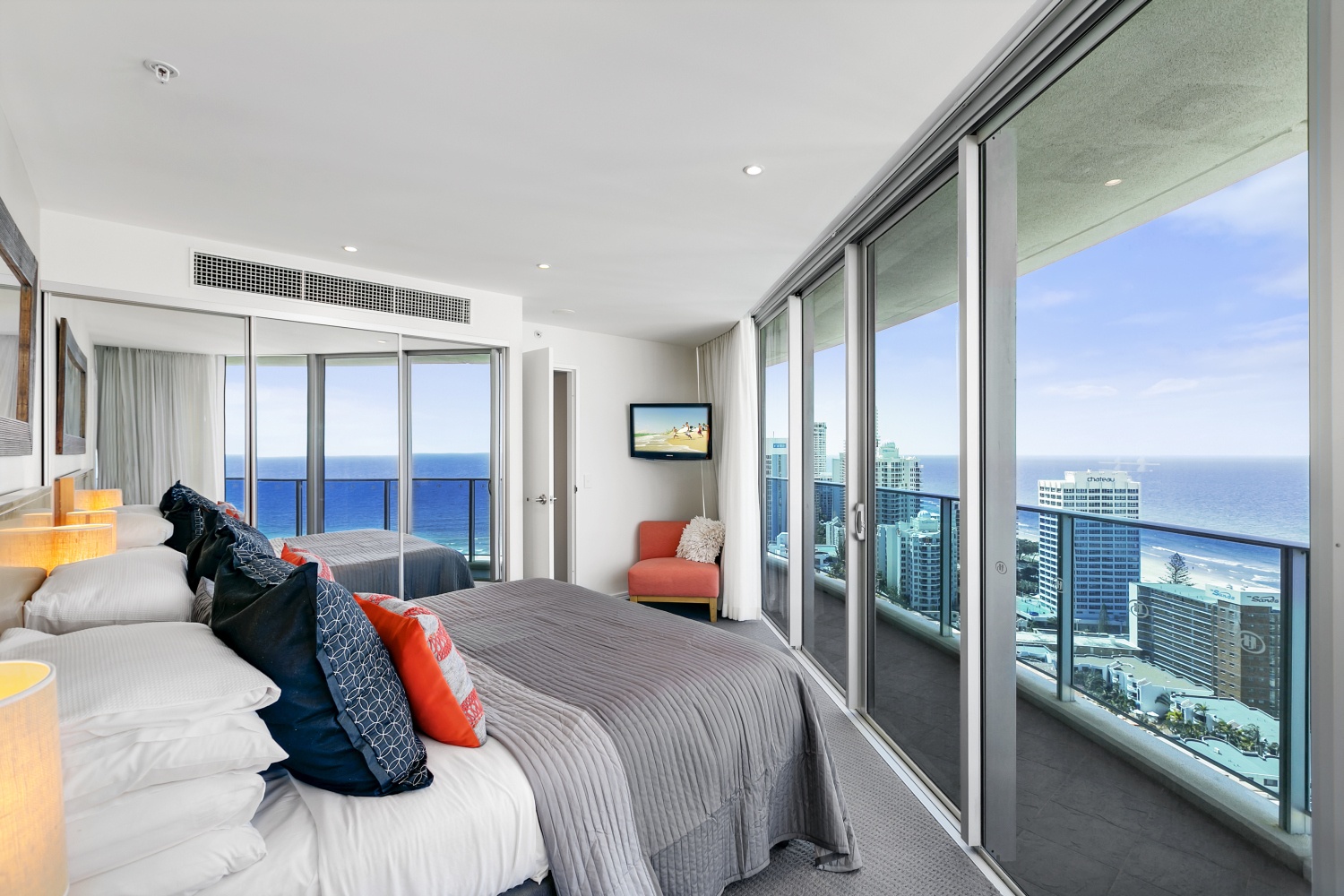 Should you choose Apartment 12103 as your Surfers Paradise accommodation, you can expect nothing but 5-star facilities and amenities. This should come as no surprise, given that Orchid Residences is co-located within a 5-star hotel.
Apartment 12103 is spacious and luxuriously designed. The master bedroom features a king bed and a full ensuite bathroom, while the second bedroom includes two single beds. Both bedrooms offer great views of the ocean and Surfers Paradise. The bathrooms feature elegant granite finishes and come complete with bathtubs, showers, toilets and hair dryers.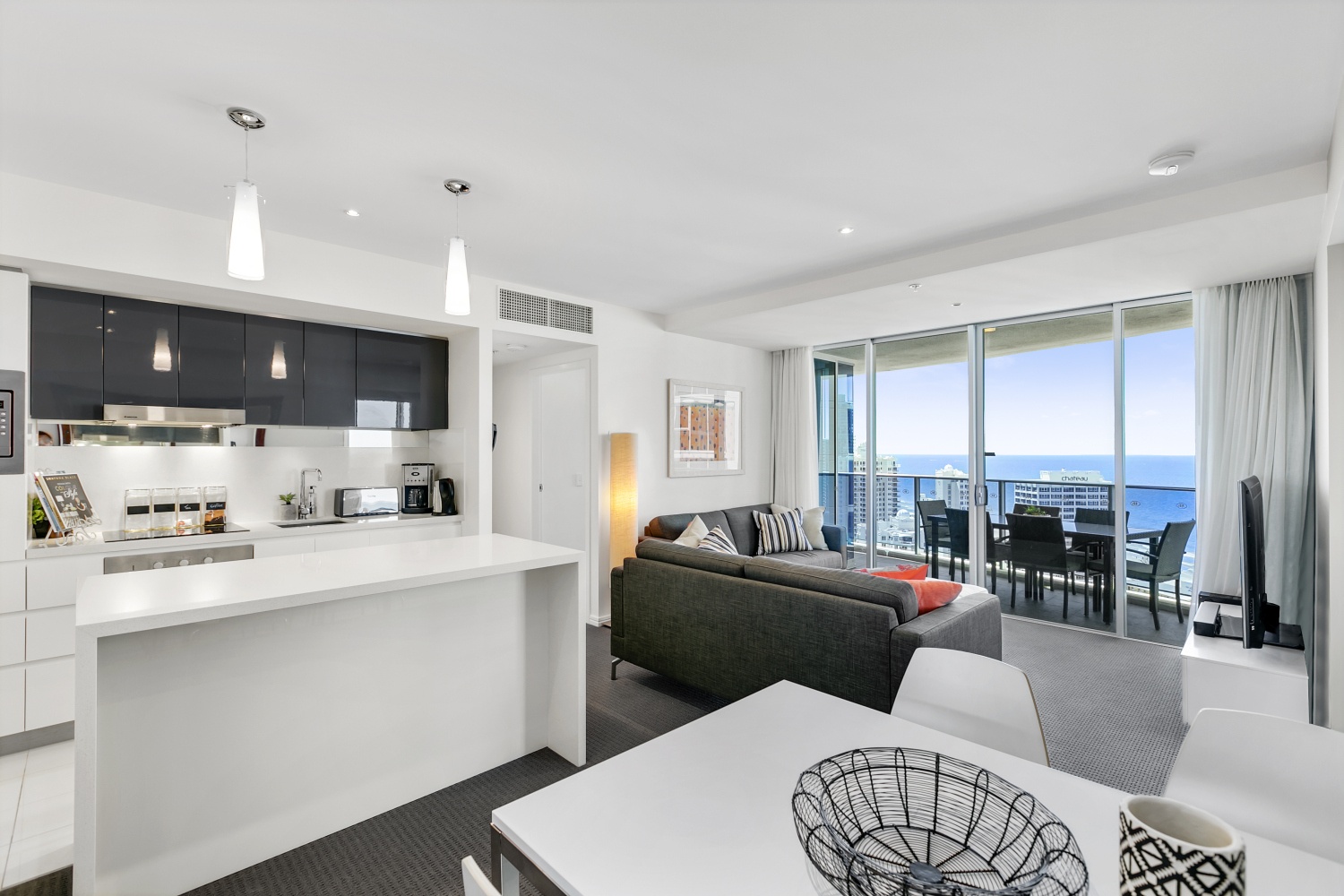 Thanks to the fully equipped gourmet kitchen, you can still enjoy home cooked meals on your holiday. Apartment 12103 also comes equipped with a washing machine and dryer, so you can take care of laundry duties as well.
Other notable highlights of this splendid apartment include free Wi-Fi, free Foxtel Premium, a flat screen TV, DVD player and other entertainment systems. You'll also get a free parking space for your vehicle along with this apartment. What more could you possibly want from your holiday accommodation?
3. Incredibly budget friendly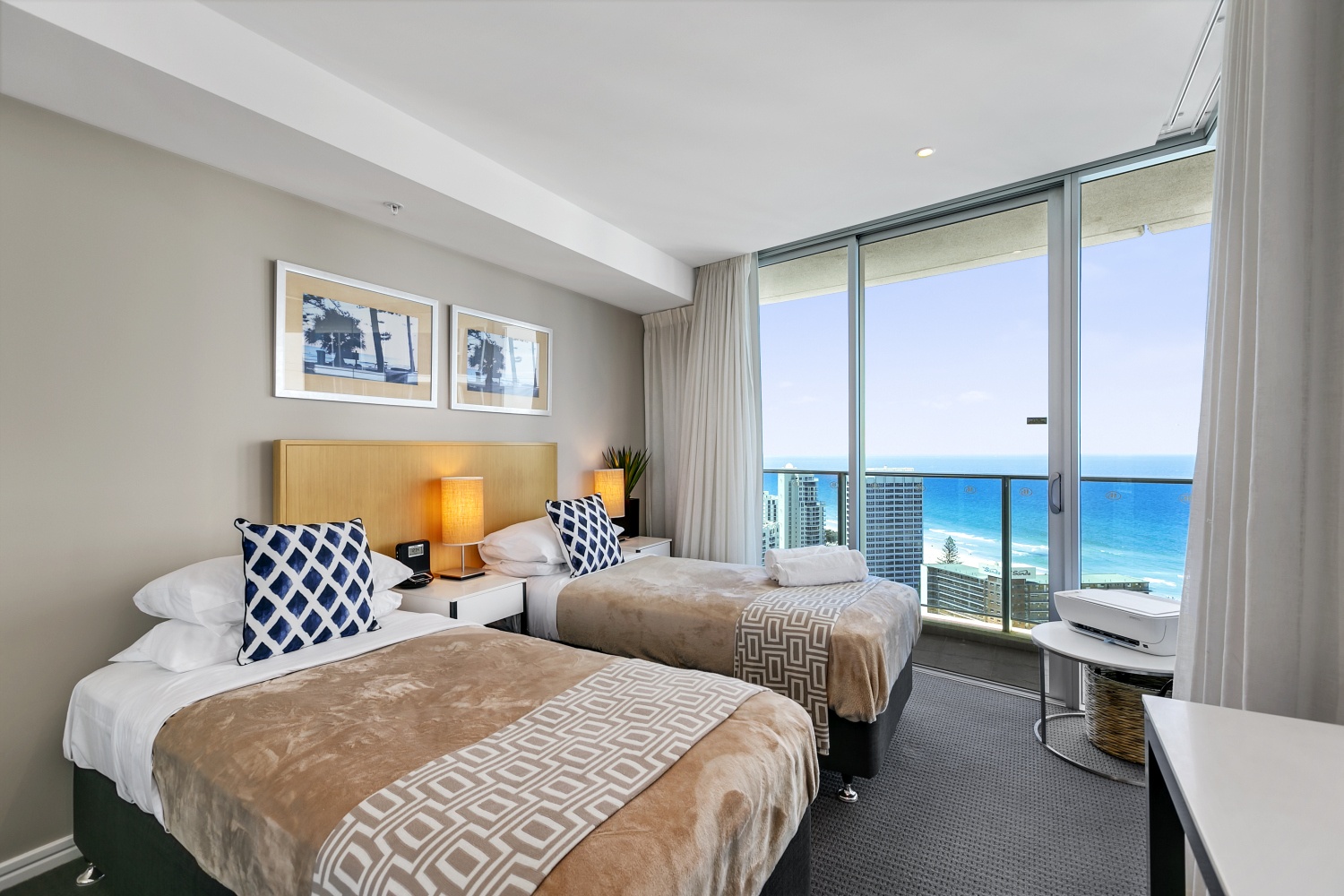 Apartment 12103 is undoubtedly one of the best apartments in Surfers Paradise. However, you need not empty your savings account just to be able to afford it. When you book through HRSP, Apartment 12103 can be yours for as little as $250 per night, that's just $62.50 per person! At such a low price, you cannot expect to find better accommodation elsewhere in Surfers Paradise.
Do take note that the tariffs mentioned sleep up to 4 guests. However, Apartment 12103 is spacious enough for you to accommodate 2 extra guests. Simply make a request for extra beds and these will be provided upon your arrival for a small additional fee.
Although Apartment 12103 has only recently come under our management, our guests seem to love it and you will too!
So, go ahead and book Apartment 12103 for your upcoming holiday to the Gold Coast. To make a booking, simply get in touch with us at HRSP and we'll gladly make you a reservation. You can also choose to make a booking online through our website.
Don't delay – apartments like these are always in heavy demand. Book Apartment 12103 today!