Serviced Apartment bookings on the Increase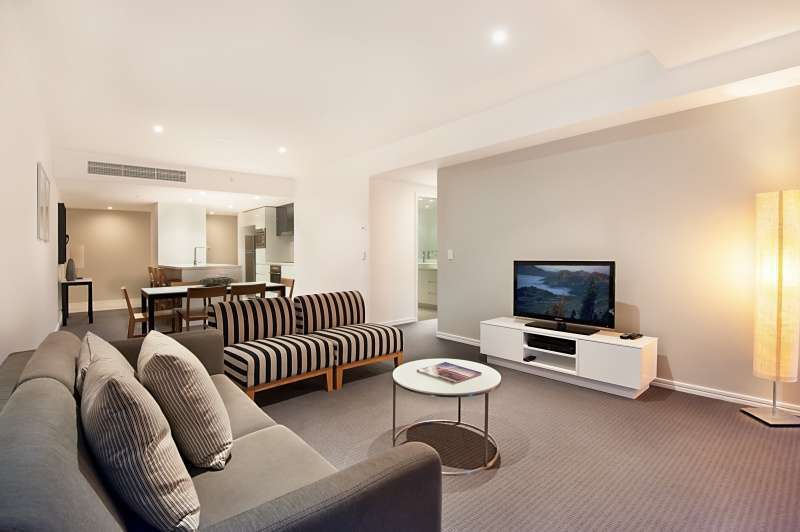 Gold Coast, being the home to some of Australia's finest beaches, world-class theme parks, and scenic attractions, is one of the most visited places in the country attracting both local and international tourists. Because of this, it is also the home to many different types of accommodation, which include hotels, resorts, holiday homes, and serviced apartments.
Serviced apartments are furnished apartments that are made available to tourists for short-term and long-term stays providing amenities for daily use. Because serviced apartments tend to be less expensive than hotel rooms and resort accommodation, more and more budget conscious tourists are leaning towards this type of accommodation for their stay.
On the Gold Coast, serviced apartments are used not just by holiday visitors but business travellers as well. They are designed to provide guests with a home away from home environment; all the necessities such as a kitchen and laundry are provided along with utensils and linen.  These apartments range from budget to deluxe and can be in the form of a studio apartment, to a two-bedroom or three-bedroom apartment; the larger apartments typically offer separate kitchen, living area, and bathroom. Because of the availability of laundry and kitchen facilities, extended stay apartments help guests save money that they would otherwise have to spend on restaurants and laundry services.
Serviced apartment bookings on the Increase

Serviced apartments offer several benefits to travellers. Aside from the fact that they are generally cheaper compared to hotel rooms, they are also typically more spacious. Because of this, they can be shared by two different couples for example, who are looking to save on their holiday expenses. They are also great for groups or family bookings. Here at HRSP.com.au we offer serviced apartments that can sleep up to 6-8 people for as little as $200 per night. This rate you certainly won't get from a hotel. Because of these benefits, serviced apartment bookings are steadily increasing.
Based on official figures released by Tourism Queensland, there were 97 serviced apartments± on the Gold Coast from June 2012 to June 2013. This represents a 2.1% increase compared to the same data gathered the previous year. Including the additional serviced apartments added during the said period, the Gold Coast had a total of 2,009,380 nights available to tourists in serviced apartments. This is a .2% increase compared to 2011-2012 period.
In the same period, of the 2,009,380 Gold Coast serviced apartments rooms available, 1,377,927 were occupied. This was a 3% increase on the previous year's occupancy rate. The total room occupancy increased 1.8% to 68.8%.
Meanwhile, Tourism Research Australia has forecasted steady increase of short-term tourists in Australia which could definitely lead to more demand on various types of accommodation including serviced apartments. According to the document, from June 2013 to June 2014, there will be a total of 8,846,000 tourists who will visit the country. 1,061,000 will be here for business while 5,134,000 will choose Australia as their holiday destination. Top 10 source markets will include New Zealand, United States, United Kingdom, Indonesia, Hong Kong, Singapore, Thailand, Malaysia, Fiji, and China.
For the 2014-2015 period, it was forecasted that there will be 5.6% increase in the number of tourists. This will increase to 4.5% and 3.9% for 2015-2016 and 2016 to 2017, respectively. By 2018, tourism is expected to grow another 3.6%.
On the other hand, based on 5-year average annual growth rate forecast (from 2013 to 2018), Australia's number of tourists is expected to rise by 4.7%. While the 10-year average annual growth rate from 2013 to 2023 is expected to increase by 4.0%.
Tips for booking serviced apartments

If you're going to Australia and if you're thinking of booking serviced apartments, there are certain things that you need to consider to ensure that you'll get the best one that will meet not just your budget but also your preference. First, pick a location that is in close proximity to all the attractions that you plan to visit so you can save time from travelling to and from your accommodation. Also, take the time to shop and compare to get the best prices. Although serviced apartments are already cheaper compared to hotels, you'll typically get the best deals if you book at least 2-3 months in advance. Lastly, book online from websites that offer you with complete details of the serviced apartments including actual photos and videos so you'll know exactly what you're getting.
Book the best serviced apartments through HRSP.com.au.
Here at HRSP.com.au, we provide some of the best serviced apartments in Surfers Paradise and on the Gold Coast that offer world-class amenities and stunning views. We have one-bedroom, two-bedroom, and three-bedroom apartments that can accommodate couples, families, and group of friends. Unlike other websites, we provide not just complete details of all our accommodation listings but also actual photos of the apartments and virtual tours. For questions, please email us at [email protected] and we'll get back to you ASAP. Also, make sure to follow us on Google for latest promos and updates.
± Establishments with fifteen or more units which mostly comprise self-contained units at the same location, and which are available on a unit/apartment basis to the general public for a minimum of one night. The units should have full cooking facilities (i.e. hot plates and oven/microwave), refrigerator and bath/shower and toilet facilities; all bed linen and towels should be provided, and daily servicing (i.e. cleaning and bed making) must be available through on-site management, although this service may not necessarily be used.
Related Topics