4 Events not to be missed this December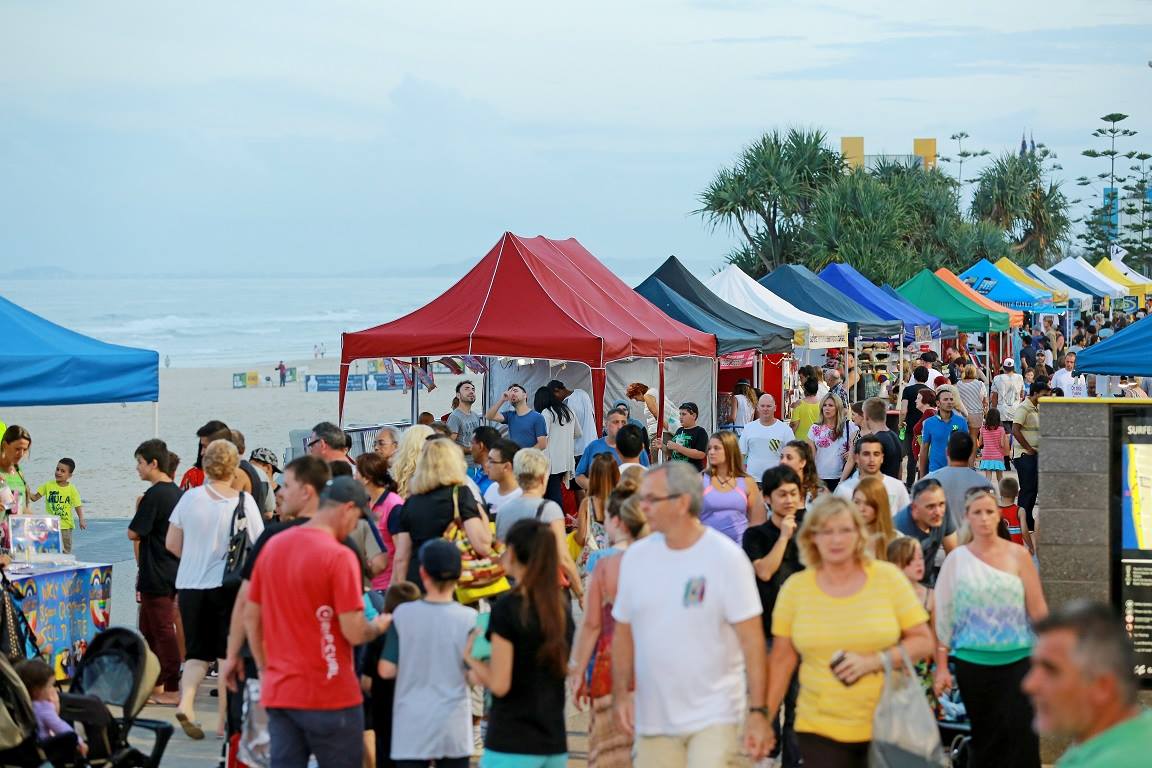 As a family planning a holiday to the Gold Coast, there is no better time to visit the region than December. The Christmas month brings with it a true holiday spirit like no other. With kids on a holiday, there are many Gold Coast events and attractions catered just for them.
Continue reading this article as I list 4 family friendly events on the Gold Coast this December. These events have something in store for all members of the family. Spend your Christmas holiday on the Gold Coast and your family will love you for it!
1. Surfers Paradise Beachfront Markets
Whether you're brought your family or a group of friends on holiday with you, the Surfers Paradise Beachfront Markets are not to be missed. With over 120 different types of stalls, these markets are the largest night markets on the Gold Coast. You will find jewellery, fashion and accessories, artwork, home wares, beauty products and much more at these markets. Live entertainment and street food is also very popular at these markets.
The Surfers Paradise Beachfront Markets are held every Sunday, Wednesday and Friday night from 4pm to 9pm at The Foreshore. Make sure that you drop by these markets on your December holiday for a wonderful experience.
Visit the website for more information.
2. Surfers Paradise Park Run
Are you an outdoor enthusiast? Even if you're not, the Surfers Paradise Park Run is one event you must attend if visiting the Gold Coast this December. This 5km run across the pleasant parklands of Surfers Paradise makes for a truly relaxing and enjoyable experience. A free event that is open to everybody, this park run is the perfect way for you to experience the beauty of Surfers Paradise.
The Surfers Paradise Park Run takes place every Saturday from 7pm onwards at the Evandale Park. We encourage you to take part in this event by yourself or with all your buddies.
Visit the website for more information.
3. Gold FM Live
Fond of live music are you? Well, December is the perfect time for you to visit the Gold Coast thanks to the Gold FM Live concert. After a successful show last year, Gold FM is back this year with 10 incredible artists. This show will be a 3-hour long event where you can enjoy popular numbers from the 70s, 80s and 90s. Grab your tickets for a night of fun to sing along and have a good time with your mates!
Gold FM Live is scheduled to take place on Saturday, December 3 at NightQuarter from 4pm to 10pm. Tickets for this event are priced at $89.
Visit the website for more information.
4. Centre of Christmas
The holiday season is always well celebrated on the Gold Coast and this year is no different. The Centre of Christmas is one magnificent event that will make you fall in love with Australia's playground. This event will feature various attractions, ranging from a great buffet, premium beverages and an amazing audio-visual experience. With live entertainment and lucky door prizes, this event will offer the ultimate party atmosphere which you mustn't miss out on.
Centre of Christmas will be held on Friday, December 9 from 7:30pm-11:45pm at the Gold Coast Convention and Exhibition Centre. Tickets will cost you $149, while a table for 10 is available for a discounted price of $1,400.
Visit the website for more information.
For a great holiday on the Gold Coast this December, you'll want the best accommodation. Thankfully, HRSP has you completely covered. We offer luxurious private rentals in top resorts and hotels on the Gold Coast. The best part about us is that our holiday apartments are incredibly affordable. By staying with us, you can make the most of your holiday dollar.
Book your Christmas holiday accommodation at one of the finest hotels or resorts on the Gold Coast through HRSP. Book with us online or get in touch with us to make a reservation today!