8 things to cross off your Gold Coast Bucket List before 2017
If you're planning a Gold Coast holiday this year, then you have many exciting things to look forward to. While you can certainly visit the top tourist destinations, you should rather indulge in a few other activities before 2017.
Here are 9 things to cross off your Gold Coast bucket list before this year ends. Make sure to try out them all!
1. Cool off at Mt. Tambourine
Beat the summer heat by cooling off at Mt. Tambourine. You can grab a $20 beer from Fortitude Brewery and visit Witches Chase Cheese Deli for a triple cream brie whilst you're there.
2. Have breakfast in Burleigh
Sure, Surfers Paradise has several great places to have breakfast. But if you ask me, you'll find the best breakfast on the coast in Burleigh!  Just a short 15-20 minute drive from Surfers, you certainly won't regret making the effort to head south!
3. Taste wine at Pier or Glass
With breakfast covered, head to Marina Mirage's Pier or Glass for the finest wine on the Gold Coast. Just 10 minutes south of Surfers Paradise, Marina Mirage is accessible and well worth the trip!
4. Visit Hideaway Kitchen and Bar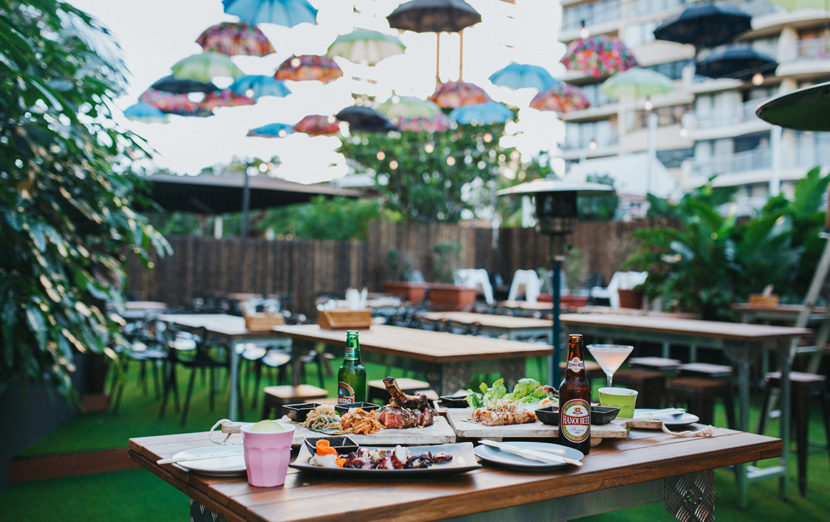 Gather all your friends and hit Hideaway Kitchen and Bar – the Gold Coast's best destination for Sunday sessions. You will certainly love the relaxing vibes and great menu that this Broadbeach restaurant has to offer.
5. Grab cheap eats at the local markets
Looking for cheap eats? The Gold Coast's local markets have you covered. Eat yourself into a coma at NightQuarter Markets or the Miami Marketta. With great, cheap food and free entertainment, you really can't go wrong.
6. Have coffee and treats at Dust Temple
Head to Currumbin for some great coffee and treats at Dust Temple. Thanks to renovations, the place looks great and provides a comfortable atmosphere. I'm sure you'll start an impromptu photo session while you're there.
7. Drop by Eddie's Grub House
You'll simply love the amazing burgers and brews that are served at Eddie's Grub House in Coolangatta. With great beer, whiskeys and fried chicken, you're sure to have a great time at this eatery.
8. Visit Crazy Cat Cafe
Whether you're a cat person or not, you mustn't miss out on Crazy Cat Café in Surfers Paradise. This unique café offers a great, relaxing atmosphere where you can enjoy the company of resident kittens. Grab a coffee and a quick bite and enjoy lounging with the friendliest breeds of cats there.
All destinations that I've listed above lie close to our Surfers Paradise accommodation. Choose to stay with us and you'll find no problems getting to any of these destinations. So, hurry and book your accommodation while it is still available!