The ultimate thrill seeking GC holiday!
If you're an adventure lover, then you certainly have a lot to look forward to on your Gold Coast holiday. Feel the rush of blood pumping through your veins by taking part in these ultimate adventure activities on the Gold Coast.
Sky Diving
Sky diving from 14,000 feet in the air is the best extreme sports activity to be enjoyed on the Gold Coast. Jump from a plane to enjoy magnificent views of the coastline and hinterland before you land on the Kirra beach. Head over to 78, Musgrave Street to enjoy the Gold Coast Skydive.
Paradise Jet Boating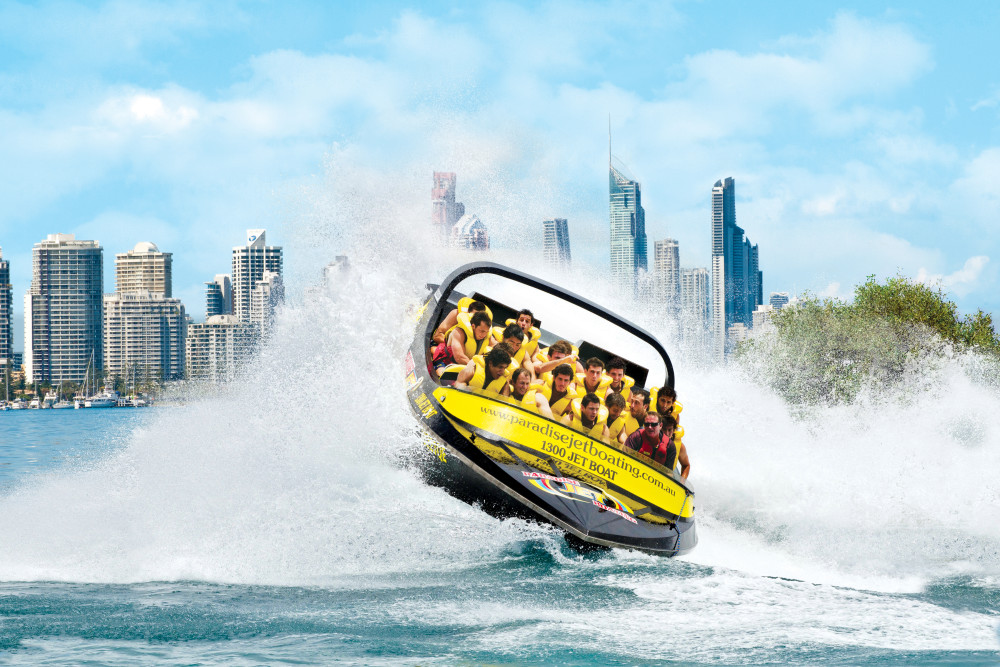 Plough through the ocean waters at speeds of 80kph on a jetpack, a jet board or a jet bike adventure. At the Broadwater, you'll find a number of jet boating companies that will offer you a great water sport experience. Experience a fast paced adventure with magnificent views of waterfront mansions, local scenery and golden beaches by jet boating on the Gold Coast.
SkyPoint Climb
The SkyPoint Climb is a 270m high climb to the top of the Q1 tower in Surfers Paradise. Best enjoyed in the twilight, take this climb to experience 360° views of the hinterland and the coastline.
Yak 52 Adventure Flight
Gold Coast Adventure Flights at 78, Musgrave Street will take you on an amazing journey over the Gold Coast in a Russian military aircraft. View the magnificent skyline upside down as the aircraft performs barrel rolls and loops 6,000 feet high up in the air at speeds of 300 kph.
Hang Gliding
If you've ever wanted to soar like a bird, then hang gliding is for you. You don't need any prior experience for a hang gliding adventure. Simply head down to SE Queensland Hang Gliding for mountain flights off Mt. Tamborine and enjoy the beautiful Gold Coast hinterland with a bird's eye view.
WRX Rally Driving
For those who love noisy machines, WRX rally driving offers a great adventure. Pump your adrenalin with this high octane rally car driving experience on a gravel circuit off road.
Kitesurfing
Strictly for the adventurous, kitesurfing is an excellent water sport adventure you can indulge in on the Gold Coast. Be warned though – you need nerves of steel and great upper body strength to be able to manoeuver a kite high up in the air. You can book a lesson with a kitesurfing school and take part in this thrilling adventure.
After you've enjoyed a day of action on the Gold Coast, you need to relax and wind off. By booking your accommodation with us at HRSP, you will be able to do just that. Furthermore, book today using our exclusive D10 discount code and enjoy 10% discount on your Gold Coast accommodation.