5 Reasons to stay at Chevron Renaissance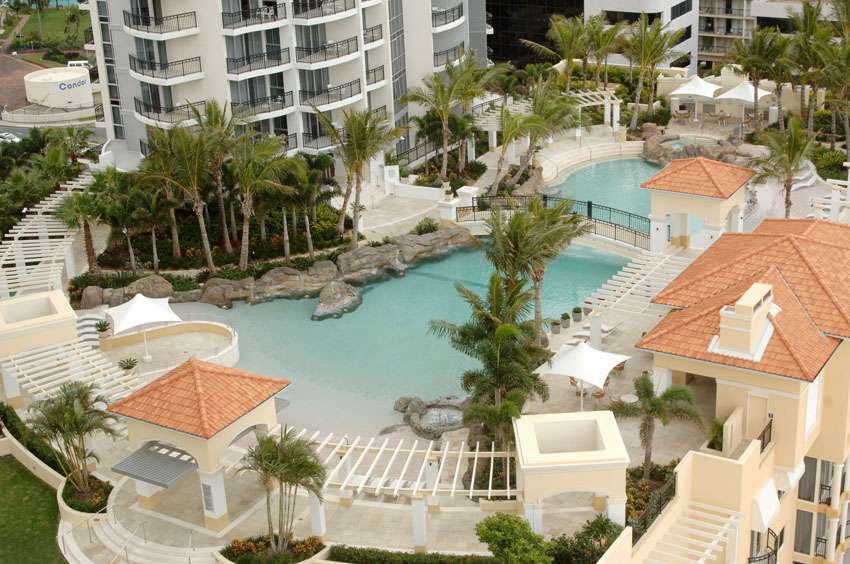 If you're looking for luxury accommodation in Surfers Paradise, look no further than the Chevron Renaissance. The sprawling towers of this holiday resort offer relaxing accommodation close to the beach and other tourist attractions in Surfers Paradise. Incredibly popular, this resort is family-friendly and is also suitable for groups of friends on a Gold Coast holiday.
Chevron Renaissance certainly has a lot to offer. With an array of facilities, world class luxury apartments and a shopping precinct all located in the same resort, you really cannot go wrong in choosing Chevron Renaissance as your holiday accommodation. To state this point further, here are some more reasons why the Chevron Renaissance should be your first choice when it comes to Surfers Paradise accommodation.
1. Ideally located
Located right in the heart of Surfers Paradise, Chevron Renaissance is certainly ideally located. By staying at this resort, you will enjoy spectacular views of the hinterlands, the Pacific Ocean and the Nerang River. Moreover, you will just be a 2 minute walk away from the golden sands of Surfers Paradise beach. Chevron Renaissance is also just a block away from Cavill Mall, which contains an array of dining, shopping and entertainment options.
2. World class facilities and amenities
Chevron Renaissance is rated as a 4½ stars, AAA resort which offers world-class facilities and amenities. While Chevron Renaissance has its very own shopping and entertainment precinct located right below the resort, it also offers stunning holiday apartments for you to stay at. Furthermore, by staying at any apartment at Chevron Renaissance, you can also enjoy all resort facilities as well. As a fully gated resort with on-site security, it also offers a games room, a heated indoor pool, a lap pool and an outdoor swimming pool. Chevron Renaissance also features poolside entertainment and BBQ areas. With landscaped meditation and exercise areas, a gymnasium, a spa and saunas, you really couldn't wish for more from any Surfers Paradise accommodation.
3. A range of luxurious apartments to choose from
At HRSP, we manage over 25 apartments in the Chevron Renaissance. When you choose to book an apartment with us, you get to choose which of these luxurious apartments you want to stay in. Every apartment that we manage is individually furnished with quality interiors and each features a range of entertainment facilities for your enjoyment. You apartment at Chevron Renaissance will definitely add a lot of charm to your Gold Coast holiday.
Chevron Renaissance, Apartment 2392
4. Surprisingly affordable
While our apartments at the Chevron Renaissance are certainly luxurious, you will be surprised to know that they are available at incredibly affordable prices. Our 2 bedroom apartments are available upwards of just $89 per night, while our 3 bedroom apartments start at prices as low as $135 per night. Good luck trying to find such quality accommodation at such budget friendly prices anywhere else in Surfers Paradise! Furthermore, we're offing a special 10% discount off all accommodation by simply entering the coupon code D10 when booking through our website. Why book anywhere else?
5. Because guests love it!
Guests who have stayed with us at Chevron Renaissance have simply loved their accommodation. To quote Graham Burns, who recently stayed at Apartment 3134 at the Chevron Renaissance, "My family had a wonderful time in 3134, we are planning another trip soon because my kids loved it so much. This apartment was spacious and well equipped. Thanks for a wonderful holiday." Graham is only one of our several happy and satisfied customers to have stayed at the Chevron Renaissance.
So go ahead and book your Surfers Paradise accommodation at Chevron Renaissance. With a range of 2 and 3 bedroom apartments to choose from, you'll definitely find what you're looking for. Best of all, these luxurious apartments are available at incredibly affordable prices, and even more so when our D10 coupon code is applied. Forget about booking accommodation at a hotel – you'll get much better from this holiday resort.
To book an apartment at the Chevron Renaissance, get in touch with us at HRSP. You can also choose to make your booking online. We will be extremely glad to have you over at our apartments. If you have any doubts or queries regarding a booking, do get in touch with us and we'll be happy to help you out.