Accommodation on the Gold Coast; the 2nd most visited QLD region
The Tourism and Events Queensland have just released their latest statistics, which, among other things, list the Top Domestic Visitors by Region. Flying high at #2 is our very own Gold Coast! I wouldn't be really surprised with that. Our local government has been working really, really hard to draw visitors with campaigns such as It's Live in Queensland.
We also have plenty of super-awesome attractions and activities to offer, whether you prefer the city, the forest, or the waters. There's always something special waiting for you.
Completing the list behind the Gold Coast were Sunshine Coast, Fraser Coast, Southern Queensland Country, Southern GBR, Mackay, Whitsundays, Townsville, Outback and TNQ.
It's worth mentioning some other results of the report. For example, in terms of region, Queensland ranks second in the list with 25.7% share of visitor expenditure. Taking the first spot is New South Wales at 28.5%.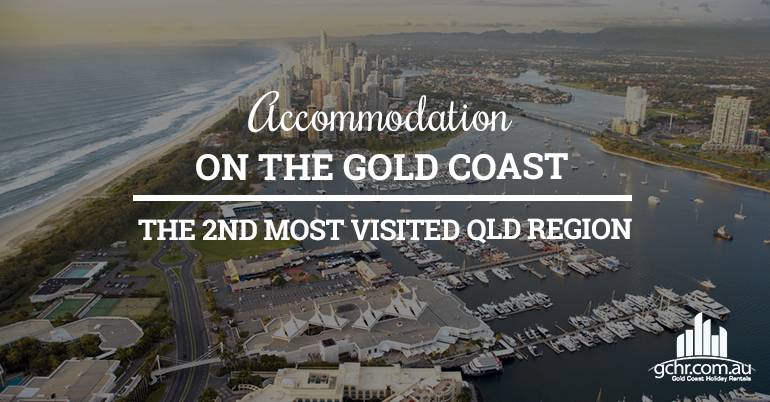 So in light of this information, I thought I would create a guide to help you find accommodation on the Gold Coast, because if these findings are anything to go by, no doubt, you or a friend of yours will be visiting our region very soon. But before I go into this, I bet you're wondering who topped the list? Well, it was none other than our neighbour, Brisbane.
Accommodation Guide
Here's the handy accommodation guide that you've been waiting for! This is a series of questions that you should ask yourself to help you choose not just the best, but the right accommodation on the Gold Coast.
How many are traveling?
Some people think that it's easier to travel alone, but it's not. You have to trust me on this; I've been a single traveler many times over the years. Finding accommodation for one can be expensive as you don't want to end up paying for a room that's meant for two! It's really a waste of money.
It's also interesting if you're traveling with a group of say, 5 or more. Of course, you'd like an apartment that will hold everyone, but this too can be difficult to find. If you can pull it off and find accommodation on the Gold Coast that sleeps 5+, then you'll find great savings.
When are you coming?
One of the best things about Gold Coast is its climate. It's generally subtropical and humid, which means it's a very pleasant weather for most times of the year.
Nevertheless, you may want to watch out for the rainfall and thunderstorm during the summer, especially in the months of January to March. Rainfall can last for a few days, and although many options for accommodation on the Gold Coast have swimming pools and other facilities to help you while away the time, rains can still dampen your spirit and delay tours, among others.
The winter months from June to August are some of the best times to be here. It's considered to be part of the off-season, which means there are only fewer tourists around but the weather is generally pleasant with the least amount of rain. It's hot in the morning until the afternoon and cold in the evening, a perfect time to enjoy a coffee or tea in the balcony or near the beach.
On the other hand, if you're one of those who get energised by crowds, you may want to visit the Gold Coast during the middle of October all the way to January. Around this time, schoolies are on a break, there are plenty of festive activities such as the Indy 300 motor race, it certainly is a great time to plan a visit.
Where should you stay?
You have many choices for accommodation on the Gold Coast. These include hotels, apartments and resorts which we offer here at HRSP.com.au while you can also find health retreats, holiday homes and backpackers across the region. I'd like to bring your attention to three types of accommodation.
In Surfers Paradise you're best options are hotels and apartment. Hotels have a great location and awesome amenities, but what sets them apart—and I think the strength of apartments—is that they are not self-contained. I sometimes find hotels to be a bit impersonal. They are typical "home away from home but not quite."
Apartments on the Gold Coast are usually found in great locations (often amongst the hotels), and many are privately owned and managed through a holiday rental company like us here at HRSP.com.au. The great thing about apartments is that they're self-contained, so you can really feel at home and enjoy a great deal of privacy.
Lastly, health and wellness retreats, which are usually located about 30 minutes to an hour away from the city centre. They are found in large acres of land, surrounded by lush forests or the hinterlands, where guests can enjoy nature walking. They also normally have their own farms where they grow their own organic food.
How much is your budget?
Budget matters when you're on a Gold Coast holiday, especially when you're in Surfers Paradise. Accommodation on the Gold Coast is strategically located either close public transport or an attraction. The more comprehensive the facilities are, the more expensive the accommodation will be.
The other factors mentioned such as the time you'll visit and the number of people visiting will also have some weight. While you can split costs among the group, you may end up spending a lot when it comes to accommodation, especially if you have to book two or more rooms. This is usually the situation in hotels where around 2 or 3 people are only allowed.
Fortunately, many apartments on the Gold Coast can accommodate a generous amount of people. Our 3 bedroom apartments at Crown Towers, for example, can fit up to 8 people comfortably, all for only $200 a night, that's just $25 per person, per night; certainly a budget anyone can afford.
Location
There are a couple of things to keep in mind when trying to determine the best location for your accommodation on the Gold Coast: nearness to attractions, the types of public transport nearby and the kinds of activities you wish to do.
If you're in Surfers Paradise, for example, you want your accommodation to be only a few metres away from Cavill Avenue. This avenue is very close to the beach, which is famous for its surfing waves and several water-related activities. This also means you're close to the shopping and entertainment district of the suburb. There's, in fact, a shopping centre that is also very close to the beach.
If you're not planning to hire a car, it's best to find an accommodation that is close to a public transport such a bus or the new G:Link light rail. Some apartments are only a few steps away these modes of transport, helping you save time and money.
What kinds of facilities are you looking for?
If you're in town for business, surely you'll be looking for accommodation on the Gold Coast that offers business facilities like a free wifi, a computer station, a phone that can call long distance and a fax machine. There are plenty of hotels and apartments that offer such service; Orchid Residences, Apartment 4204, Circle on Cavil, the list goes on.
If you have children, I recommend resort-style accommodation with perhaps a couple of swimming pools for the kids, water slides, some good restaurants, kids club and even a child-minding service in case you have to take care of something during your holiday. For this, again Crown Towers is perfect.
For a comfortable and hassle free stay, make sure that your accommodation has a parking space for you and a 24/7 security. For the best holiday, find those with relaxation services like a massage, spa, sauna, or gym. Accommodation with a barbecue area, a bar, a garden, or tour desk won't hurt either.
What do you want your room to be?
First, you want your room to be spacious. There's nothing great about booking accommodation on the Gold Coast only to find that your room is so small that you can't even move.
I suggest that you stay in a self-contained apartment so you always have the option to prepare your own meals or do your own laundry. Self-contained apartments help you save more money. All apartments we offer are self-contained so you can enjoy your days, and kick back and enjoy your evenings in.
Although it's not really necessary, a wide balcony with a sweeping view of the ocean, the hinterlands, or the river can make any holiday even more memorable.
Conclusion
As the second most visited Queensland region, why wouldn't you want to visit? It's just one of the many ways to validate that we're doing a mighty good work and that we're making plenty of people, both locals and foreign tourists, extremely happy during their stay.
But there's one thing missing: you. If you haven't been here yet, come and visit us soon. If you have, allow us to help you find accommodation for your nest stay so you can have an even more pleasant and fabulous time on the Gold Coast. When it comes to finding accommodation on the Gold Coast, you can't beat HRSP.com.au.
Related Topics