Apartment 4204 Gold Coast popular choice for increasing international visitors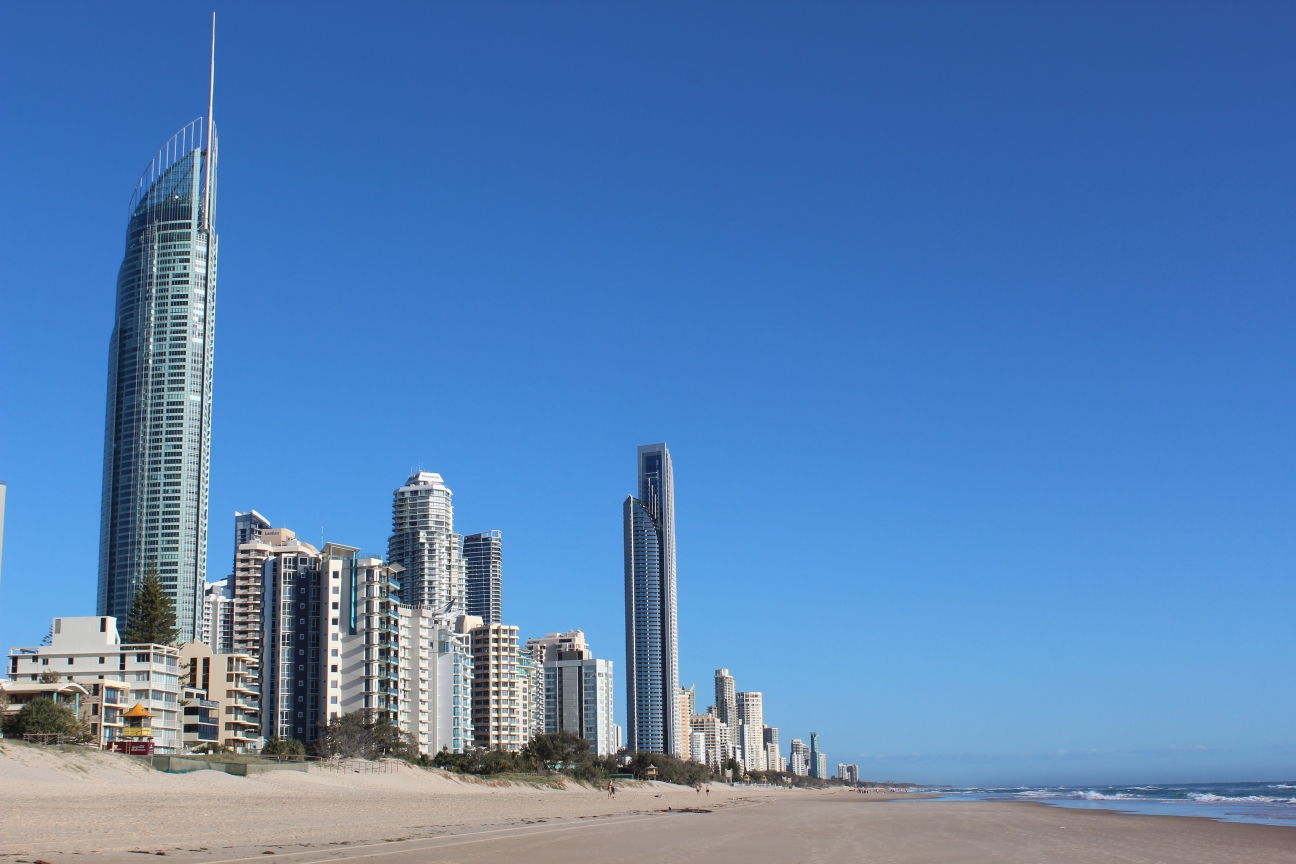 Do you love the Gold Coast? We certainly do love our city, and it looks like we're not the only ones! According to a tourism report for Queensland, the number of overnight international visitors has jumped to 5.5% or 810,000. That's certainly good news since it means many more discovering the beauty of the Gold Coast and Surfers Paradise.
But in case you're wondering where many of them are staying, I'll give you a hint—well, okay, I'll spare you the trouble. There are actually so many fantastic choices; one of the most famous accommodation options is Apartment 4204 Gold Coast.
In this article, I'll show you the many reasons why so many have fallen in love with Apartment 4204. I am also pretty confident that by the time you finish reading this article, you'll too want to stay here.
It is the tallest residential tower in Surfers Paradise
In Surfers Paradise, the trend is skyscrapers: the taller they are, the better they look! However, so far, no one holds the distinction of being the tallest residential tower other than Apartment 4204 Gold Coast. Booking this amazing resort as your Gold Coast accommodation gives you instant bragging rights. Most of all, you have plenty of apartments to choose from—and trust me, there are definitely plenty, but we'll get into that later—and you have amazing views of the hinterlands, the oceans, and the sea. Did I mention we also have canals as well? The Gold Coast is sometimes referred to Australia's version of Italy's Venice, but our canal network is actually more extensive than the latter.
You can choose your preferred accommodation
Booking accommodation with HRSP.com.au gives you options:
1 bedroom
2 bedroom
3 bedroom
The 1 bedroom apartment measures 85 square metres with one king-sized or 2 single beds. It's a great option for couples. If you're traveling with a group of 6, you can stay in the two-bedroom apartment with a floor area of more than 130 square metres. Three bedrooms are fantastic for groups of up 8 people since the floor area is massive at more than 200 square metres. If you want the best views, choose three bedroom executives that are located in levels 54 to 66.
The apartments offer amazing bathrooms; glass-enclosed showers, ceramic bath tubs, a large vanity, and a whole lot more. The apartments also have an in-room safe, glass-enclosed balcony, zoned air-conditioning, cable TV, full laundry, daily min-service, in-room WiFi and underground car park. All rooms are also smoke free and are self-contained, so they have a living room, as well as a separate dining and kitchen area.
It's one of the best-reviewed accommodation options in Surfers Paradise according to TripAdvisor
The iconic building in which Apartment 4204 is co-located with currently ranks #6 among 58 hotels with more than 1,400 reviews. It has an average score of 4.5 stars. Check out what others have been saying about this iconic building:

stayed at Q1 for three days had a fantastic time. pool was great had lunch at the cafe there around the pool. Staff were fantastic. the only downfall was you had to pay for Wi fi considering its a 4 to 5 star hotel. Also concerge would be great to help with baggage especially when you have children. Apart from those 2 minor things everything was perfect.
–Mihalia
Great rooms including spa bath and very comfortable beds. Great area – close to beach, shopping, tram stations and with very good restaurants nearby. Perfect pools and spa. Good shuttle services to and from themeparks daily. Perfect stay for family, couple or friends. Great view from rooms, even though we were very high (level 8). Pleasant staff in reception always.
–KathyrnP1
We had a great 6 day holiday. The room was lovely. The only negative was the blinds banging because of the aircon, but brutal fixes that. It was great value. It was a treat as we usually go camping. The staff were friendly and helpful. We would definitely visit again.
–Spin19
We booked Q1 last minute after deciding to add a few Gold Coast days to our itinerary and were very satisfied with our choice. We stayed in a 3BR Executive on the 54th floor, which provided both great views and nice proximity to the beach, which was complemented by Q1's nice pool area. One should not compare Q1 to a 5 star luxury hotel of the St. Regis kind (in which we enjoy to stay). But It is a very well run 4 star+ serviced apartment property, with features that effectively resemble hotel services. We were aware of this and perfectly happy. That's why we're rating it 5 stars given as a good package and value for money.
–MSNC2014, Singapore
It has an excellent location
Located at 9 Hamilton Avenue, the resort is only a few metres away from the famous Surfers Paradise Beach with its very impressive and wide coastline and, of course, the surfing waves. If you want to spend less on your travel to the Gold Coast, then this is where you should be! Cavill Avenue, which is now an entertainment and shopping district, is also just a short stroll away. You won't have any problem with public transport either, you'll find many options the moment you exit the resort.
The resort is also in walking distance from Cavill Shopping Mall and other attractions such as Infinity Gold Coast and the Wax Museum.
It offers an amazing attraction
Although there are several great attractions nearby, the resort also has its very own attractions; Skypoint Observation Deck & Skypoint Climb. Many international visitors enjoy Skypoint Climb to see breathtaking views of the entire Gold Coast. Yes, it offers a beyond-awesome 360-degree view of the entire region, even reaching Byron Bay. It is considered to be the highest building climb in all of Australia, and it takes about 90 minutes to complete the tour.
When I go the never to do the climb, I was really anxious because it's so high from the ground, but I was safely harnessed and was attached to a rail system specially designed for the climb itself. Depending on the package you chose, you can dine in the nearby café within the building which I recommend because after the experience, you're left quite exhausted. Just make sure that you're properly hydrated, not prone to seasickness and generally healthy before you proceed with the climb, okay?
Rejuvenate without leaving the grounds
Going on a holiday in itself is rejuvenating, but how about being rejuvenated without leaving the resort? Sometimes tours, while fun, they can be draining and at the end pf the day you need to relaxed and de-stress.
The resort is home to one of the best day spas in Surfers Paradise. What makes it so different from all the others is it specialises in treatments for two since, it can seriously suck not be able to share the incredible experience with someone special. The Spa offers regular promos, so keep an eye out close to your arrive date and you may just get a great deal. The spas are open from 9:00 a.m. to 7:30 p.m., which means you can have a full day of pampering, or plenty of time to be pampered after a long day of sightseeing.
As a resort, there are three swimming pools, two lagoon pools outside and one a heated pool inside. There is also a steam room and sauna, a fully equipped gym, residents lounge, cinema room and a BBQ area. You have no excuse to be bored and tired when you're staying at Apartment 4204.
Apartment 4204 Gold Coast provides a versatile dining experience
Apartment 4204 Gold Coast gives you more than 5 restaurants to choose from, making sure you can always cater to the desire of your palate. If you want Japanese, go to Hanazono Teppanyaki. Craving for French, there's Absynthe, for some Italian, Mondo serves some of the best pizzas and pastas in the suburbs. Osaka Kaiten, meanwhile, can give you the best sushi; and if you like some light meals and cool music, head to Seventy7 Café & Bar.
One of the highly reviewed restaurants in Surfers Paradise is located within the resort precinct. Longboards Eatery & Bar is no. 19 out of 284 restaurants in Surfers Paradise, according to TripAdvisor with an average rating of 4.5. Check out their menu, I seriously recommend you grab a bite to eat here.
You receive amazing support from its staff
Customer service can make your stay even more memorable. The resort offers tours and transfers. Conference facilities that include a huge ballroom that may be customized into smaller venues and a boardroom can be found in levels 2 and 78. They can also offer you venues for other social events including weddings.
People working here are polite, courteous, hardworking, and committed to providing you a great holiday. And if you choose to book your stay through HRSP.com.au then you have the added support of our friendly staff.
Conclusion
From its location to its customer service, Apartment 4204 Gold Coast deserves all the love and applause. Not only does it give you a great value for money, but it also adds truly memorable experiences.
If you wish to experience it yourself, book Apartment 4204 from HRSP.com.au; A 2 bedroom apartment from just $180 per night. You can also request a free quote from us.
Related Topics