Crown Towers: 4.5-star Resort in the Heart of the Gold Coast
The Gold Coast is certainly one of the most fascinating regions in Queensland. Whether you're in town for business or leisure, it always guarantees you'll have an awesome time. Surfers Paradise is generally the destination one thinks of when the Gold Coast is mentioned. As one of the most highly visited suburbs in the region it offers huge waves, a laid-back vibe and excellent accessibility.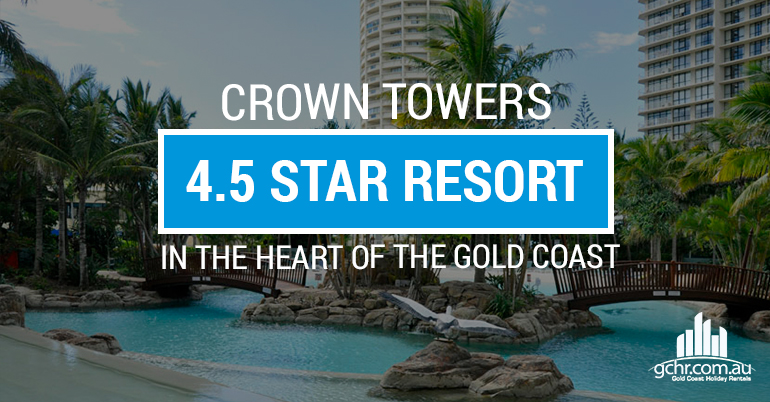 Moreover, in the heart of Surfers Paradise lies a very popular resort that features top-notch facilities and great personalised customer service.
Today I am going to shine the spotlight on Crown Towers Gold Coast, a 4.5-star resort that has captured the attention and hearts of many simply because it does its job best: provide comfortable, secure and fun accommodation for all tourists groups on the Gold Coast.
Located in the Heart of the Gold Coast
When it comes to choosing your accommodation, it's comes down to location, location, location. You want to book your accommodation so you're close to everything, from local public transport to the hippest dining places and, of course, attractions and things to do.
Crown Towers has one of the best locations in the Gold Coast. Found at Palm Avenue in Surfers Paradise, it is right across from the beach, with only a road separating it. In fact, the beach is only 5 meters away from your accommodation.
When you want to shop—and you definitely will—you'll find the shopping precinct to be a short 10 minutes' walk from Crown Towers. Coles is roughly 8 minutes, and so are the many restaurants and cafes that bring more life to Surfers Paradise. The beach itself hosts night markets on certain days of the week, and it's a good place to hunt for bargains and unique souvenirs, not to mention interact with the locals.
Just right outside of Crown Towers is the G:Link light rail which will get you around Surfers and into Main Beach and Broadbeach in a jiffy. The airport is around 25 kilometres away.
Jam-packed with awesome facilities
Crown Towers Gold Coast offer two dining hotspots. Chiang Mai Thai Restaurant is considered to be one of the best Thai restaurants in the area. It's so good that it has received a 2014 Certificate of Excellence from TripAdvisor and an average score of 4 stars from more than 400 reviews, as well as 81% rating from 462 reviews in Urbanspoon. Many rave about its great Thai food (there are dishes fit for children), fantastic customer service, and affordable price. It is open from 5 in the afternoon until late at night and I highly recommend it, though you will need to make a reservation to get in over the weekend.
Coast Restaurant on the other hand provides a perfect contrast to Chiang Mai Thai, with its mouth-watering steak and seafood cooked and grilled the Australian way but with a special twist. This way, each dish provides a whole new flavour and definition to Aussie cuisine. End your meal with a nice serving of panna cotta. This restaurant is available from 7:00 a.m. to 9:30 p.m.
If you're planning something big for someone or you're dining as a group, it's best to book here also.
Crown Towers stays true to its claim that it's a resort within one huge resort (which is Surfers Paradise). It has a heated indoor pool, which you need should the weather get quite bad or you're in town during winter and outdoors you'll find a lagoon pool and a heated pool for the kids. To really capture the look and feel of a beach, around the pool is the golden sand that the Gold Coast is so well known for. To make sure your children are going to have a fabulous time, around the pools are water slides and a replica pirate ship. There's a professional life guard nearby to watch over your and your children's safety.
Crown Towers also has a great kids club, where your little ones are exposed to more activities so you can have more time for yourself or your partner. Or you can take advantage of its child-minding services when you need to run for errands or attending a business meeting in town. For teenagers there's a games room that will keep them entertained throughout your stay.
Near the pools is a barbecue area in case you want to prep your own meals and mingle with the other guests, or invite local friends to visit you. There's also a bar for some light fare or cocktails while you enjoy the water, sand and sun. These facilities are also close to the restaurants and you can literally swim, eat and then swim again with no problems.
Health and wellness is one of the growing travel trends and this continues at Crown Towers. The resort offers an indoors and outdoor spa, a sauna and a day spa treatment called Calmer Therapies to soothe tense nerves and relieve yourself of the stress. Can't miss your fitness regimen even whilst on holidays? There's also a gym to keep you on track.
Crown Towers extends different services such as an underground parking at no extra charge and a tour desk where you can buy passes for various theme parks and attractions around the area usually at discounted prices. The desk can also arrange for your tours and transfers whenever needed.
While it doesn't have a conference or functions room, it provides a comprehensive business service including a reliable Internet kiosk and photocopying facility.
Throughout the resort you'll find pocket gardens with lush trees and flowers where you can meditate, relax, read a book, or take in the pretty sceneries around you.
Guests simply love Crown Towers

Crown Towers in Surfers Paradise currently ranks as no. 14 among 58 accommodation options in the area on TripAdvisor with an average score of 4 stars from more than 500 reviews.
Here are some of these reviews:
Lucky enough to get to stay in a 2 bedroom self contained apartment on 23rd floor, lovely and spacious, very well laid out and equipped, modern and smart, comfy beds and 2 great large bathrooms . Hotel pool and surrounds immaculate and well maintained. Top location with super views of the sea and Surfers from the balcony , the new tram way is on the doorstep and makes it so easy to get out and about if needed. If you do feel the need to tear yourself away from the excellent pool area the beach is less than 5 mins walk and shopping precinct less than 10 mins walk. A massive thankyou to Oscar, Chris and the team for making our family stay at this hotel simply fantastic, look forward to returning with family and friends in the future and from our experience would highly recommend it to others.
—Richard O, Brisbane
The building is impressive with a gigantic sandy lagoon swimming pool, heated pool and a kids pirate ship mini-waterpark. The foyer is beautiful and integrates really well with the water features. It's got a lovely little cafe there that does a great breakfast and also some mean cocktails! There's a Thai restaurant outside that also does food to DIE FOR! Some of the best thai on the gold coast and the decore/fitout is also top-notch!
—Nick Buick, Brisbane
Fantastic. Would highly recommend staying here. Clean, air con, the staff are fantastic, 5 restaurants to choose from and best of all, the swimming pool. I will be coming back…..100/100.
—999ziggy, Sydney
Our family of six enjoyed all the comforts of home in our 3 bedroom apartment for a five night stay just prior to Christmas. The staff were wonderful on check-in and check-out, very friendly and obliging. Our apartment was spacious, clean, had wonderful views (28th floor) and the full kitchen had plenty of plates, glasses, knives, forks and spoons (something we have found lacking in other self contained accommodation). The resort pools catered for the whole family and our younger kids enjoyed the kids pool with slide and being able to build sandcastles was a definite plus. We didn't eat at any of the resort dining options but opted instead to take the short stroll into Surfers with plenty of family friendly restaurants to choose from. Access to the light rail is very handy. We will definitely be returning and would happily recommend to friends and colleagues.
—Michelle W, Castle Hill
Plenty of things to do nearby
As I've mentioned, Crown Towers is in a great location. Not only is it in the heart of the Gold Coast, but along with your accommodation there are heaps and heaps of things to do close to the resort. Such as:
Take a whale watching tour
Enjoy Bluewater cruises (no. 1 preferred activity in Surfers Paradise) or the Jetboat Extreme (which ranks no. 2)
Spend a day full of Safari adventure on board a Hummer
Ride the waves in Surfers Paradise beach
Spend a day in theme parks and fun attractions like Infinity, Timezone, Jet Flight Simulator, Dracula's Haunted House, Ripley's Believe It or Not!, and Wax Museum
See a 360-degree view of Gold Coast in Skypoint Adventure
Booking at Crown Towers is as easy as 1, 2, 3
HRSP.com.au offers luxurious apartments in Crown Towers Gold Coast from just $180 per night.
Apartment 1802 is located on the 18th floor with a beautiful ocean view. It can sleep from 6 to 8 people in its king-sized bed, 2 single beds, and 2 optional rollaway beds. Apartment 3505, meanwhile, is in the 35th floor with a stunning ocean view. It has 3 bedrooms, 2 bathrooms, 2 queen-sized and single beds, with 2 possible rollaway beds.
As self-contained apartments, they offer a fully equipped kitchen, a dining area, a living room or lounge, air-conditioning, smoke detects and sprinkler systems, flat panel TV with free Foxtel Premium and DVD player and a wide balcony. Everything one needs for a comfortable stay.
What's best, booking your stay couldn't be easier. Simply check your dates for availability and follow the booking process to complete you booking successfully.
Conclusion
Crown Towers certainly deserves its 4.5-star rating. It's a modern-day resort with a reasonable price tag and great value for money, as fun doesn't have to break the bank.
From Just $180 per night, make Crown Towers your #1 destination on the Gold Coast.
Related Topics