Chevron Renaissance, great accommodation for friends and families
I usually travel alone for business trips so whenever I get the chance, my family and I love to get away and enjoy a holiday with other families. But here's the problem—and I know that you can relate with me on this. Accommodation is normally a big issue.
The adults want to stay in a hotel but a hotel suite can generally only accommodate only a handful of people. What's more, the suite doesn't really feel like home since it lacks a number of amenities. What do I suggest then? Based on experience and my knowledge in the accommodation industry, I highly recommend apartments. To be more specific, let me direct you to Chevron Renaissance.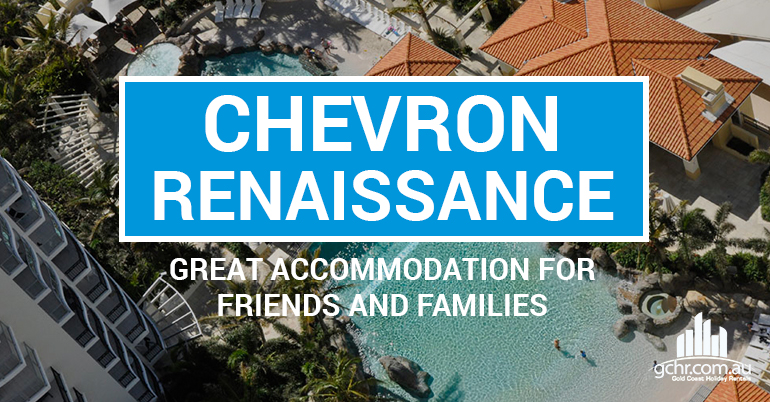 Why I Find Chevron Renaissance Towers Great for Families and Friends
One of the things you'll love about Gold Coast, especially Surfers Paradise, just in case you haven't had a chance to visit this wonderful destination, is that there are plenty of apartments for you to choose from. For me, Chevron Renaissance is an awesome alternative to hotels because:
You can get away with having just one apartment. This makes coordinating with one another as to where to go and what to do so much easier and quicker.
It's conveniently located. Families, especially parents, will also like the fact there is a supermarket, a medical centre and cool dining places that can cater to the sensitive, picky palates of children right at Chevron Renaissance.
You can save money. You pay for the apartment per day, not per person. Moreover, there are many amenities such as kitchen and laundry so you don't have to pay for these services whilst on holiday. Our Chevron Renaissance apartments everything you need to feel at home, away from home.
There are also many things to love about Chevron Renaissance:
You can choose from many apartments. There are three elegant modern towers that make up Chevron Renaissance, which means you have a lot of options when it comes to finding an apartment suited for you and your travelling party. You can pick a 1 bedroom apartment, which is practical for a couple or a family with one child; a 2 bedroom, which I can suggest for a small family or friends of four or five; or as myself and our friends often opt for, a 3 bedroom apartment, which may sleep between 6 and 8 people.
There's plenty of space available. Most apartments at Chevron Renaissance are at least 39 to 40 square metres. This is very important if you're traveling with your family, or friends, although you want to stay closer with your companions, you also need to have some privacy and enough space to comfortable move around. Of course, you need areas where you can place your luggage, among others. If you have children, you'll appreciate the big floor plan so the chances of them getting injured because they end up bumping to an edge of a table or furniture are significantly less.

It's affordable. To be perfectly honest, I can't believe it myself, but the truth is you can stay at Chevron Renaissance for as low as $135 per night. I am certainly not kidding. The affordability is certainly something you'd appreciate as it means you'll have more funds for everything else; like food, transport, attraction tickets and so much more. In other words, you'll get to experience more things by simply being wise with your choice of accommodation.
I am not done, though. Chevron Renaissance is:
In the heart of Surfers Paradise; the ultimate Gold Coast destination. Not only are you able to save money on transport, but you can easily get your rest whenever you want to. This is especially true for families with little ones since they normally cannot sustain walking for long periods of time.
Near some of the best places for families and friends. Traveling friends can enjoy great music along Orchard Ave and Cavill Ave at night or learn to surf throughout the day. Families, meanwhile, can head to the beach or to the shops that are not too far from the beaches. There's also a mall that's only less than 200 metres away. On certain nights, the beach comes alive with the beachfront markets where you'll find locals selling great arts and crafts that you can take home as souvenirs.

Loaded with amenities. Chevron Renaissance boasts of a resort vibe, so if the weather gets pretty bad or you like to avoid the crowd for a while, you can always go to the Beaches in the Sky on Level 5. It features a gigantic pool, bridges, and even spas. Kids can play in any of the 2 game rooms complete with air hockey and pool tables while parents can relax in the health pavilion with a 25-metre indoor pool, sauna, and spa. Friends can work out their bods in the gym, which also has changing facilities. Gold Coast has several theme parks with amazing rides, but if you want to relax, you don't really have to go far since the tower complex has its own theatre room that can sit up to 18 people. It has its own surround sound system, a huge data projection screen and kitchenette.
Strategically located. It has some of the most beautiful views of Nerang River, the hinterlands and the ocean. Many of our apartments have balconies where you can relax after a full day of walking and touring.
What Are Your Choices?
If you wish to stay at Chevron Renaissance, I can help speed up your search by recommending at least three great apartments suited for traveling friends and families:
Chevron Renaissance, Apartment 2382
This is a 3 bedroom self-contained apartment located on the 38th floor. It gives you a sweeping view of the ocean and the many canals of the Gold Coast. It can accommodate between 6 and 8 people. It has its own car space, unlimited free WiFi, and a Foxtel premium at no additional charge. As for the accommodation, the apartment is equipped with 1 queen-sized bed and 1 king-sized bed, as well as 2 single beds. You can also request for up to 2 rollaway beds, which means there's a comfortable bed for everyone! It has its own gourmet kitchen and a dining area, DVD player (and you can always hire a DVD, just ask), entertainment system, balcony, and regularly supplied linens.
Here's another great apartment at Chevron Renaissance. It is located on the ninth floor, so it's very accessible. You won't have any issue with going back and forth from the pools or the shopping centre at all. Located in North Tower 2, it's ideal for a smaller group of around 4 to 5 people. There are 2 bedrooms with 1 queen-size bed, 2 single beds, and 1 optional rollaway bed. The entire floor space measures 62 square metres, while the balcony, with a great view of the swimming pools, is 9 square metres.
Chevron Renaissance, Apartment 2137
This is another practical choice for a small group of friends or a family with at least 4 but no more than 5 members. It is in Skyline North 2 in the 13th floor. It is composed of 2 bedrooms with 1 queen, 2 single, and 1 rollaway bed (optional). It has a great view of the hinterland, and the master's bedroom leads to the balcony. It's a spacious comfortable unit with a good air-conditioning system and warm beds, which you'll love if you happen to be here in the middle of winter.
Conclusion
Here's the truth: it's never easy to travel with friends and family as you also have other people to think about. You need to learn to compromise, be patient and even tolerate each other's odd behaviour. But as they say, double the people, double the fun. The chance to experience new things and be able to share them with the people you like the most is more than enough to compensate for the challenges. In fact, you may never have time to think what these challenges are.
If you're planning to visit the Gold Coast, especially Surfers Paradise, you'll love Chevron Renaissance. Spacious rooms, enough warm beds for everyone, self-contained apartment amenities, resort lifestyle, strategic location, shopping centres and other lifestyle choices, and affordable price for rooms that can accommodate as many as 8 people—it's definitely a steal, even so much more. It's not a surprise anymore why it's one of the best-ranked accommodation choices in Agoda and Holidays with Kids Awardee for 2013 and 2014.
Book an apartment at Chevron Renaissance from HRSP.com.au from just $135 per night. You'll agree it's a great value for money. Book your stay today.
Related Topics