Why Stay at Chevron Renaissance for your GC holiday
The Chevron Renaissance building is undoubtedly your best option for Gold Coast accommodation
If you are at all familiar with the Gold Coast, then no doubt you'll have heard of the Chevron Renaissance precinct. The precinct is a $400 million commercial development, which boasts of a sprawling shopping centre and of course, the magnificent Chevron Renaissance resort towers.
Since 2000, the precinct has been lauded as the most significant development on the Gold Coast, offering a plethora of retail shops, restaurants, cafes, shopping centres and entertainment options for tourists as well as residents of the area. The precinct has won many awards and accolades over the years as well. However, it is now more hip and happening than ever before.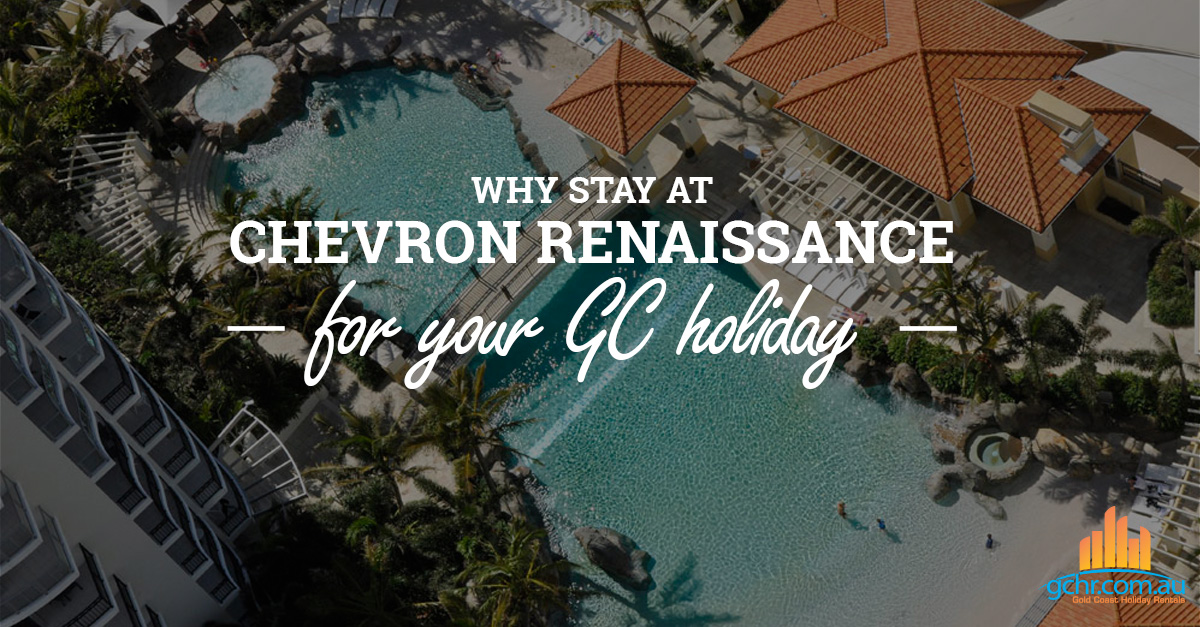 If you have never stayed in the Chevron Renaissance building, or perhaps you have and you're a little fuzzy on whether you enjoyed it enough to return, then this article's for you. Here, I'll explain why you should choose to stay in the Chevron Renaissance building for your Gold Coast Holiday. You can thank me later!
It has an amazing location
The Chevron Renaissance building occupies an entire block along the Gold Coast Highway and is bordered by the Ferry Avenue, Cavill Avenue, the Circle on Cavill buildings and the Elkhorn Avenue, along all sides, making it a fantastic location for tourists. Moreover, the building lies just 28 km away from the Coolangatta International Airport, 550 m away from Surfers Paradise Beach, 3 km from the Gold Coast Convention and Exhibition Centre, 4 km from Broadbeach and 700 m away from the Q1 Observation Deck. With such wonderful facilities all around the building, you cannot ask for a better location.
It has its own shopping precinct
The Chevron Renaissance development has a humongous shopping precinct, which is filled with world famous restaurants, cafes and dining options. Street food, bars and restaurants are only some of the highlights of the shopping precinct and it also includes several fashion boutiques, a supermarket, two liqourlands and over 60 special types of tenants. You cannot expect to find a better shopping precinct in Surfers Paradise, which lies in such proximity to your holiday accommodation.
The shopping precinct is undergoing a multi-million upgrade
While the Chevron Renaissance shopping precinct is already one of the largest developments in Surfers Paradise, recently, plans of upgrading the precinct commenced. The shopping centre's multi-million dollar transformation is now almost complete and is sure to bring about new and exciting experiences to the area. Designed to echo the vibrant street culture of the Renaissance, these upgrades will see a complete transformation of the precinct, featuring new restaurants, urban laneways, garden beds and food and beverage kiosks.
It has fantastic accommodation offerings
Gold Coast Holiday Rentals offer over 25 two and three bedroom apartments in the Chevron Renaissance building, which are modern, spacious and luxurious and are perfect for families. Rated as AAA and 4½ stars, our accommodation options are well suited for even the most demanding and sophisticated of travellers. Moreover, our holiday rentals are available at surprisingly affordable prices, which start as low as $140 per night!
It has amazing features
Our holiday rentals at the Chevron Renaissance building feature full resort style facilities. These apartments are fully furnished, boast of elegant interiors and offer a full list of facilities for you and your family's enjoyment. With a gymnasium, spa, saunas, BBQ, pool and entertainment area, our apartments also feature free Wi-Fi and unlimited Foxtel. With such luxurious amenities on offer, you shouldn't consider booking your Gold Coast accommodation elsewhere.
At Gold Coast Holiday Rentals, we have a large offering of apartments available at the Chevron Renaissance building for your holiday enjoyment. Our apartments are accompanied with a full details and photos so that you can see for yourself what to expect from our holiday rentals. We also offer the most competitive rates and the highest level of service from our apartments in the Chevron Renaissance building.
Conclusion:
If you're planning to visit the Gold Coast for a holiday, you will find no better accommodation than at the Chevron Renaissance building. Widely known for its luxury and charm, the Chevron Renaissance building lies in a fantastic location, has its own shopping precinct which is also being upgraded, offers wonderful accommodation and boasts of amazing features. With so much on offer, you definitely must choose the Chevron Renaissance building for your holiday accommodation.
If the reasons that I have mentioned above seem valid enough to you, then do not delay. With all the improvements to the precinct, accommodation in the Chevron Renaissance building is selling like hot cakes. Thankfully, you can count on Gold Coast Holiday Rentals for availability. Contact us today to secure your stay at the Chevron Renaissance building.
Related Topics