End of year Visitor Statistics and how it affects Gold Coast accommodation
Great climate, closeness to Brisbane, beaches and a laid-back lifestyle—these are just some of the many reasons why people come and visit the Gold Coast. And I am not saying this because I live here or because I have a Gold Coast accommodation business. If you're looking for some proof, you can refer to the June 2014 regional report released by Tourism & Events Queensland.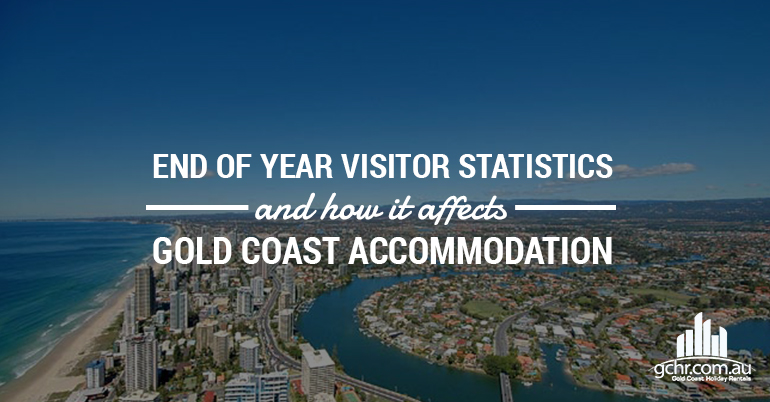 Let's look at this report in detail beginning with the overall Domestic Visitors to the Gold Coast. There were 2,188,000 holiday visitors in total, although this has decreased on the previous year, it is marginal, dropping less than a percent. Unfortunately the nights stayed has dropped more significantly, down -7.6%. So not only did we receive fewer visitors, they stayed fewer nights also. The other interesting result comes from business travellers. Although this figure has dropped 12.1%, there is a significant increase of nights they've stayed for their business trip, increasing 10.4%. Overall, the domestic visitors dropped 3.5%.
The statistics above go to prove that the Gold Coast accommodation industry has taken a hit. Clearly people are being wiser with then spending; fewer are having holidays and they're not staying as long. Therefore, when it comes to choosing an accommodation, it's no surprise that visitors are looking for an apartment or hotel that offers great value for money. Fortunately, luxury apartments these days such as Apartment 4204 or Circle on Cavill can be booked for less than $150 a night. We're talking about 1 to 3 bedroom apartments that can accommodate at least 4 people and are already self-contained. This way, families and friends have the option to cook their own food or do their own laundry and ironing. They are also located strategically like only a few meters from the beach and shopping and dining districts of Surfers Paradise, a very popular suburb in Gold Coast. They're also great for business travelers as the light rail runs from Surfers Paradise to the Gold Coast Convention and Exhibition Center in a matter of minutes.
Continuing on with the report, scroll farther down and you'll come across Domestic Day Trip Visitors. Many visitors, especially tourists, prefer to spend their days exploring our theme parks such as Movie World, Wet 'n' Wild, or SeaWorld or other popular destinations such as the Hinterlands or Currumbin Wildlife Sanctuary.
While there were over 6 million visitors injecting $716.3m into Gold Coast tourism by enjoying a day trip, this figure was down -9.3% from last year. Again this just reiterates the decline in Gold Coast accommodation bookings, the drop shows visitors are watching their holiday spending more so than the previous year.
So, what day trips were these visitors spending their previous money on? Let's look at some of the most popular Gold Coast Day Trips of 2014:
Sailing cruise on Tallship Cruises
Enjoying a land and water adventure on the Super Duck Adventure Tours
Gold Coast Whale Watching with Whales in Paradise
Riding a Gold Coast balloon with a delicious champagne breakfast at O' Reilly's Vineyard
Loving the surfing waves of Surfers Paradise beach
Shopping in the beachfront markets of Surfers Paradise beach, Harbour Town Outlet Shopping Centre, Pacific Fair Shopping Centre, or Carrara Markets
Playing and exploring Jupiters Hotel and Casino
Hiking in Tooloona Creek and Coomera circuits
Watching sea eagles in Burleigh Head National Park
Skydiving (tandem skydive)
When it comes to Gold Coast Day Trips, there certainly is no shortage, and it doesn't matter where you go, whether you want to go to the beach or to the hinterlands, there's always an adventure that's waiting for you.
Let's look at where who our key domestic source markets are. Most of the visitors to Gold Coast come from Brisbane, the state capital of Queensland. This statistic isn't really surprising. As our neighbouring region, Brisbane residents can escape to the Gold Coast in no time at all and enjoy our beaches and some of Australia's best attractions, like our theme parks as there is nothing comparable in Brisbane. The Gold Coast is only an hour away from Brisbane via the Pacific Motorway and about 15 minutes longer if you pass through M5 before getting on the Pacific Motorway.
There are also several types of transport. If you're arriving in Brisbane domestic or international airport, there's a train that goes directly to Gold Coast. If you wish to land at Gold Coast Airport you can ride the AA Express. Taxis are also a convenient choice, although that can throw you off by as much as $70 from the Gold Coast airport, or up towards $300 from Brisbane. If you're good in negotiating, you can get a good deal.
Most of those who visit Gold Coast bring their own car or hire a taxi. I've also seen more tourists arriving in style and comfort such as through a limousine. This is awesome for those who are traveling by group since they can just divide the cost among themselves.
This past year saw an 8.8% increase in Brisbane visitors, and a massive 21.2% increase in the nights they stayed, and I don't blame them, who wouldn't want to make the most of their weekend? Again, Brisbane residents can be on the Gold Coast in just an hour, and best of all, they can choose to visit anytime they want to.
In terms of Gold Coast accommodation, having Brisbane as our #1 key domestic source market is great. Given that Brisbane is so close, 1,107,000 residents chose to spend a whopping 2,941,000 nights in Gold Coast accommodation over the last year either getting away for the weekend or a holiday.
Looking at the other domestic source markets, there's a decline of visitors from regional Queensland, Sydney and regional New South Wales. Sydney really dropped its game with a -20.3% drop in visitors and a -27% drop in Gold Coast accommodation bookings. Meanwhile, Melbourne residents seem to have a greater appreciation for the Gold Coast – or perhaps they're just escaping the cold – either way, we'll take them! For the previous year, Melbourne visitors increased an outstanding 18.8% to 449,000 visitors and the number of nights also increased, up +8.9%. I'm sure this, along with the Brisbane statistics is enough to put a smile on any Gold Coast accommodation operators face. Come on' Sydney!!
How does Queensland fare when compared to other states? We bring our attention to State Comparison-Domestic. If we account all visitors, including business travellers and VFRs (visiting friends and relatives), the three huge regions of Australia experienced a slight increase. Victoria had the biggest increase of number of travellers by almost 7%. It's then followed by New South Wales by 2.7%. Queensland, posted an increase of 1.1%.
But when we look into holiday visitors only, Queensland experienced a slight decrease of -2.4% compared to 2.6% and 7.4% increase of New South Wales and Victoria. For visitors who prefer to stay overnight, Queensland and New South Wales experienced a decline while Victoria gained 10.2%.
However, as far as the Gold Coast is concerned, the decline of visitors is significant and has a major effect on not only Gold Coast accommodation operators like myself, but the entire tourism industry.
Conclusion
In summary, though Queensland still needs a boost in terms of domestic tourism, Gold Coast, in particular, is gaining good attention from the domestic market especially from Brisbane and Melbourne.
What is important is you get smart during your holiday especially with regard to your spending. If you're looking for amazing Gold Coast accommodation deals, I highly recommend that you use HRSP.com.au. Check out our apartments to book online or get a free quote from us.
Related Topics