Gold Coast Is Booming. Book Gold Coast Apartments Today
I have shared some great news in this blog, and this one is no different: not only is the Gold Coast property market set to boom in 2015, so is tourism.
According to the State of the Industry report for 2014, created by Tourism Research Australia, "arts and recreation investment continues to be dominated by sport-related investment, with six new projects worth around $300 million–three specifically in preparation for the Gold Coast Commonwealth Games in 2018." We want to make sure that we are the best hosts that we can be, and it is a good time to really ramp up our tourism promotions.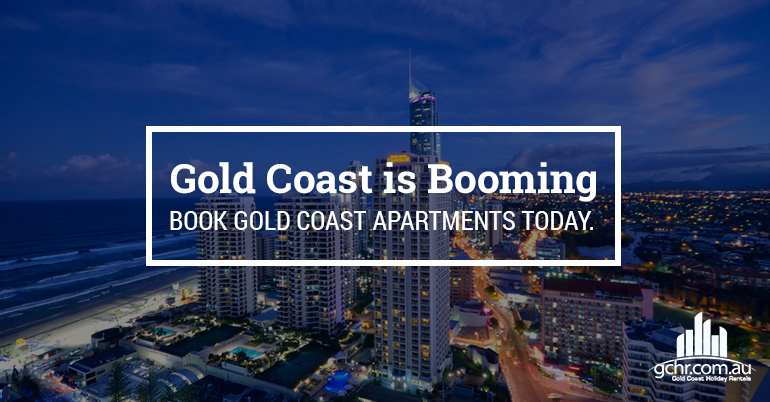 While Propertyology managing director Simon Pressley said the Gold Coast is being kept afloat by major infrastructure projects such as a new hospital, the light rail project and 2018 Commonwealth Games construction, he also added a lift in tourism is also helping to boost the Gold Coast.
So there is no doubt things are looking up for the Gold Coast, whose both housing and tourism industries have had it tough over the past years. With this boost, no doubt availability for accommodation on the Gold Coast will be increasing and more difficult to come by.
But let me tell you a secret. When it comes to accommodation options, none offer better value for money than Gold Coast apartments. I should know. I have been in this business for many, many years and I am also an experienced traveller so I have the chance to compare my experiences, price and other factors among accommodation options.
Let me explain why the Gold Coast's apartments are the way to go:
1. Apartments are an alternative to your home. Let's face it, there is no more comfortable space than our own house – if there was a way for us to bring it wherever we went, we definitely would. Of course, that still remains impossible. The next best option is to stay in an apartment that offers all the comforts of home. Whether it's self-serviced or not, almost everything you need, from a living room to a dining room, bedroom and even a balcony, is already there. It may even have its own ironing and laundry facility! Simply put, apartments are more comfortable stay in during the holidays than a regular hotel room.
2. There is plenty of space available. I don't know about you, but I love space. It makes the room feel grand, clean and relaxing. If you have children, then you will appreciate space more. While some apartments may be small, they're still bigger than their hotel counterparts.
3. You get spacious accommodation for a very affordable price. How big is the difference in terms of pricing? HRSP.com.au currently offers self-contained Gold Coast apartments in the heart of Surfers Paradise for less than $180 a night, and this is a 3 bedroom apartment that can accommodate up to 8 people for that price. Now that's a real steal! Most hotels can accommodate only 2 people in a hotel suite, and each suite will set you back over a hundred dollars, even $200 depending on the hotel. They may be similar in price, but you have to compare the occupancy, 2 people vs. 8 people. It really doesn't compare.
4. You enjoy great value for money. Besides the affordable price, self-contained Gold Coast apartments are all in walking distance to the beach and in the heart of Surfers Paradise. They are about a hundred meters from the esplanade and only a few minutes' walk (or less) to the most famous entertainment and shopping areas. They are only 30 minutes to an hour away from the hinterland and Gold Coast airport. Granted hotels offer the same in terms of locality but they don't offer you the same value for money.
5. Apartments can have the same facilities—or even better—than hotels. Many Gold Coast apartments offer excellent facilities to their guests. Besides the usual on-site restaurants, spas and children's amenities, they can also have a lush garden or a barbecue area, which are often missing in standard hotels. Apartment 4204, for example, has Skypoint Observation deck & Skypoint Climb (at a cost), which gives you the best view of the entire Gold Coast and is a tourist attraction itself.
6. They are much better than Hostels and Motor Inns. Many travellers looking for an affordable holiday choose hostels and motor inns, and though they're not awful, they are also quite restrictive especially in regards to privacy. Normally you have to share bathrooms and bedrooms. Basic is cheap, but if you add other costs such as food, perhaps a towel and even Internet, you may still spend more for these accommodations and have a far inferior experience.
Conclusion
I am positive that in the coming years, we'll have not only more apartments on the Gold Coast, but higher booking rates and that's positive news. While the Gold Coast offers hundreds of fantastic accommodation options in apartments, hotels, resorts, motor inns, hostels and much more, for a truly memorable stay, book Gold Coast apartments today.
If you're looking for apartment accommodation on the Gold Coast, feel free to email me or visit HRSP.com.au for more information and reservations. I'm very proud to call the Gold Coast home and get much pleasure welcoming guests when they check into their apartment. I have a good number of options for you, whether you're travelling solo or as a group.
Related Topics