Tourism Spend Record: Book Your Holiday Rentals Today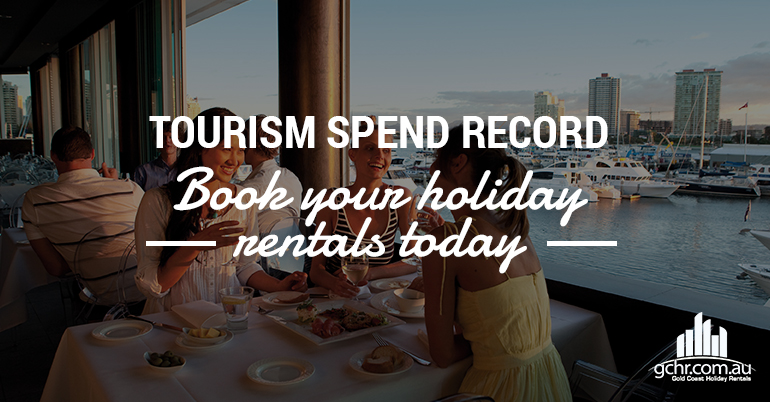 Tourism Research Australian recently released a media release stating that the overall domestic overnight tourism is already worth $53 billion!
This is definitely great news as it is a huge jump, about 4%, from the previous year, and despite the fact that the average spending of tourists has decreased to more than 2.5%.
Interestingly the significant drivers to this very positive change are business and FVR (family visiting relatives) sectors. The report did not say as to what caused their increase, except that arrivals went up to 6% and 8% respectively.
I, for one, have to say nothing pleases me more than to see the Australian tourism industry doing well. As my bread and butter, it is extremely important that Aussies get behind the industry and inject money within Australia, rather than holidaying overseas (although the number of those who travelled internationally went up, but at least we are making progress here).
If you are one of the lucky ones planning a holiday within Australia, more so, planning a holiday on the Gold Coast, then you are in luck. As the owner of HRSP.com.au, I specialise in holiday rentals and can offer you accommodation in the best holiday rentals on the Gold Coast.
Now what are in store for you? It all depends on what you're looking for.
Holiday Rental Prices
Here's the great news. HRSP's holiday rentals are some of the most reasonably priced in the market. We're talking as low as $150 a night for a 2-bedroom apartment at Chevron Renaissance or $175 a night in for 4½ star accommodation at Crown Towers Gold Coast.
Number of Occupants
If the above isn't enticing enough, the apartments we manage are specifically for groups (like families, friends and colleagues) as well as couples who just want plenty of space for themselves. The likes of the Moroccan Resort, Orchid Residences and Sun City Gold Coast have 3 bedroom apartments that can accommodate up to 8 people. These apartments have up to 2.5 baths, plenty of beds, large dining rooms and living areas, fully equipped kitchens and a wide balcony with amazing views of the ocean, beach strip, hinterland or the surrounding complex's property.
Facilities in the Vicinity
For holiday rentals for your family, I would recommend you look at Chevron Renaissance, Moroccan Resort, Crown Towers Gold Coast or Sun City Gold Coast. These are all reasonably prices for 2 or 3 bedrooms but most of all have great facilities such as pools, on-site restaurants, and barbecue areas that are suitable for children (and these things can keep them entertained too).
Orchid Residences is part of a famous hotel, so you can take advantage of the hotel features like the spa, gym and sauna. Think of it as a resort within a resort. In case the weather turns bad–and that sometimes happens–you don't have to forgo the feeling of being on a holiday.
Location, Location, Location
It's very important that your holiday rental is strategically located. This means that you won't have problems with travelling especially when you want to use public transport. Many of the attractions should also be nearby. Holiday rentals such as Circle on Cavill and Moroccan Resort are only a few metres away from the famous beach strip of Surfers Paradise. This also means that the rest of the shopping and entertainment districts are also nearby.
Luxury Holiday Rentals
If you don't mind spending a little bit more–but not too much to create a dent on your travel budget–you can consider, first, Apartment 4204 which is famous for being the tallest tower on the Gold Coast. In fact, it has its own attraction called the SkyPoint Observation Deck & SkyPoint Climb. When on top, you can have an unrestricted view of the entire Gold Coast and even the closest islands.
For Luxury holiday rentals, I would also like to suggest Orchid Residences which is in the very heart of Surfers Paradise. The patrolled beach is only 50 metres away, but inside, you're in a full-blown holiday with its spa and sauna, 2 fitness centres, 4 pools, a children's splash pool, tour desk if you need help in planning your trips or getting great discounts on certain attractions, and a theatre.
Conclusion
There are plenty of reasons to travel and love Australia. Hey, if others can love it, there's no reason why you can't. The Gold Coast, for example, is the home of Surfers Paradise, which boasts of an extensive coastline and great waves, as well as hinterlands with our dense forests and mountains great for retreats and adventures.
Start planning your Gold Coast holiday today. For the best holiday rentals on the Gold Coast, you can't go past HRSP.com.au. We have suitable accommodation options for you that will meet your pricing, occupancy, facility, location and luxury needs. Phone (07) 5539 8553 or 1300 HRSP 11 to speak to our reservations staff, or Book Online today.
Related Topics