Introducing Chevron Renaissance, Apartment 3302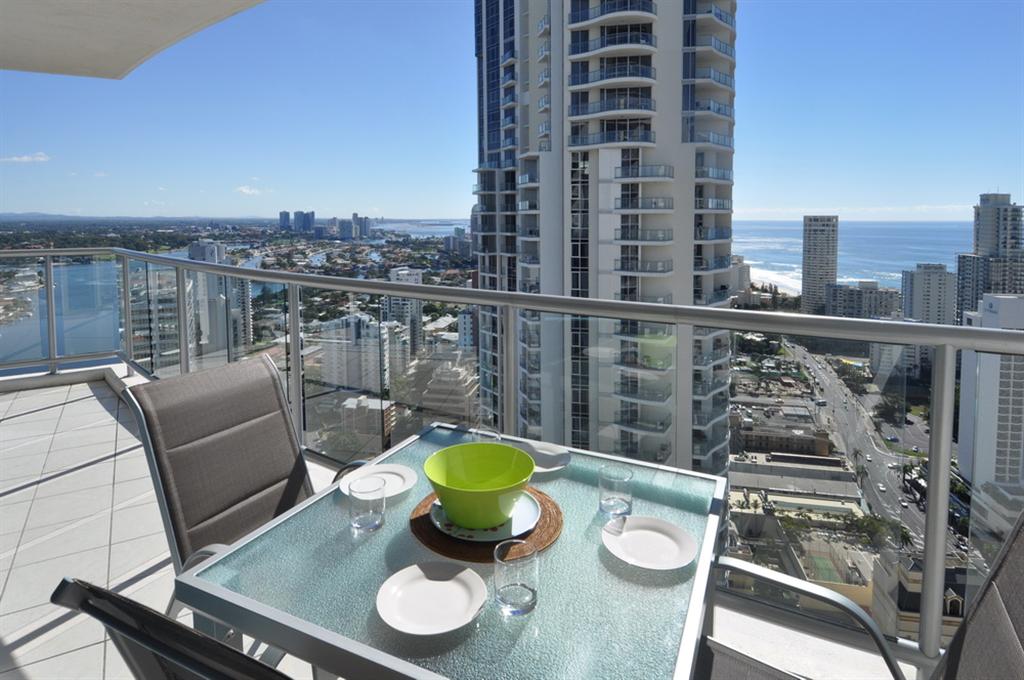 With summer around the corner, many international and national tourists will be heading to Surfers Paradise for a holiday. If you're one of them, then consider booking your accommodation at Apartment 3302 at Chevron Renaissance; one of the latest additions to our luxury apartment portfolio.
After reading about this gorgeous apartment, I'm sure that you will consider booking it for your holiday!
1. Lavish holiday accommodation in Surfers Paradise
For a truly lavish holiday, choose Apartment 3302 at Chevron Renaissance, in the heart of Surfers Paradise. This 3-bedroom apartment is located on the 30th level of Chevron Renaissance's Central Tower 3 and places you exactly where you want to be; in the centre of all the action!
Apartment 3302 is fully self-contained and is jammed packed with facilities and amenities that will make your stay more comfortable. It features 3 large bedrooms, 2 bathrooms, a huge private balcony, full kitchen and a separate living and dining area. Moreover, Apartment 3302 offers superb views of Surfers Paradise and the Pacific Ocean.
Chevron Renaissance is an AAA rated resort and just like your apartment, it too offers a smorgasbord of facilities and amenities for your enjoyment. This includes an onsite shopping precinct (Chevron Renaissance Shopping Centre), a games room, indoor and outdoor pools, a gym, a spa and saunas, BBQ and entertainment areas and much more!
2. Superb facilities
Should you choose Apartment 3302 as your accommodation, you'll get nothing but the best in terms of amenities and facilities. This apartment is extremely large, so you won't fall short of space no matter how large your group is.
Apartment 3302 is fully air-conditioned, features stunning interiors and is beautifully decorated. The master bedroom includes a queen bed, a walk-in robe and a full ensuite bathroom. The second bedroom also includes a queen bed, while there are two single beds in the third bedroom. All bedrooms offer stunning views of the ocean.
You'll also be pleased to know that this apartment features a fully equipped kitchen and laundry facilities. Thanks to these, you can cook your meals or do your laundry without having to leave the comfort and privacy of your apartment. A free parking space is also included with your booking.
When it comes to entertainment, Apartment 3302 has you completely covered. This apartment features free Foxtel Premium and prepaid Wi-Fi facilities. Moreover, the lounge area includes a DVD player, a flat panel TV and other entertainment systems. You simply cannot wish for more from your Surfers Paradise accommodation.
3. Fantastic value for money
I'm sure you're thinking that such a lavish accommodation will be expensive. However, you'll be pleasantly surprised to know that Apartment 3302 is more than affordable. In fact, it can be all yours for as little as $295 per night. That's less than $50 per person per night for 6 guests. There's no way you'll find accommodation on the Gold Coast that offers better value for money!
Do note that the standard tariffs for Apartment 3302 sleep up to 6 guests. However, this apartment is large enough for you to accommodate 2 extra guests as well. Simply make a request upon your arrival and for a small surcharge fee, extra rollaway beds will be provided.
HRSP guests simply love Apartment 3302 and I have no doubt you and your family will also.
Apartment 3302 is certainly one of the finest holiday apartments for your upcoming Surfers Paradise holiday. If you'd like to book this apartment, simply get in touch with us at HRSP. We'll be more than happy to make you a booking. You can also make an online booking through our website.
So, go ahead and book Apartment 3302 – you won't regret it.