Introducing Orchid Residences, Apartment 22603
If you're looking for luxury accommodation on the Gold Coast, then Apartment 22603 at Orchid Residences is the answer.
Whist only being a new listing here at GCRH, it has taken no time for Apartment 22603 to become one of our most sought after apartments. And with a great location, plethora of features and a great price tag, it's no surprise.
Continue reading as I introduce to you Apartment 22603 at Orchid Residences.
1. Luxurious hotel accommodation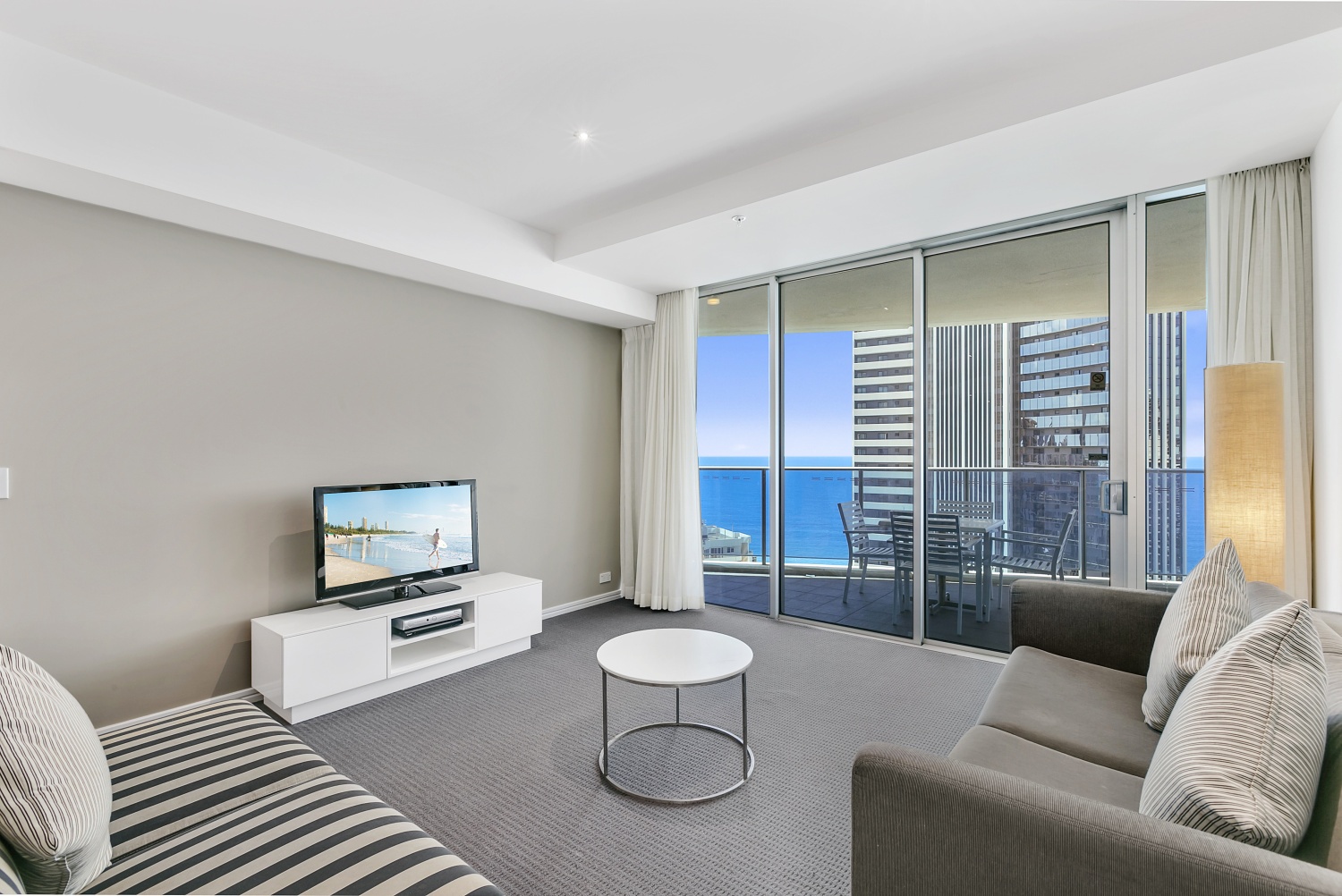 If you're looking for luxury accommodation on the Gold Coast, then Apartment 22603 is perfect. Co-located within one of the Gold Coast's newest 5 star hotels, this lavish holiday apartment offers world class facilities and amenities.
Apartment 22603 is a 2 bedroom apartment that is located on the 26th floor of Orchid Residences'  Highrise Tower. This self-contained apartment is completely furnished and is extremely spacious. It includes 2 large bedrooms with 2 bathrooms, a private balcony, and separate lounge, dining, kitchen and laundry areas.
The bedrooms of Apartment 22603 are nothing short of majestic. The master bedroom includes a king bed, a private ensuite and a walk-in robe, while the second bedroom includes a double bed and built-in robe. Both bedrooms feature lavish floor to ceiling glass windows.
And that's not all – Apartment 22603 also offers spectacular views of the Pacific Ocean. By staying at this apartment, you'll wake up to stunning ocean views every day. What more could you possibly wish for from holiday accommodation? Hotel facilities, well you get these too!
2. Amazing facilities and amenities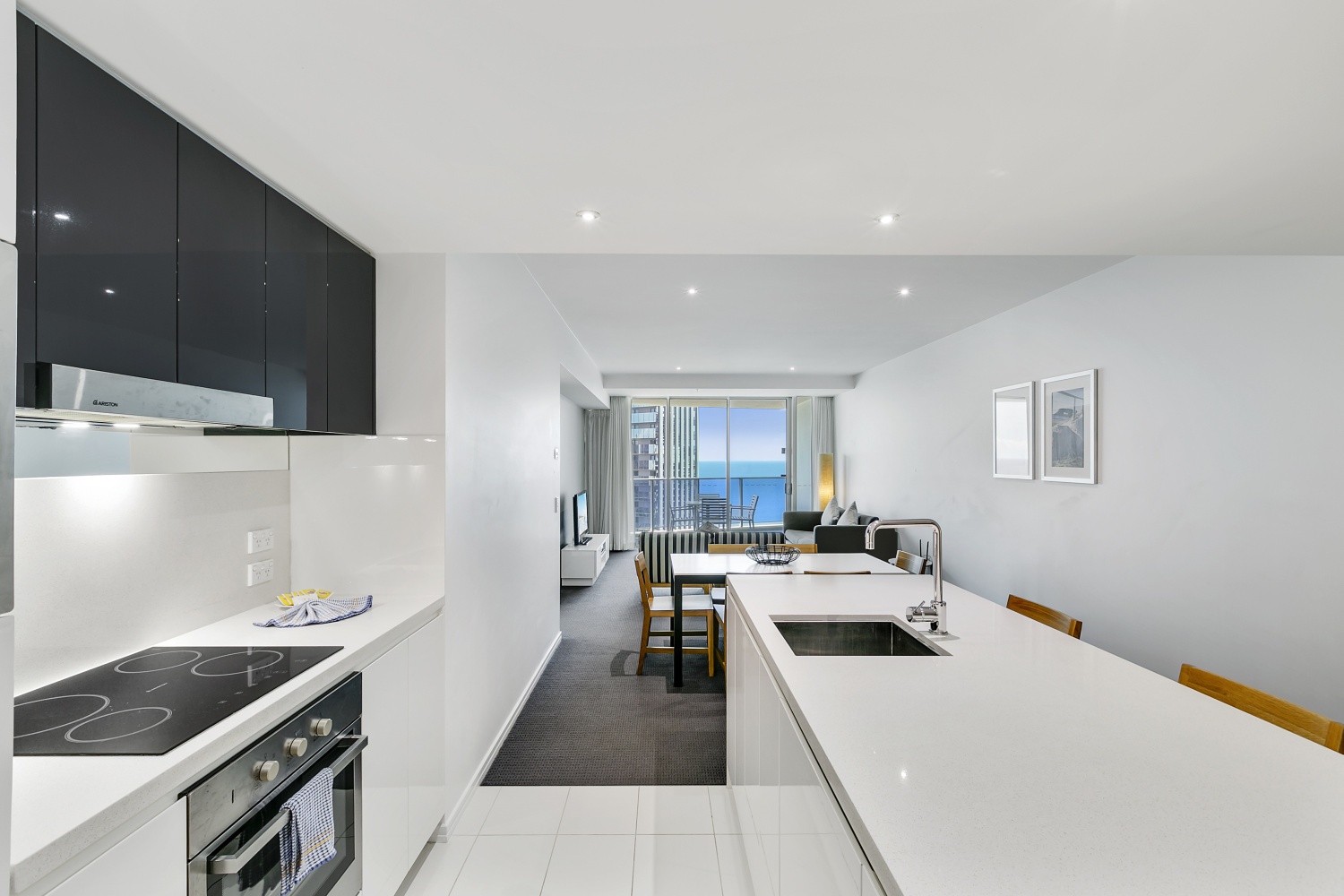 You can expect nothing short of 5-star facilities and amenities from the apartment and hotel itself.
If you're holidaying on the Gold Coast with your family, you'll definitely appreciate the fully equipped gourmet kitchen of Apartment 22603. The kitchen includes a refrigerator, gas cooktop, wall oven, microwave, dishwasher and utensils. This will allow you to enjoy home cooked meals even on your holiday. Moreover, a washing machine and dryer are also provided with the apartment to cater to all your laundry needs.
And when it comes to entertainment, Apartment 22603 offers it all! This apartment includes free Foxtel Premium and free unlimited Wi-Fi. Furthermore, the lounge area includes a flat screen TV, DVD player and various other entertainment systems.
The hotels facilities are just as impressive. The parent hotel boasts some of the best faculties in Surfers Paradise for your holiday pleasure. An onsite theatre, heated indoor and outdoor pools, a gym, a spa and sauna, BBQ facilities and even a bar and restaurant are all available for your enjoyment. You don't even have to leave the hotel to experience a great holiday!
3. Surprisingly affordable
You'll be surprised to know that Apartment 22603 if actually very affordable. When you book this apartment through HRSP, you'll pay as little as $250 per night, for four guests. That's just $62.50 per person! Good luck trying to find such luxurious accommodation on the Gold Coast anywhere else!
Do note that the tariffs for Apartment 22603 sleep up to 4 people. However, you can accommodate 2 extra guests by paying a small additional fee. Simply request for extra beds upon arrival and 2 foldaway beds will be provided to you.
If all this isn't enough to convince you, here's a great review that just goes to show how much our guests love Apartment 22603:
"We had a fantastic stay in this beautiful apartment. Everything we needed was on our doorstep including the beach! The apartment has a spectacular view and extremely comfortable beds. The staff at HRSP are very helpful. Would definitely stay again and recommend to everyone!" – Stephanie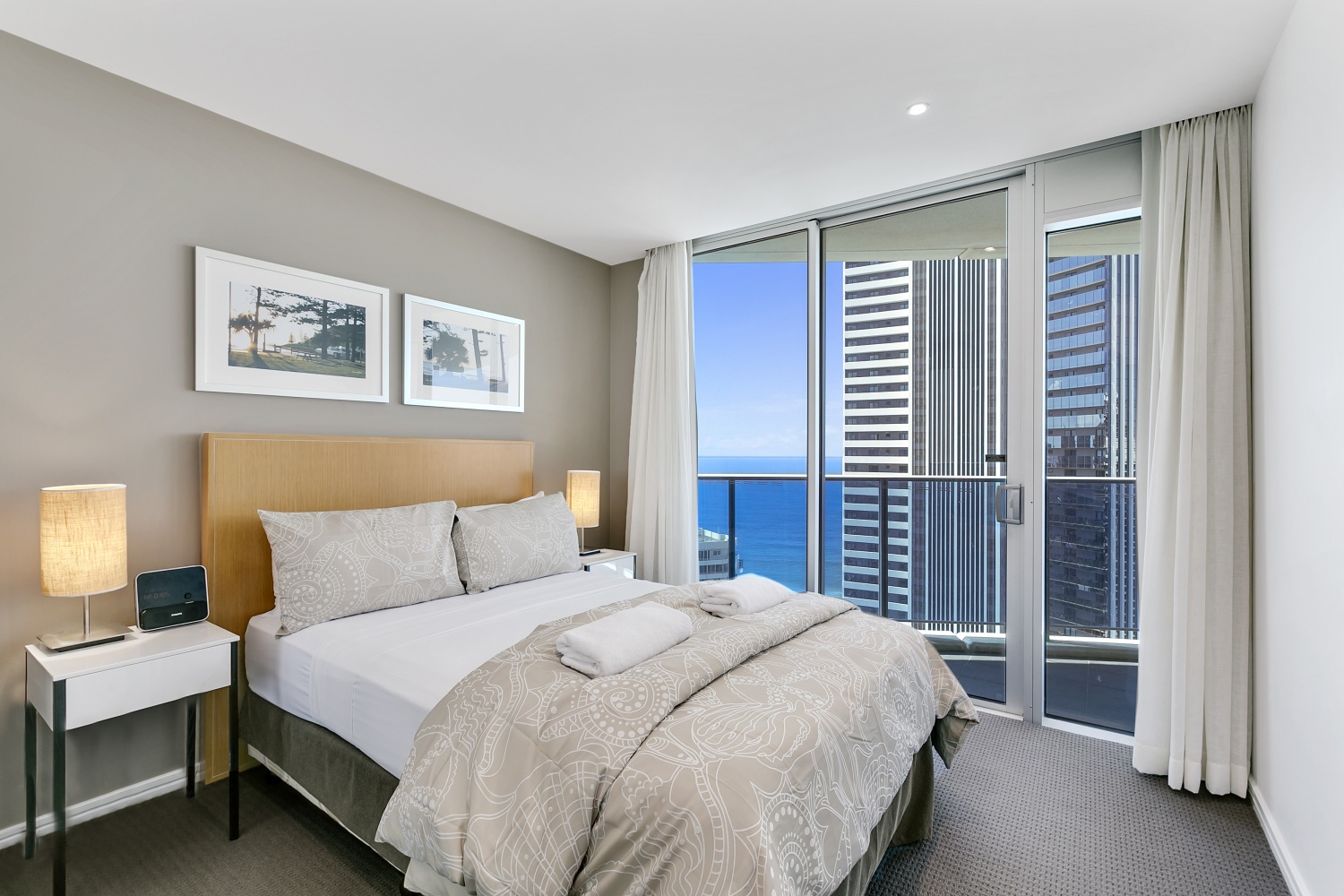 I'm sure that by now, you're raring to book Apartment 22603 for your upcoming holiday. To do so, simply give us a call at (07) 5539 8553 and we'll make you a reservation. Alternatively, you can also make an online booking through our website.
Luxurious accommodation like this is always in high demand. So, don't delay your booking, make a booking with us today!