Tops Views from Orchid Residences Floor 29
When it comes to Gold Coast holiday destinations, Surfers Paradise is difficult to beat. It has pristine beaches, great entertainment precincts and a vibrant and lively culture. Surfers Paradise has something in store for people of all ages and all traveller types. It is no surprise that so many families, couples and friends choose to visit the Gold Coast for their holiday.
However for those travelling to the Gold Coast in larger groups, finding accommodation to accommodate all can be problematic. Ideally, you'll want everyone to stay in the same floor of the same hotel. But this can often be difficult to achieve.
If you're looking for just this and require accommodation for 8-12 people, then HRSP.com.au has just the answer. We have two holiday apartments at Orchid Residences, Apartment 12904 and Apartment 22902, that are both located high on the 29th floor – just imagine the views!
Apartment 22902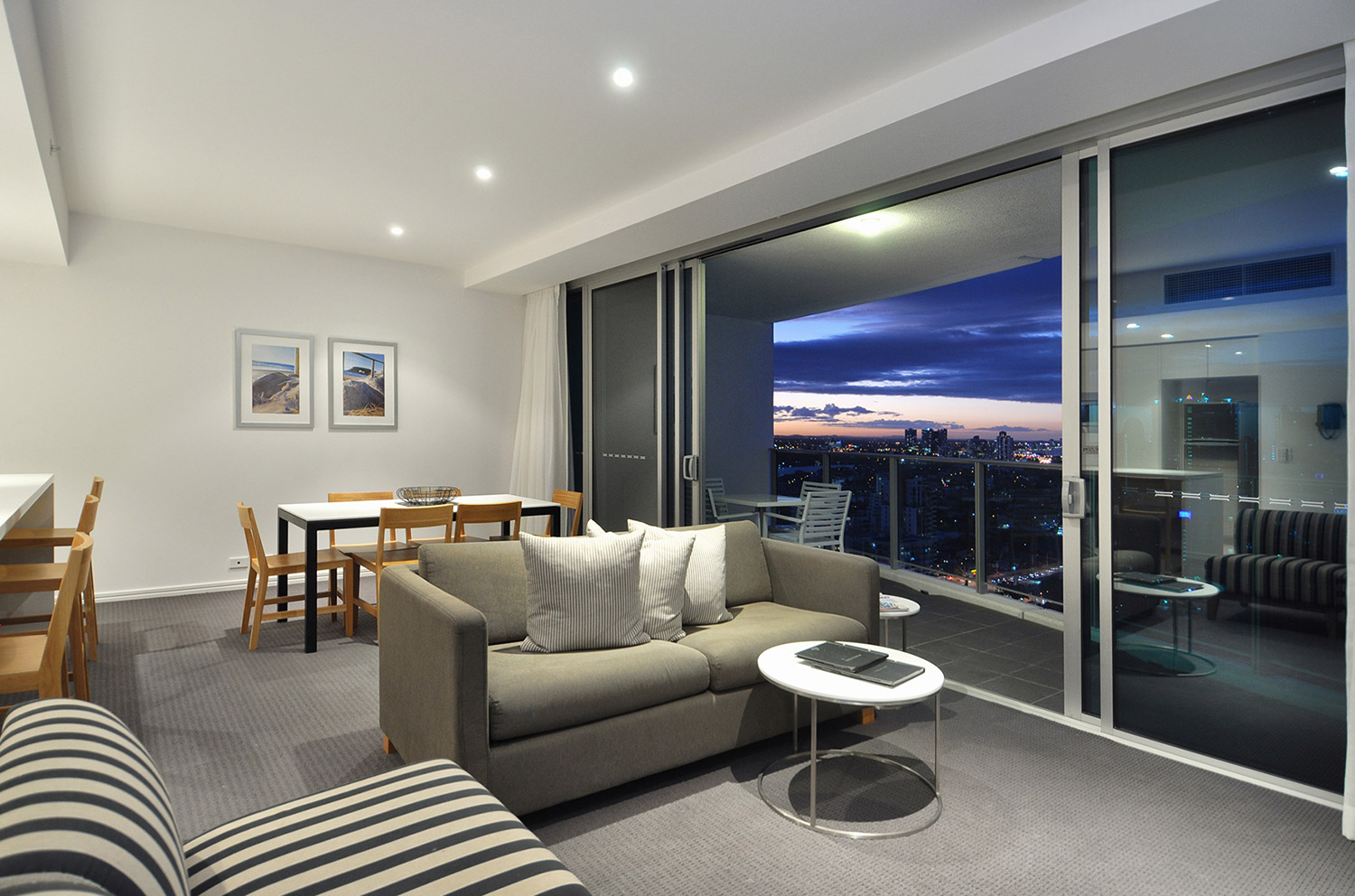 The self-contained Apartment 22902 offers everything that you could wish for from your holiday accommodation. Featuring pristine interiors with modern and sleek furnishings, this apartment offers gorgeous views of Surfers Paradise and the Pacific Ocean. The master bedroom contains a king bed and a full ensuite bathroom. The second bedroom includes a double bed and a built-in robe.
Fully air-conditioned, Apartment 22902 includes free Wi-Fi, Foxtel premium, free car parking, a gourmet kitchen, laundry facilities and more!
For just $225 per night, you can experience 5-star luxury by staying at this wonderful, self-contained apartment.
Apartment 12904
Apartment 12904 is just as impressive as Apartment 22902. This apartment offers magnificent views of the ocean and the Gold Coast. A 2-bedroom apartment, Apartment 22902 features world class furnishings and modern interiors. The master bedroom of this apartment includes a king bed and a private ensuite bathroom. The second bedroom is equipped with a double bed and a built-in robe.
Other highlights of this apartment include Foxtel premium, free car parking, a gourmet kitchen, various entertainment systems and laundry facilities.
Available for just $225 per night, Apartment 12904 offers superb value for money.
Please note: Tariffs mentioned sleep up to 4 guests in each apartment. Extra beds will be provided on request for a small additional fee.
Great ratings and reviews left by our customers provide ample proof of just how wonderful these holiday apartments are.
"Thank you so much for this amazing stay. .. This whole experience from searching on the web.. making the booking, being greeted at HRSP to stepping into our room fir the first time. Amazing. We will definitely be recommending you to our family & friends back in NZ" – Gaylene, Orchid Residences, Apartment 22902
"Customer service: 10 Quality of the room: 10 Property features: 10 Feedback: The room was fantastic great view very clean the unit was well equipped with everything else would defiantly recommend." – Emily, Orchid Residences, Apartment 12904
You'll not find better holiday apartments at such prices anywhere else on the Gold Coast. Don't keep thinking – book these apartments today!