3 Events not to be missed this February
As the peak of summer, there are plenty of attractions and events to keep you entertained whist on the Gold Coast this February.
As a Gold Coast accommodation provider, I welcome many guests who choose to book their holiday in February. Why? Because February is one of the best times to visit the coast. There are fewer tourists, accommodation isn't as expensive and there are still plenty of events that tourists can take part in.
Continue reading this article as I list 3 such events you can enjoy on the Gold Coast this February. Make sure to take your family! Oh, and you can thank me by choosing to stay in one of our Surfers Paradise apartments for your holiday!
1. Get a pop explosion with B*witched and Atomic Kitten Live
The Gold Coast plays host to several music events every year. This coming February, Atomic Kitten and B*witched will be performing together live on the Gold Coast.
When it comes to the top pop exports from the UK, B*Witched and Atomic Kitten are two of the biggest names. These artists will perform with supporting acts S Club 3 and East 17. All four acts will come together for a great night of live music where you'll relive the memories of the 90s. This is sure to be a great night for all fans of pop music.
Jupiter's Hotel and Casino lies just minutes away from our Surfers Paradise apartments. So, by staying with us, you won't have any problems getting to and from the venue.
B*witched and Atomic Kitten will be performing live on Friday, February 17 at Jupiter's Hotel & Casino from 8:00pm-11:45pm. A ticket to this live show will cost you only $86.30.
Find out more at www.jupitersgoldcoast.com.au
2. Join in the fun of Cupid's Undie Run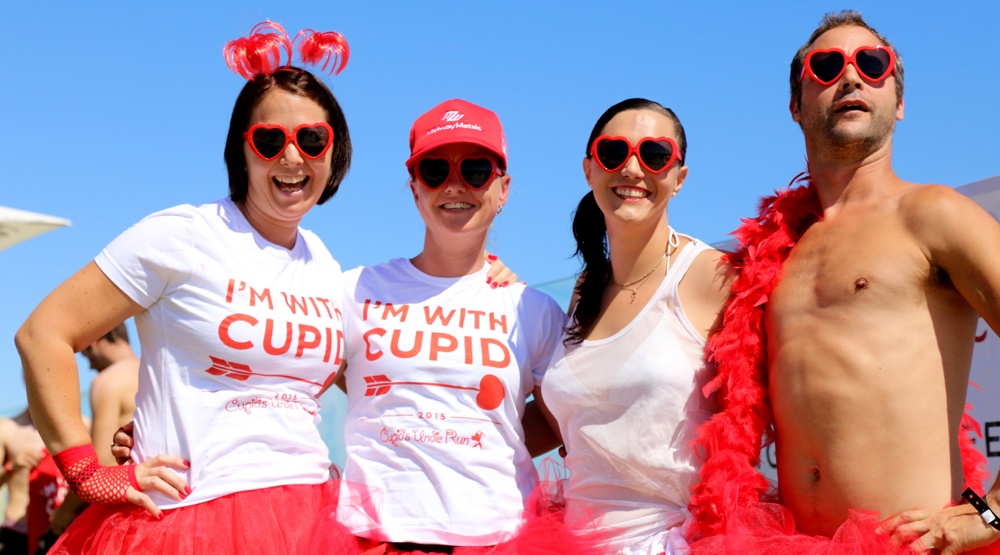 The Gold Coast is certainly a very romantic destination to spend Valentine's Day. This coming Valentine's Day weekend, Gold Coasters can take part in Cupid's Undie Run.
Cupid's Undie Run is a wonderful charity event which raised over $3 million in 2016. All proceeds from this event will be used for research and for finding a cure for neurofibromatosis. By taking part in this fun filled event, you will be supporting a very noble cause indeed. There are also some great prizes for the best dressed and top fundraisers, so make sure to take part in this delightful run!
Cupid's Undie Run will take place on Sunday, February 19 at Burleigh Heads Mowbray Park SLSC from 12:00pm-4:00pm. Early bird tickets for this event can be availed before November 30 at $45 while general tickets are available for $60.
Find out more at cupidsundierun.com.au
3. See John Farnham Live as he returns once again
Another live music concert this February – and one that I'll be attending for sure – is John Farnham live. John Farnham is widely considered to be the voice of Australian music. He is both a teen pop idol and a fine adult contemporary artist with millions of fans all over the world.
Come February, John Farnham will be performing two-nights only one the Coast. Farnham will be performing all of his greatest hits with a live orchestra. This show promises to be incredibly special so be sure to get tickets early before each night sells out. Also, as I mentioned, if you choose to stay in one of our Surfers Paradise apartments, you'll only be a couple of tram stops from Jupiter's.
John Farnham will be performing live February 22-23 at Jupiter's Hotel & Casino from 8:00pm onwards. Tickets for this show are priced at $139.90.
Find out more at jupitersgoldcoast.com.au
To be central to all these great events, consider booking a luxury apartment in Surfers Paradise with HRSP. We have a large range of luxurious holiday apartments that promise to make your Gold Coast holiday an unforgettable one. Take a look at our rates and availability for February to book your stay. You won't find better accommodation at cheaper rates than what we offer!
Book online or call (07) 5539 8553 today.