6 Reasons to Stay in Surfers Paradise
Are you planning on a Gold Coast holiday with your friends or your family? Great choice! The Gold Coast is one of the most popular tourist destinations in Australia thanks to its exquisite beaches and plenty of activities for tourists to enjoy. While you certainly have a number of popular tourist areas to stay in, Surfers Paradise is by far the most popular. Here are some reasons why you should choose to stay in Surfers Paradise when visiting the Gold Coast.
1. It has the best beaches on the Gold Coast
There is good reason behind Surfers Paradise being one of the most popular holiday destinations in Australia – it has the best beaches on the Gold Coast. Surfers Paradise beach lies close to various attractions, markets, entertainment options, nightlife and accommodation in the area. A favourite with tourists, Surfers Paradise draws in plenty of visitors all around the year. There really is no "off season" in Surfers Paradise – you will have a wonderful holiday any day of the year at this destination.
2. It is the tourist centre of the Gold Coast
While the Gold Coast itself is known for its many tourist attractions, most tourists choose to stay in Surfers Paradise. This is because Surfers Paradise has a number of luxurious accommodation options for you to consider. With towering buildings offering spectacular views of the Gold Coast hinterlands and the ocean, Surfers Paradise is recognised for its quality accommodation options. Moreover, Surfers Paradise is also the busiest entertainment and shopping precinct on the Gold Coast. With night markets, beachfront markets, a number of dining options and other attractions in the vicinity, it isn't difficult to see why Surfers Paradise is the tourist hub of the Gold Coast.
3. Everything is in one place/walking distance
The best part about Surfers Paradise is that everything is located in one place and all within walking distance. Should you choose to stay in Surfers Paradise, you will find that your accommodation is close to the beach, the markets, the entertainment hubs and every other major attraction of the area. The only reason you might want to rent a car is if you want to explore beyond the suburbs of Surfers Paradise to experience the natural beauty of the Gold Coast.
4. Amazing nightlife
Surfers Paradise is known for its vibrant nightlife. With plentiful of bars, pubs and clubs, young tourists are definitely in for a great time at Surfers Paradise. However, this does not go to say that the area is not family-friendly at night. In fact, there are a number of night markets, attractions and dining options that remain open till late which are incredibly family-friendly. So, whether you're a group of friends or a family looking for a holiday on the Gold Coast, Surfers Paradise is where you'll want to be.
5. Plenty of free activities for the kids
Surfers Paradise has plenty of attractions for kids as well as adults. If you're staying in Surfers Paradise with your kids, they can enjoy a variety of free activities. Kids will love playing and building sandcastles on the beaches and swimming in the ocean. Moreover, there are a number of beachfront markets, live entertainment and annual festivals which kids are sure to enjoy. In Surfers Paradise, kids can have as much fun as adults would on a holiday.
6. Fantastic accommodation options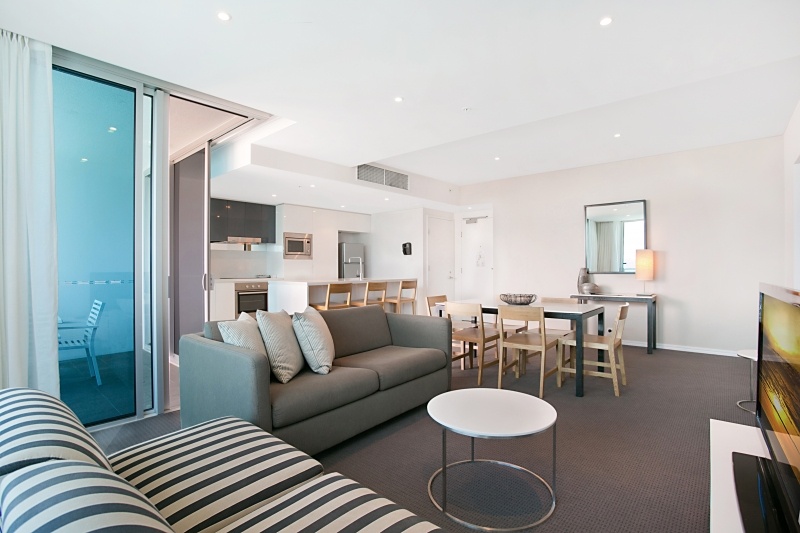 The best part choosing to stay in Surfers Paradise is that there are some fantastic accommodation options to choose from. At HRSP, we offer luxurious accommodation in some of the best hotels and apartments on the Gold Coast. Consider booking your accommodation at the Moroccan Resort, Chevron Renaissance, Circle on Cavill, Orchid Residences, Sun City Gold Coast or Crown Towers Gold Coast. With spacious 2 and 3 bedroom apartments on offer, we cater to all types of people looking to enjoy quality accommodation on the Gold Coast. Additionally, as a valued blog reader, we are offing a 10% discount off your Surfers Paradise accommodation – simply enter the coupon code D10 when booking online to receive a 10% discount on your booking.
To book your accommodation in Surfers Paradise, look no further than HRSP. Our 2 and 3 bedroom apartments are located in the heart of Surfers Paradise, in walking distance to all the fantastic offerings which I've mentioned in this article. Get in touch with us, or book your accommodation online and we'll be happy to provide you with accommodation for your Gold Coast holiday.