Travel has indeed so much changed over the last decade. Every year a new travel trend is born and travellers follow suit. Last year, one of the hottest travel trends was technology. The Go Pro, for example, allows you to capture not just pictures but motions regardless of their speed and no matter the height. That made moments of traveling even more exciting and fun to look back on.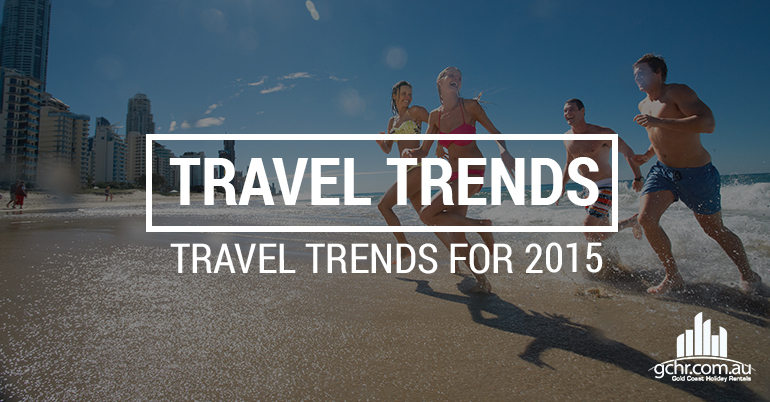 So what does this year hold in terms of travel trends? In this article I'll discuss the travel trends you can expect to see in 2015 especially in the Gold Coast area.
Get physical in the outdoors
The word outdoors has already become synonymous to the Gold Coast, and why not? Our region is blessed with sunshine almost all year round. We have glorious hinterlands, tranquil canals, and exquisite oceans that can be explored.
This year's travel trends suggest that travellers will be spending more time in the outdoors and less time holed up in your accommodation. Surfers Paradise, for example, is a haven water sports. It is one of the best places to surf, especially for beginners. The waves are not as wild as those in other parts of the Gold Coast, and the beaches are wide so you have plenty of space to play and try your newfound skill.
If you do not know how to surf, you can attend many classes. Some last for a week, others only a few hours (very basic surfing). All the equipment you need can be hired as well. Other ways to enjoy the waters will be to paddle board where you stand up on a board and paddle while cruising or kayaking. Australian Kayaking Adventures conducts half-day tours through kayaks.
An awesome way to move around Surfers Paradise is to hire an e-scooter. As its name suggests, it is a scooter that runs in 100% electricity, so you do not need to pay for any fuel. It is easy to drive as well, and it does not require any special registration and licence. If you are traversing a rougher terrain, you can get an electric mountain bike.
Beyond Surfers Paradise, you can get out and get active in Tamborine Mountain on the Rainforest Skywalk, or by visiting Currumbin Wildlife Sanctuary, Springbrook or Burleigh Heads. These are only 15-20minutes from Surfers Paradise.
If you are planning on getting physical during your Gold Coast holiday, then booking Surfers Paradise accommodation is ideal. There are many options which you can search and view on our website and I bet you'll be surprised with the quality of the accommodation we offer. Walking distance from all accommodation we offer at HRSP.com.au is the most popular beach in Queensland, where you can enjoy a number of water sports, you can hire a bike or learn to surf, or you can simply walk around this popular tourist destination and explore till your heart's content.
Dining is now a huge part of traveling
Before, eating is merely a means to address a necessity: you go to a restaurant, a café or any type of food establishment to grab a bite to eat, not so much to really enjoy the food but to quench your thirst or satiate yourself.
Well not anymore, as we have already seen, people are willing to travel up to an hour just to taste something different. For example, do you know in Japan, there is this one restaurant in the Subway that requires at least a year's reservation? People from all around the country and the world visit it to eat different kinds of sushi!
I personally have encountered many tourists who've come to Surfers Paradise to taste certain cuisines or dine in a particular restaurant. Others make time for it in their busy holiday schedule.
But what makes Surfers Paradise incredibly attractive to diners? Let's see.
We do Aussie food good! There are plenty of fine dining restaurants where you'll find steaks cooked to perfection, locally source ingredients and so many Australian wines on offer that the wine menu offers more than the food menu. Of course, though, sometimes you wish you taste other culture's cuisines, and Surfers Paradise offers this also!
You'll find Indian, Italian, Japanese, Mexican, Chinese, Thai, and other well-known cuisines all in the heart of Surfers Paradise (and throughout the Gold Coast).
You can always count on a good restaurant or café anytime of the day. If you want quick food we have fast food like Eastern Express or Greek Street Grill. If you want to cap the night with some light fare, you can just go down to the lounge of your hotel or head to Fix, Elsewhere, The Avenue, or Surfers Paradise Beer Garden. Fancy fine dining? There's Citrique, Hanlan's, and Seaduction.
Surfers Paradise is home to some the best restaurants on the Gold Coast including Black Coffee Lyrics, Bazaar and Alfresco Italian Restaurant, all walking distance from your Surfers Paradise accommodation.
People are aching for wellness retreats
People are becoming more conscious about their health. They have a deeper understanding about stress and the damaging effects it can do to the body when it becomes chronic. While a holiday in the outdoors is great in rejuvenating the body and the mind, sometimes you just want to really relax, enjoy the moment and de-stress by joining a health and wellness retreat.
A health and wellness retreat usually lasts for a couple of days and many resorts and other types of accommodation can already offer that. For example, if you truly want to get away from the hustle and bustle of your very busy life, you can go to Gwinganna Lifestyle Retreat in Syndicate Road. It is about 30 minutes away from the Gold Coast airport and only 15 minutes from Burleigh Heads. It sits on a sprawling 200 hectares of land in the hinterlands where guests can fill their tummies with organic fresh food and engage in activities such as scenic walks and hikes, Pilates, yoga, tai chi, and creative dance.
Meanwhile, if you're looking for something that you can squeeze in to your holiday schedule, you can go to these spas in Surfers Paradise:
SpaQ at QT: This is a haven for women in the middle of Surfers Paradise. It has nail services, body exfoliations, facial masks and therapy, waxing, grooming, and even sunless tanning. I recommend their Goldie Signatures, though, so you can truly maximise your time in the spa.
Ocean Day Spa at Outrigger: This is barely 2 minutes away from Surfers Paradise beach, so after you've exhausted yourself from the different water sports, you can immediately head here. I hope you can try their A Day at the Beach, a very comprehensive spa package that's good for 5 hours. But don't worry, it's divided into two sessions, morning and afternoon, so you don't feel rushed.
But here's the great thing about these day spas: these are found within or near a Surfers Paradise accommodation, Apartment 4204 even has its own Spa so you won't even have to leave your resort! If you need a massage or a facial, you can get it as soon as possible.
The community of niche travel agents is growing
We can also see more travel agents who will be focusing on certain niches such as health and wellness or luxury-oriented but very affordable Surfers Paradise accommodation. This is where we come in.
HRSP.com.au has only one goal in mind—that is, to give you the perfect Surfers Paradise holiday. And we believe that to make a day perfect, it should begin and end with a stunning accommodation that doesn't break the bank.
We offer elegant, modern and beautiful Surfers Paradise accommodation for as low as $135 a night. We have specious modern apartments at Orchid Residences, Moroccan Resort and Sun City Resort, to name a few.
The properties we manage come in all forms and sizes, giving you an advantage since you have plenty of choices. Would you like an apartment that's much closer to the ground floor or one that has an amazing view of the entire Gold Coast? We can surely help you with that one.
The amenities that you can find in each of the apartments can significantly differ, but rest assured that they will make you feel they're a home away from home. Just ask our clients who had and continue to love staying there whenever they are in Surfers Paradise. From swimming pools, to barbecue areas, comfortable warm beds, free WiFi and Foxtel, and an amazing location with Surfers Paradise beach only a few metres away—you have many reasons to love these choices.
Use our online support chat to ask any questions about your upcoming holiday. We can also give you a free quote. Just request one in our website.
Conclusion
The year 2015 is going to be an exciting year for traveling especially on the Gold Coast and in Surfers Paradise. It will all be about embracing natural attractions and harnessing them to help you feel rejuvenated and happy during and after your trip.
But you can make your 2015 travels more special by staying in an equally special Surfers Paradise accommodation. Book yours today at GHCR.com.au.
Related Topics