Hotel Occupancy Drops Across Australia, but Did It Affect Gold Coast Hotels?
It's a fact. Hotel Occupancy rates have dropped across Australia. The significant decline is due to a host of things including strong competition amount Australian tourism businesses, up-and-coming tourist destinations especially in Asia, accessibility of international travel, the recession in 2008 and a host of other factors.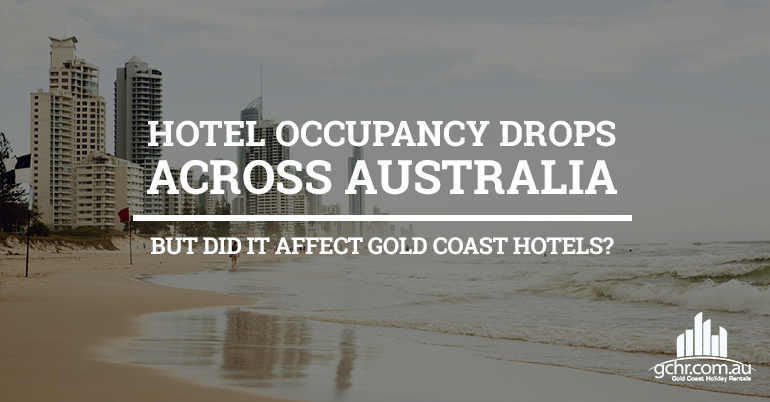 But looking more closely at hotel occupancy, more specifically, licensed hotels with 15 or more rooms, there's a slight increase of bookings in June 2014 (year on year). However, 68.3% for June 2014 is still a far cry from December 2013, which posted a remarkable occupancy rate of more than 71%, one of the highest hotel occupancy rates since 2008.
However, this statistics refers to the country's occupancy rate, which means it covers all of the hotels, not just those on the Gold Coast. The question is; how did hotel occupancy fare in the city? Did this affect the occupancy of Gold Coast hotels?
To find out, I found an article published by hotelmanagement.com.au. It states that the hotel performance on the Gold Coast has improved due to improved conditions for leisure travel. In addition they've stated that because no new rooms are likely over the next few years due to no new developments, Gold Coast hotels can expect to see modest demand and modest occupancy growth. Music to my ears! Apparently this growth will increase to 72.5% by the end of 2016 with the RevPAR, or revenue per available room, growing 3.5% over this period. Finally, they have also projected the hotel room rate growth to be solid, but not outstanding with a 3.2% increase per annum to reach $157 per room average over the said period.
Nationally they have also projected occupancy rates to risefrom 66.8% to 68.9% to the end of 2016; so this isn't only great news for the Gold Coast, but the rest of Australia as well. Although certain regions in Australia have experienced a decline in tourism, the Gold Coast has enjoyed a steady increase of both locals and international tourists. In case you're wondering why, I can give you a number of reasons:
1. You can look forward to several events all year round.
We host huge and spectacular events such as the Magic Millions Gold Coast Yearling Sale, Gold Coast Food and Wine Expo, RACV Ladies Masters (Golf), Quiksilver Pro and Roxy Pro, Bleach* Festival, Gold Coast Triathlon, The Australian Surf Life Saving Championships, Gold Coast Bulletin Fun Run, Blues on Broadbeach Music Festival, Sanctuary Cove International Boat Show, Gold Coast Airport Marathon, Broadbeach Jazz Festival and much, much more, which you can view here. Many of these events are part of our Gold Coast live campaigns. These also draw a record number of tourists who want to combine event watching and a full-on holiday for a few days.
2. We are known as Australia's playground.
We have become synonymous to the great outdoors, and it's definitely not a bad thing! We encourage you to be more active, to experience something new and different, to appreciate nature more, and even to meet and interact with the locals. Gold Coast has Surfers Paradise beach, one of the best beaches in the country, and other notable attractions like Wax Museum and Ripley's Believe It or Not. Infinity is a one-of-a-kind multi-sensory experience while Timezone has become a perfect hangout for teens and young adults. Up in the hinterlands are nature walks, trails, and parks, as well as health and wellness retreats.
3. We offer the best of both worlds.
We have the hinterlands where you can be one with nature, enjoy it on board a Safari jeep, or spend days unplugged from the crazy working schedules and just focus on yourself. This is also where you can see some vineyards, a number of which are more than happy to open their doors and cellars to you so you can taste their fine produce before they hit restaurants all around the globe. Then there's the beach. I have to repeat this because our beach is more than an attraction. It has become our way of life and our culture. A huge part of our laid-back lifestyle is hanging out here, teaching ourselves how to surf or engage in other water sports. In certain times of the week, more people come to join our beachfront markets.
4. We have a great weather all year round.
Our climate isn't perfect. While our summers are dry and humid, they also invite thunderstorms and rains that can continue for days. Nevertheless, we have plenty of sunshine than other parts of the country. Our winter here is very pleasant. It's not too warm and certainly not cold (although if you still find it chilly, just dip into an indoor-heated pool, a common facility among luxury resorts and apartments). In the morning, the weather is mildly hot and it gets colder as the day wears on.
With so much to offer, it's no surprise Gold Coast hotel occupancy has increased and looks to continue to increase at least till the end of 2016. As an accommodation provider that specialises in Gold Coast Hotel accommodation, I would be remiss if I don't throw in some recommendations for your next visit to the Gold Coast. I recommend the following Gold Coast Hotels:
Orchid Residences: offers luxury hotel-style apartments that are located within one of the world most recognised hotel brands. With contemporary apartments, the residences boast of first-class hotel lifestyle at a price you can afford. We offer luxurious 2 and 3 bedroom apartments from just $175 per night. Interested? Click here to view our rates and availability for a great hotel apartment.

Q1: One of the most fabulous Gold Coast hotels, this is the tallest residential tower in the area with an amazing view of the ocean, hinterlands and Nerang River. It's also famous for its attractions; Skypoint Observation Deck and Skypoint Climb, which takes you to more than 250 steps up a platform where you can see the entire Gold Coast and even Byron Bay and Brisbane during the day. With on-site day spa, Q1 offers everything you'd expect and more.
Circle on Cavill: You can now live the lifestyle of the rich and famous without dipping too much into your savings. For less than $150 a night, you can already stay in a prestigious address called Circle on Cavill. The shopping district is only a few steps away from the hotel making it the ideal escape for your Gold Coast holiday. We offer two 2 bedroom apartments at Circle on Cavill which you can explore via this link.
Conclusion
The Gold Coast has worked hard to bring the good news to everyone: that we have something great, new, and fresh to offer to all types of travellers. And our efforts have certainly paid off. Although we still have to work even harder, we can already reaping the benefits, and are happy to see hotel occupancy rates set to continue to rise not only on the Gold Coast, but across Australia for at least another 24 months.
We have learned to make the most of what we have, we work closely together, and we grow a sense of pride in where we are and what we do.
For the best luxury apartments and Gold Coast hotels, get the best deals from HRSP.com.au. We're here to serve you.
Related Topics
Gold Coast Cheap Hotels – How to get more for your money!