3 Surfers Paradise apartments perfect for your Christmas holiday
If you're planning a Gold Coast holiday for Christmas, you're certainly in for a lot of fun. Christmas is celebrated with great joy on the Gold Coast and it welcomes thousands of tourists during the festive season. With live entertainment, special markets, street stalls and great food, you couldn't possibly wish for more from your holiday.
As a local accommodation provider, I meet many people who choose to stay in Surfers Paradise for their Christmas holiday. While many guests book accommodation in advance, I also meet guests looking for last minute bookings. If you haven't booked your Christmas holiday accommodation yet, I urge you to do it soon. With the festive season approaching, availability is expected to run out really quickly.
So, continue reading this article as I list out 3 Surfers Paradise apartments that are perfect for your Christmas holiday. Take a look at them and I'm sure you'll want to book your accommodation soon!
1. Apartment 12103, Orchid Residences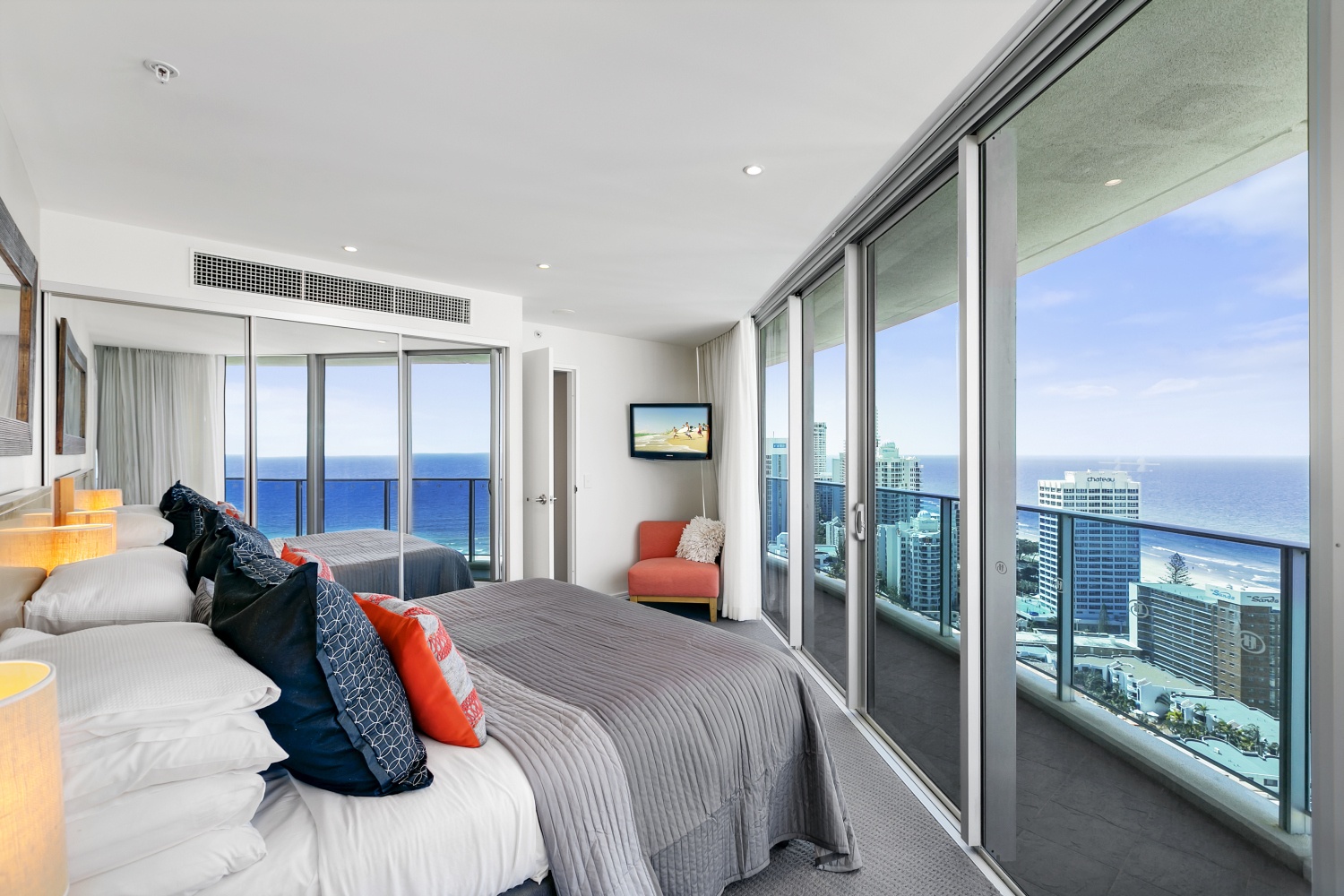 When it comes to luxury accommodation at affordable prices, it is difficult to beat Apartment 12103 at Orchid Residences. Situated on the 21st level of the Boulevard Tower, this 2-bedroom apartment is also co-located within a 5-star hotel. Best of all, is that it can be yours from just $250 per night. By choosing Apartment 12103 for your accommodation, you are sure to have a fantastic holiday.
This splendid, self-contained apartment is extremely spacious and well-furnished. It also has a large private balcony that offers surreal views of Surfers Paradise. With 2 large bedrooms and 2 bathrooms, this apartment features immaculate interiors and grand décor. Believe me, it will be the only Christmas present you need!
Apartment 12103 includes separate spaces for dining, living and even has a fully equipped gourmet kitchen. It also includes first-class facilities and amenities such as unlimited free Wi-Fi, free Foxtel Premium, a flat panel TV, a DVD player and various entertainment systems. You'll also get a free undercover car parking space with your booking.
Tariffs for Apartment 12103 sleep up to 4 guests. However, for a small surcharge, you can request for two extra beds and accommodate up to 6 guests.  This really is the ideal place to spend your Christmas holiday.
2. Apartment 3302, Chevron Renaissance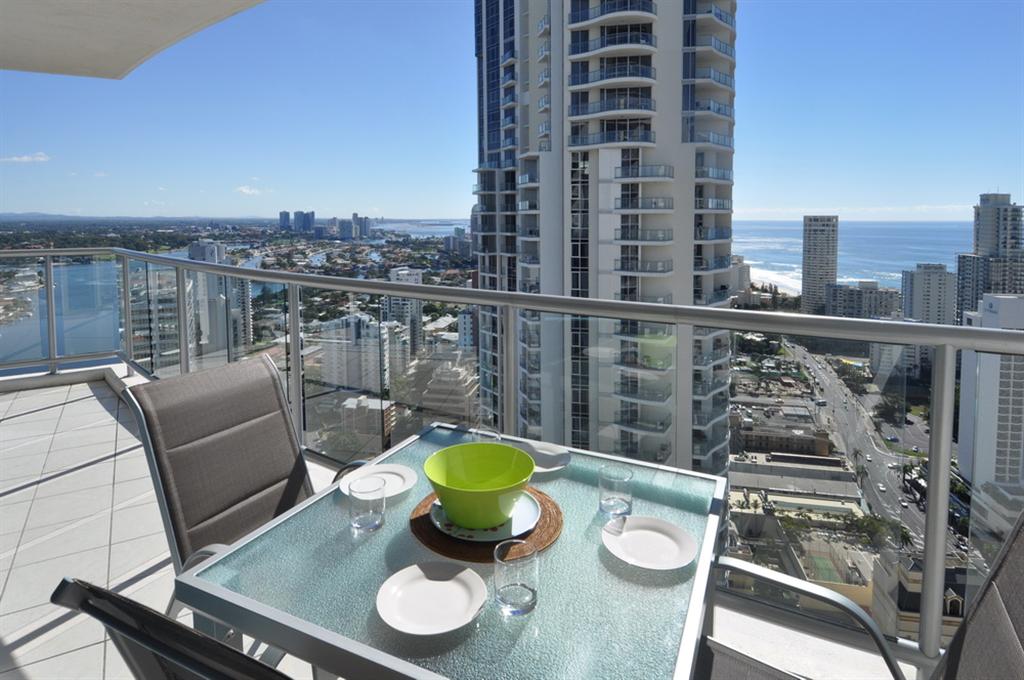 If you're spending Christmas with a large group, you won't find better accommodation than Apartment 3302 at Chevron Renaissance. Located on Level 30 of Central Tower 3 at Chevron Renaissance, this apartment presents magnificent views of Surfers Paradise. This 3-bedroom apartment is available for just $295 per night.
Apartment 3302 includes 3 bedrooms, 2 bathrooms and separate living and dining areas. It also features a fully equipped kitchen and an outdoor balcony that offers great views of Surfers Paradise and the ocean. No matter how large your group is, you won't fall short on space by choosing Apartment 3302 for your accommodation.
Other highlights of this apartment include Free Foxtel Premium, Wi-Fi, TV, DVD player and other entertainment systems. The interiors feature stunning décor and elegant furnishings. As an extra bonus, you also receive 1 free undercover car parking space with your booking.
The tariffs for Apartment 3302 sleep up to 6 guests. However, you can accommodate up to 8 guests in this apartment for an additional fee. You and your friends or family will love waking up on Christmas day in this apartment!
3. Apartment 4204, Surfers Paradise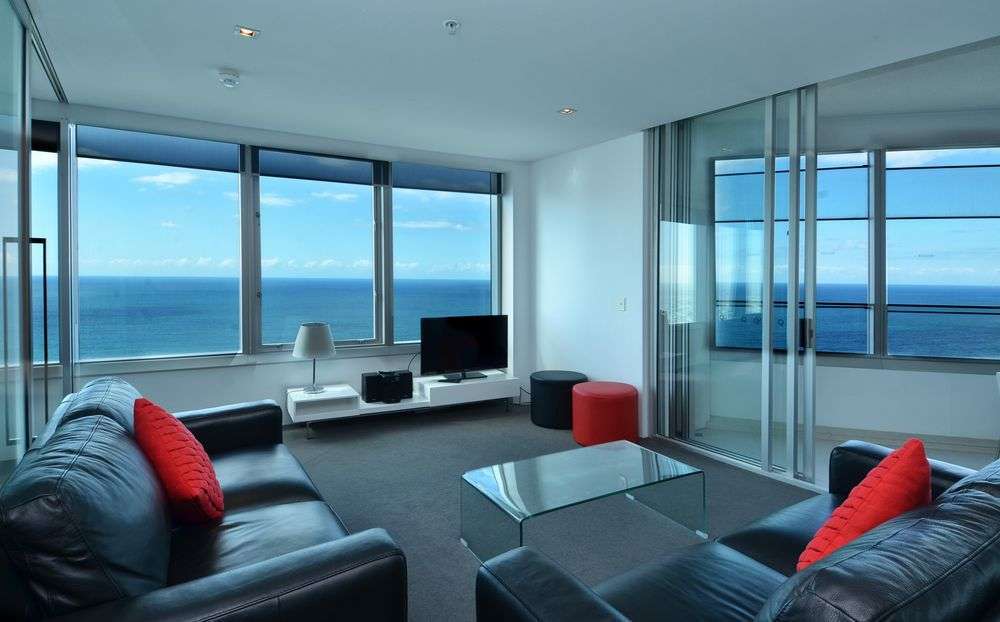 Nothing speaks of luxury more than Apartment 4204 in Surfers Paradise. Located in the 3rd tallest residential tower worldwide, this 2-bedroom apartment offers breath-taking views of the Pacific Ocean. Best of all, you can have the most memorable Christmas of all for just $210 per night.
Apartment 4204 features 2 bedrooms, 2 bathrooms and has separate dining and living areas. It also includes a fully equipped kitchen and a spacious lounge with TV, DVD player and entertainment systems. Thanks to Wi-Fi and Foxtel connectivity, you will not have any problems with entertainment at this apartment.
The tariffs sleep up to 4 guests. However, you can request 2 foldaway beds by paying a small surcharge fee and accommodate 2 extra guests.
Don't book your Christmas accommodation at the last minute. With thousands of tourists planning a Surfers Paradise holiday this Christmas, availability will run out very soon. Moreover, most hotels and holiday resorts will be charging you more during the festive season.
However, you can avoid all the hassles by making a booking with us at HRSP today! Simply give us a call at (07) 5539 8553 and we'll be glad to make you a reservation.