Consider Gold Coast hotels for last minute bookings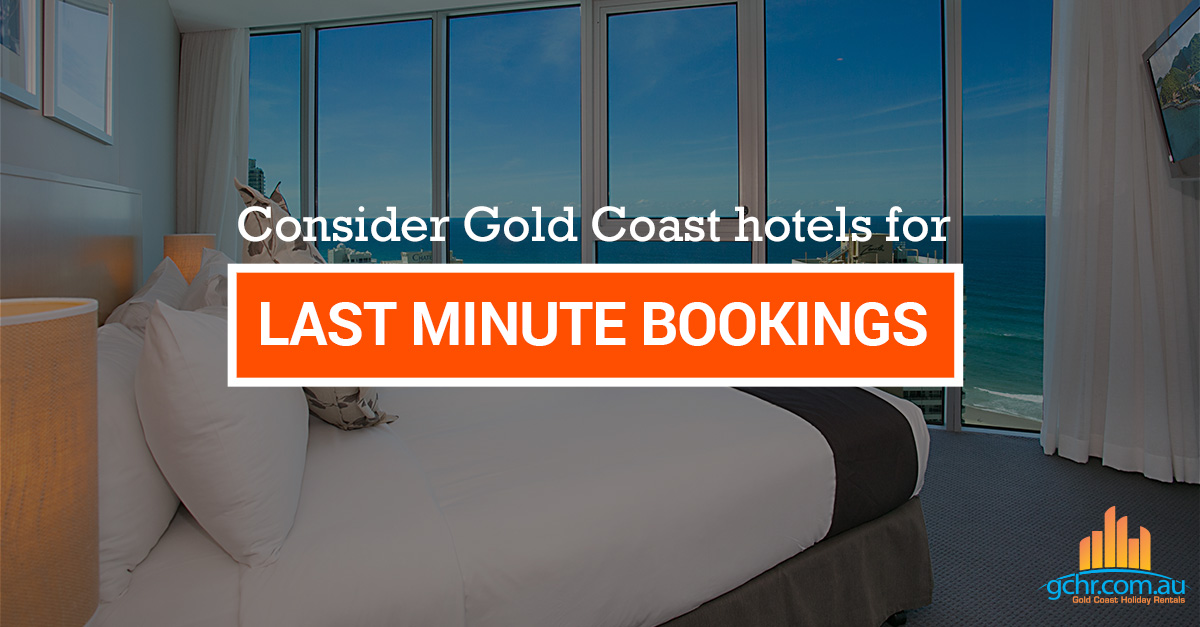 A few Gold Coast hotels for you to consider if you're making a booking at the last minute
When I looked at our latest statistics, I wasn't at all surprised to see that last minute bookings have increased slightly on last year's figures. People want to enjoy a holiday and they want to do it right away. And I know if I didn't already live here, there's nowhere else I'd rather be than in Queensland, living it up one of the best Gold Coast hotels.
If you're one of these people, who decide you're taking a holiday and do so within 30 days of deciding, it seems you're not alone. As I mentioned, we continue to see a growing trend towards impulse purchasing, in fact, our data shows 4.2% of all bookings last year were last minute bookings, a slight increase on the previous year.
If you need a holiday now, then perhaps we can be of assistance! At Gold Coast Holiday Rentals we offer a range of Gold Coast hotels perfect for last minute holidays, below are my top 5 recommendations which are all available within the next 30 days.
Chevron Renaissance, Apartment 2254
A level 25 skyline apartment, Gold Coast Holiday Rentals Apartment 2254 at the Chevron Renaissance is a luxurious 2 bedroom Gold Coast hotel which features world class amenities at surprisingly affordable prices. Perfect for family holidays, this apartment is designed to offer maximum convenience and comfort. The apartment is fully air conditioned and features a queen sized bed, two single beds, two modern bathrooms, a living area complete with entertainment units, a large dining area and a fully equipped gourmet kitchen. The apartment also includes laundry and cleaning facilities and features premium Foxtel.
Chevron Renaissance, Apartment 1314
Gold Coast Holiday Rentals Apartment 1314 at the Chevron Renaissance, is a premium level 31, three bedroom apartment. Ideally suited for large groups and families, this hotel can house 6 to 8 people and is complete with three stunning bedrooms, modern bathrooms, an elegant living space, a fully furnished gourmet kitchen, spacious living and dining areas and all other facilities that you hope to have in a hotel, including loads of entertainment options, laundry and housekeeping facilities and balconies producing ethereal views. As with our other accommodation options at the Chevron Renaissance, Apartment 1314 is fully air conditioned and offers premium Foxtel facilities.
Orchid Residences, Apartment 24402
Apartment 24402 at the Orchid Residences is one of our premium Gold Coast hotels. A level 44, 2 bedroom apartment, this hotel is affordable, spacious and luxurious. Perfect for two couples or for a family of 4 to 6, this apartment is fully furnished with all modern amenities that you could hope for in a hotel. With stylish interiors, majestic living and dining spaces, a modern kitchen and a variety of entertainment options, this fully air conditioned apartment has everything to offer. The self-contained apartment also features free Wi-Fi facilities and premium Foxtel.
Moroccan Resort, Apartment 309
Our Gold Coast hotel at the Moroccan Resort, Apartment 309, is an elegant, 3 bedroom apartment which is perfect for large families. A stunning apartment indeed, this hotel contains all the amenities that you need, including entertainment systems, fully furnished bedrooms and bathrooms, a gourmet kitchen, spacious dining and living areas, laundry facilities, a balcony and is fully air conditioned as well. Located on the 4th floor, this apartment offers a very relaxing atmosphere and presents grand views of the Pacific Ocean and the Esplanade beach. The apartment also includes standard Foxtel facilities.
Sun City Resort, Apartment 3401
Sun City Resort, Apartment 3401 is a level 34 Gold Coast hotel, which offers 3 bedroom accommodations. By far the most reasonably priced accommodation on the Gold Coast; this apartment features world class facilities and is a hit with tourists and locals alike. An incredibly spacious apartment, this hotel is air conditioned, offers grand living, dining and entertainment areas, features elegant bedrooms and bathrooms and comes equipped with laundry facilities. Boasting an ideal, beachfront location, this apartment offers tremendous value for money and presents the perfect blend of functionality and class.
These are only few of the several Gold Coast hotels that we, at Gold Coast Holiday Rentals have on offer. While these hotels are currently available, you can also check out our listings to see our total range of holiday rentals.
Conclusion:
If you're anything like me, you will probably wait until the last minute to book your holiday. While many people think that by booking accommodation at the last minute, quality accommodation cannot be found, this is largely untrue. Here, at Gold Coast Holiday Rentals, we have a range of luxurious apartments for you to choose from, which are absolutely perfect for last minute holidays.
There is no time like the present to book a last minute holiday. For the ultimate escape, consider one of the 5 Gold Coast hotels I've suggested above or give us a call at +61 7 5539 8553 to book your accommodation.
Related Topics
Gold Coast Cheap Hotels – How to get more for your money!