Why Crown Towers Gold Coast Is the Perfect Choice
Here's the truth: it's hard to qualify "perfect." It's a very subjective word, which means what's perfect to you may not be to me. But there are some points where we are going to agree. Take, for example, Crown Towers Gold Coast.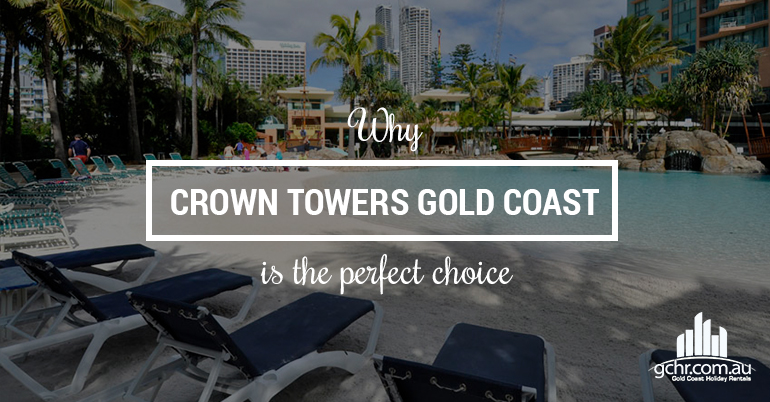 While it's not the best accommodation on the Gold Coast Gold Coast or even in Surfers Paradise, there is however, more than a few reasons why I can say it can be a perfect traveller's choice.
Location
Crown Towers Gold Coast is located right in the heart of Surfers Paradise. To be very specific, if you stay here, you will be only a hundred meters from Surfers Paradise Beach! That's as good as being at your doorstep, so to speak. The beach stretches for kilometers and a little farther South you'll find plenty of restaurants, retail shops and access to public transport including as the new G:link light rail. Cavill Avenue is one of the most popular shopping and entertainment districts in the region and is just 3 minutes by car or bus and 10 minutes on foot.
Facilities
Crown Towers Gold Coast is currently ranked 14th of more than 55 listed accommodation options on TripAdvisor, the go-to website if you're looking for real reviews of travellers who had truly stayed there. It has a score of 4/5 based on over 500 reviews.
Apart from the location, the facilities have become a huge attraction for the guests, especially for those who have children. It features a heated outdoor kids' pool, lagoon pool (complete with a pirate ship!), waterslide, games room and a barbecue area. Should the weather turn bad, you can go all in and just enjoy the indoor heated pool. There's also a club solely for the children so parents can have some time to relax without kids.
All apartments have Internet access, while there are two good restaurants on site, Chiang Mai Thai (which is one of my favourite restaurants on the Gold Coast) and Coast. There's also a day spa, a business centre and a tour desk. It definitely feels like everything you need is already being taken care of here.
Guests can also choose among the different-sized rooms, so they can find the one that fits their purpose, budget and need.
Price
At HRSP.com.au, we currently manage a great apartment at a very affordable rates starting at only $175/night. You can enjoy 3 spacious bedrooms that can accommodate up to 8 people, making this truly worthwhile for a large family or a group of friends. If you're a couple who loves to have plenty of space, this one is for you too.
The apartment boasts a beautiful location on the 18th floor with sweeping ocean views by the balcony. A sliding glass panel separates the balcony from the living room. It's a great place to relax and unwind after perhaps a full day of sightseeing around Surfers Paradise and the nearby Gold Coast attractions.
The self-contained apartment has 2 bathrooms, 2 king beds and 2 single beds. You can also have 2 more rollaway beds (optional). Foxtel Premium is included free of charge, and you're entitled to one complimentary car parking throughout your stay.
I know that you'll certainly love the apartment and the building itself, but, don't just take my word for it. Please do read the following reviews to give you a better idea.
This one is from apartment 1802 which HRSP.com.au manages:
Thanks for a great stay at apartment 1802 crown towers! This was our second booking and it certainly didnt disappoint. We've told our friends, and another family are keen to join us in March. In the info pack in the room it said to ask you about a discount for the next booking. I'm keen to book ASAP, so would like to know how to do this. Thanks for the great service and a terrific holiday. –Mel
The following I got from TripAdvisor:
I would highly recommend to anyone that the Crown Towers is a wonderful place to stay. Kids are welcome and easily entertained. The facilities were amazing. The people were great.—Mike M, Sunshine Coast
What a great place to stay with a family. A spacious 2 bedroom apartment was slightly worn but perfectly comfortable and functional. Staff at the concierge were lovely and the Thai restaurant was delicious! The pool was AMAZING, my kids would have stayed all day everyday if we'd let them. Location was great, only a short stroll to the beach or shops. It rained almost the whole time we were there but still had a great time. We will be back—Becadsei
Conclusion
It's hard to find an accommodation that combines a good location, excellent facilities and affordable room price. It seems one has to give way for the other. Because everything you need as a traveller can be fulfilled at Crown Towers Gold Coast, I'd say this is perfect. If you'd like to book an apartment here, let me know and I'll be glad to help.
View our listing for more information on this great resort or call (07) 5539 8553 for more information.
Related Topics
Crown Towers, Gold Coast's best kept secret!