Gold Coast accommodation reviews in the spotlight
Gold Coast accommodation reviews are considered to be quite important both by travellers and hotel managers alike
If you're anything like me, then you definitely look at the reviews of an apartment or hotel to judge whether or not it is up to scratch. Am I right? At Gold Coast Holiday Rentals, we know just how important our guest reviews are – they can be the difference between having no availability or no bookings at all, which is why when I saw recent articles about a property manager fighting back about a unfair guest review on TripAdvisor, I had to feel for him.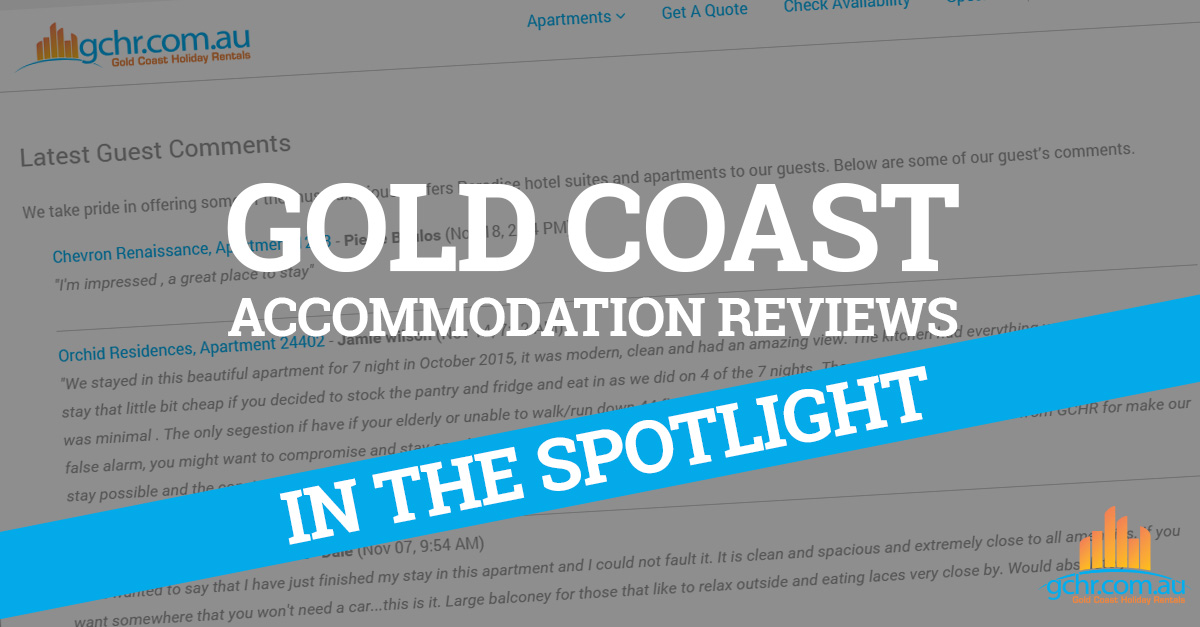 In this article, I'll look at this topic in more detail and explain the impact and influences guests reviews are currently having on Gold Coast accommodation bookings. If you don't take any notice of them, then I suggest that you start immediately.
A bad guest review completely jeopardises the reputation of accommodation providers
The property managers response to the TripAdvisor review gained a lot of media attention. In this case, the guest had left a negative review for a Gold Coast apartment, claiming of a horrible experience, while in fact it was the guest who was completely at fault. Given that TripAdvisor reviews are widely used by people looking for accommodation on the Gold Coast, it comes as no surprise that the apartment manager had to retort to this negative review in order to save the apartment's reputation in front of thousands of potential customers. The reaction of the property manager just goes to show how important guest reviews are to accommodation providers, and how even a single negative review, can completely tarnish the image of an apartment, hotel or resort.
While guests often leave improper reviews on TripAdvisor, in general, most leave truthful opinions on their experience. This is why reviews are widely honoured both by new guests looking for accommodation, along with property management. While positive reviews allow apartments to stand out better in front of potential customers, they also help new travellers determine whether they are choosing the right apartment for their Gold Coast holiday.
Trust You meta reviews to be integrated with Gold Coast hotel websites
Trust You, a famous review website, has announced that it will offer meta reviews of Gold Coast apartments on the visitgoldcoast.com websites. This is wonderful news for travellers, as they need not hunt around for apartment reviews all over the internet. Instead, Trust You will feature the most useful user reviews in a summarised form on the website, saving travellers a lot of hassle. This move, both on part of the Gold Coast destination website and Trust You, further goes to demonstrate the importance of guest reviews and why they matter so much. Travellers all over the world will definitely make use of these featured meta reviews over the coming months to determine whether Gold Coast apartments will stack up to their expectations or not.
At Gold Coast Holiday Rentals, we encourage all guests to leave a review of their stay and are proud of the positive response that guests have had when having stayed in our Gold Coast apartments; in fact, our latest guest survey found that 94% of guests would recommend Gold Coast Holiday Rentals to their friends.
Conclusion:
To save time booking Gold Coast apartments that you can trust to live up to your expectations, simply look at the guest reviews before you complete your booking. They are the honest testaments of past guests and will give you a good indication of what to expect from the apartment, resort or hotel you desire. It is for this very reason that the onsite management of a property take reviews seriously and make sure that they receive no negative feedback on review sites such as TripAdvisor and Trust You, amongst others.
To book a hassle-free holiday, simply go through our website and read our reviews of our Gold Coast apartments. As one of the Gold Coast's leading accommodation service provider, we take pride in offering quality accommodation that won't disappoint. To make a booking with us, give us a call at Gold Coast Holiday Rentals. We will be glad to assist you in every way that we possibly can.
Related Topics
What to Expect from your Gold Coast Holiday