Circle on Cavill; the ideal holiday destination
Looking for a Gold Coast holiday where you can spoil yourself while you bask in 5 star luxury, world-class amenities and grandiloquent lifestyle accommodation? Look no further, Circle on Cavill is one such hotel from a wide variety of Surfers Paradise hotels, which is ideally suited for an indulgent Gold Coast holidaying experience.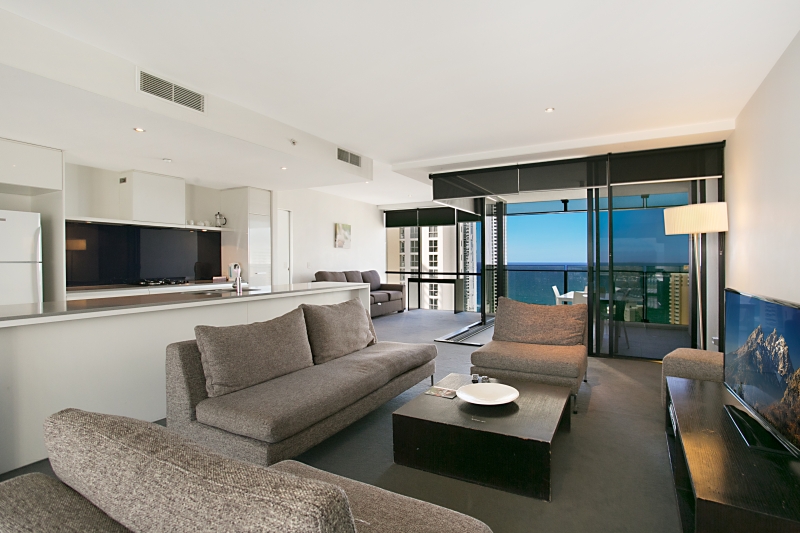 Circle on Cavill is a total leisure destination. We offer luxurious 2 bedroom apartments to suit your needs, which might I add are also very affordable from just $185.00 per night. Whether you are a couple looking for a romantic GC getaway; or travelling with a compact or a large family; our Circle on Cavill apartments sleep up to 8 guests, so there will be4 space for all.
Each apartment is self-contained with a fully equipped kitchen. Stock up your groceries from the Woolworths Supermarket just downstairs and enjoy the Gold Coast on a full tummy. Enjoy panoramic views of either the beach or the hinterlands. Indulge in the resorts spa, pool and other imperial facilities for an exalted experience.
Circle on Cavill is a foodies and shoppers delight with the Circle on Cavill Shopping Centre just below the building and Cavill Avenue just around the corner, hosting some of the best dining, clubbing, brand and local shopping avenues in Surfers Paradise. The beach is just a walk away and the major attractions are easily accessible.
Book now! And enjoy the most relaxing, ambrosial and ritzy Gold Coast holiday with us.
Related Topics: