Top 10 Family Accommodation on the Gold Coast
While it's fun to travel with friends or even solo, something that you should try doing at least once in your life is to travel with your family. Nothing–and I really mean nothing–is far more memorable and fun than being able to experience quality time with your family; away from the worries of work and the distractions of everyday living.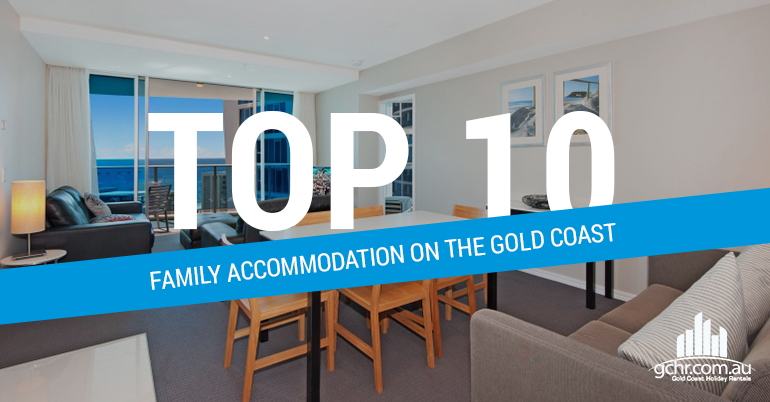 If you're looking to do just this, and the Gold Coast is your destination of choice, the great news is there are several great choices when it comes to family accommodation on the Gold Coast.
In this article, we'll look at family accommodation on the Gold Coast, the 10 listed by you the public to be exact, via TripAdvisor, so continue reading and look forward to a family holiday made for you.
1. Meriton Serviced Apartments Southport
This family accommodation option is not only new but it's cheap with standard apartments priced at less than $150 a night. The downside is that it's not as accessible as you'd like to think to Gold Coast beaches such as Surfers Paradise and Broadbeach. Nevertheless, public transport is close by.
2. Meriton Serviced Apartments – Broadbeach
Definitely the upside is it's very close to Broadbeach, which is considered the quieter version of Surfers Paradise Beach. However, since Broadbeach is close to Surfers Paradise, you can simply jump on the G-Link to get there in minutes. Here you can visit the nearby shopping and dining districts.
3. Surfers Paradise Marriott Resort & Spa
You can never go wrong with the Marriott. After all, it's one of the most trusted hotel brands in the world! You can expect everything here to be simply luxurious. Perhaps a minor issue is its distance from the heart of Surfers Paradise. Of course, as a luxury hotel, it's pricier than the other types of family accommodation on the Gold Coast.
4. Sheraton Mirage Resort & Spa
As a luxury resort, its amenities can be your alternative in case the weather gets bad and you can't enjoy the beach. Speaking of beach, this is close to Main Beach and SeaWorld. The downside is it's quite far from other nearby destinations, namely, Surfers Paradise and Broadbeach.
5. QT Gold Coast
I personally find QT to be spunky, unique and vibrant. It certainly gives a different kind of fun vibe than the other hotels. It's also reasonably priced too considering it shares many similar amenities to high-priced options. It is near the heart of Surfers Paradise, but you have to walk for some time to get to the beach.
6. Sofitel Gold Coast Broadbeach
Sofitel is another hotel brand that I admire. Located in Broadbeach, you can stay here when you want more peace and quiet. Surfers Paradise Beach is only a G:link away.
7. Apartment 4204
This is one of my favourite family accommodation choices on the Gold Coast for several reasons: it's co-located in the tallest tower, It has SkyPoint Climb and its nearness to Surfers Paradise beach. As if that isn't enough, I can give you a great deal if you book Apartment 4204 with HRSP.com.au from just $175 per night! Now that's great value accommodation, but don't take my word for it, here are a couple of our guest reviews:
"excellent service highly recommend Stayed for 7 nights in feb 2015 and could not be happier hotel is in a great place and much easier process booking through HRSP then at the hotel so easy picking up and dropping off keys no standing around waiting everything was in great condition and I will be returning and recommending this place to my friends and family do yourself a favor and book with these guys HRSP will look after you" (Kane)
"Fantastic location & apartment We stayed at Apartment 4204 in the Q1 during the January holidays of 2015. The location is fantastic, it is close to public transport, the beach and shops/restaurants. Our apartment held 5 adults very comfortably. The view was great especially with weather on our side, from this height you could see all the way down to Byron Bay. We would not hesitate staying here again and would recommend it to anyone!!" (Leah)
If you're interested in choosing this great resort for your family holiday, then visit our listing here.
8. RACV Royal Pines Resort
If you want an economical accommodation for your family, this is good option. This is also a great choice when you're looking for more privacy since it's found in the suburbs (which is also it's downside)
9. InterContinental Sanctuary Cove Resort
It's very much a paradise on its own. It has a beautiful large pool and a golf club, and the club room serves cocktails and canapés. But this is also in the suburbs, so it's best to have your own transport if you wish to see the beaches of Surfers Paradise.
10. Wyndham Surfers Paradise
A reasonably priced hotel, it features a pool with sandy texture, which makes it very fun for the children since they can already feel as if they're on the beach. It also serves a generous breakfast buffet. Just know that while it's in Surfers Paradise, it's not centrally located.
Conclusion
Now that you know the pros and cons for the family accommodation on the Gold Coast, hopefully you can make the best choice. If you'd like more options for your stay, then be sure to also read a previous article of mine; The Gold Coast, Perfect destination for Families .
Meanwhile, if you wish to book an apartment at Apartment 4204 then partner with HRSP.com.au and save!
Related Topics