Trendy Accommodation in Surfers Paradise
Let's be honest: when it comes to accommodation, we simply don't want something that's plain or bland. We are also looking forward to an apartment or hotel suite that spells new, unique or fun.
That's why I've come with the top 10 trendy options for accommodation in Surfers Paradise. In case you're wondering where I am getting this list, this is straight from TripAdvisor, so all the places here have been reviewed, and ranked, by real travellers.
Let's start, shall we?
Soul Surfers Paradise
Rank: 2
Review Score: 4.5
Price: $488
Yup, Soul Surfers Paradise is pricey, but sometimes you can't justify an amazing experience with monetary value. The biggest draw for me, and why it belongs to the trendy list, is its pool. It's so beautifully and uniquely designed. Deck chairs surround the area and give the guests an amazing view of both the swimming pool and the ocean. When it comes to the trendiest accommodation in Surfers Paradise, Soul tops the cake!
Surfers Paradise Marriott Resort & Spa
Rank: 3
Review Score: 4.5
Price: $178

Nothing says cool like having your own beach and the Marriott has just that. If you're intrigued by the name, well, its poolside area features white sand that children will surely love. There are gazebos or mini pavilions, a mini waterfall and a tropical garden. It's everything you'd expect luxury accommodation in Surfers Paradise to be.
QT Gold Coast
Rank: 5
Review Score: 4.5
Price: $234
You can easily see a huge difference between QT Gold Coast and the other Surfers Paradise accommodation options in this list: colour! There are eye-popping colours practically everywhere, from the lobby to the rooms. I like the fact that they're bold enough to do something like that.
Q1 Resort and Spa
Rank: 6
Review Score: 4
Price: $180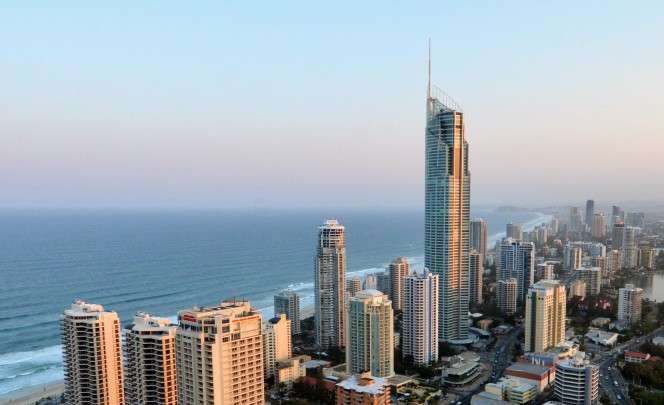 For me, the coolest part of Q1 Resort and Spa would be its Skypoint Climb. It's the only attraction that gives you an amazing 360-degree view of the entire Gold Coast and even the nearby islands. It uses a special system and gear to secure climbers properly.
See what a guests had to say about their recent stay:
"Thank you so much for a very easy check in. Have stayed here a few times and absolutely love it. Clean tidy and with everything we needed. I'm sure we'll be back again" (Karen)
For accommodation your friends will be envious of, Q1 is a great choice.
Crowne Plaza Surfers Paradise
Rank: 7
Review Score: 4
Price: $122

This Surfers Paradise accommodation option offers a magnificent view of the sunset and sunrise. It also has a very large swimming pool with a mini bridge and gazebo that makes the entire section cute and fun. It features a revolving restaurant that serves a very delicious buffet. Its great value for money.
Wyndham Surfers Paradise
Rank: 8
Review Score: 4
Price: $117

Wyndham doesn't have the biggest pool area, but it's intimate and serene. Despite the lack of space, it is still able to invoke the sense of being tropical with deck chairs surrounding it and palm trees lining on one side. It's also trendy because it's close to several eating and shopping places. From just $117, it's hard to bet.
Watermark Hotel & Spa Gold Coast
Rank: 11
Review Score: 4
Price: $222
Every inch of the room and lobby is very sleek and modern, a very refreshing take on hotel accommodation. You'll love the well-designed vanity kit, which seems to be straight out of an avant-garde beauty shop.
Orchid Residences
Rank: N/A
Review Score: N/A
Price: $175
Orchid Residences is home to HRSP's privately managed apartments within the Gold Coast's most famous hotel. Most definitely one of the first things you'll notice with the hotel is its design: it's like a jewel that glistens in the sun, thanks to its glassy structure. Taking advantage of this trendy design, our apartments are all located on high-level floors, so you can enjoy ample views of the oceans, beach or hinterland.
Orchid Residences is loved by its guests, just read our reviews below:
"We stayed at the Hilton residence at surfers for 5 nights. On checking in we were surprised by the high quality facilities on offer that are well complemented by access to a number of 5 star hotel facilities e.g 4 pools, spa, gym, restaurants etc. The apartment itself was comfortable, well appointed and offering great views. The highlight was being in the best possible location on the coast, saving the need to rent a vehicle. All in all, great value and highly recommended experience." (Nik)
If you think Orchid Residences is your idea of trendy accommodation in Surfers Paradise, then jump over to our Orchid Residences listing page and search rates and availably to secure your stay.
Crowne Plaza Hotel Gold Tower Surfers Paradise
Rank: 13
Review Score: 4
Price: $145
Crowne Plaza has all the amenities you wish to find in an accommodation like a gym, proximity to the beach, and a pool area that looks mesmerizing at night. Although not overly trendy when compared to the other accommodation option in this list, it does offer a decent location and low rates.
Circle on Cavill
Rank: 15
Review Score: 4
Price: $135
If you want to be closest to the trendiest spot in Surfers Paradise; Cavill Avenue, this apartment is second only to Orchid Residences which is smack bang in the middle of the famous avenue. The good news is we have 2 apartments on offer here, prices of which can be as low as $135 per night.
Here's a feedback from one of our happy guests:
Customer service: 10 Quality of the room: 10 Property features: 10 Feedback: The Circle on Cavill offers all facilities, amenities you need away from home plus all the added extras. Love it. Will always go back. GGHR were absolutely awesome with service provisions. Will definately be using your organisation when holidaying in Queensland again. Thanks for a great holiday. (Joanna)
Sound like your kind of accommodation for your Surfers Paradise holiday? Then head over to our Circle on Cavill listing page so search rates and availably.
Conclusion
Your accommodation can enrich your travel experience and turn a good holiday into an awesome holiday. When in town, choose trendy Accommodation in Surfers Paradise for you and your travel buddies. As this article suggests, you have a great experience and great accommodation without it breaking the bank. With accommodation as low as $117 per night, finding trendy accommodation in Surfers Paradise is possible.
Before you look anywhere else, start your search at HRSP.com.au.
Related Topics