Top 10 Surfers Paradise Hotels
Planning to have an awesome holiday in Gold Coast but don't have a hotel booked yet? I'll save you the trouble. I have listed 10 of the best Surfers Paradise hotels.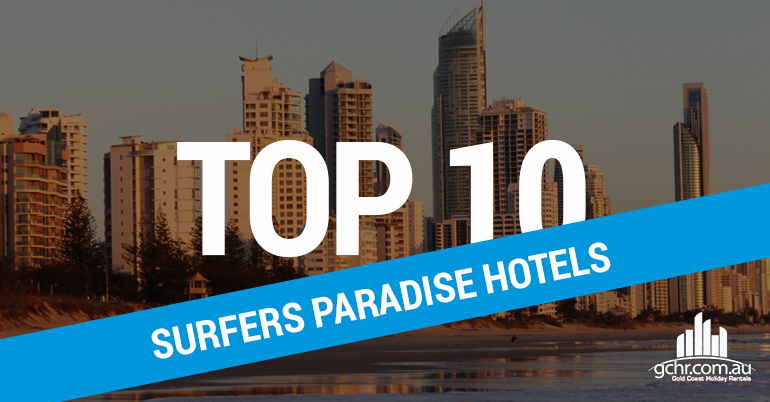 I didn't make this list up. It is compiled by none other than TripAdvisor, the premier travel review website in the world. Therefore you know this is a genuine list with real reviews from real people, those who've really travelled and stayed in these Surfers Paradise hotels.
In this article we'll go through each of the Surfers Paradise hotels when it comes to booking your hotel:
Moorings on Cavill Avenue
Rank: 1
Reviews: 4.5/5
Approx price: $165/night
If you want to live a lifestyle of the rich and famous, Moorings on Cavill Avenue is the place to be. You have the Nerang River by your side and the hinterland views through your balcony. Facilities include a toddler's and saltwater heated pool, a sauna, undercover barbecue area and lush tropical gardens. Rooms are big, beds are soft and the patrolled beaches are very close.
Soul Surfers Paradise
Rank: 2
Reviews: 4.5/5
Approx price: $385/night
The price may be a bit steep, but you also need to understand that this Surfers Paradise hotel oozes luxury. Located on the Esplanade, it offers a limo service to all its guests (for a fee), a 25-m indoor lap and tiered heated outdoor pool, a garden for more informal dinners or BBQs with friends and family, a steam room and spa and its own fine-dining restaurant called Seaduction. It also has ample facilities for events like conferences and weddings.
Surfers Paradise Marriott Resort & Spa
Rank: 3
Reviews: 4.5/5
Approx price: $299/night
You can never go wrong staying at a Marriott Resort. After all, it wouldn't be one of the best hotel brands in the world if it weren't for its exceptional customer service and premium facilities. Many reviewers praise its on-site restaurants and buffets. The resort has a full service spa, fitness centre, and a pool. It has also been recently awarded by QHA as Best Deluxe Hotel Accommodation for 2014.
The Breakers
Rank: 4
Reviews: 4.5/5
Approx price: $150/night
If you want to be a little farther away from the hustling heart of Surfers Paradise, choose to stay at The Breakers, which is only 50 metres away from Broadbeach. This Surfers Paradise hotel has a beautiful pool and apartments with plenty of space and amazing views of the beach even if you're not in a very central location of the complex.
QT Gold Coast
Rank: 5
Reviews: 4.5/5
Approx price: $188/night
QT Gold Coast means fun—and a lot more. Initially guests of this Surfers Paradise hotel are charmed by the vibrant eclectic colours of the interiors, including those of the room. But the hotel is actually A rate with its facilities like its designer spa, cafes and lounges, on-site restaurants, wireless Internet access, conference amenities, business facilities that are open for 24 hours, and 2 tennis courts. You can also rent a QT bike for free.
Q1 Resort & Spa
Rank: 6
Reviews: 4/5
Approx price: $199/night
Q1 Resort & Spa is iconic and a favorite amongst returning guests. As one of the most well-known Surfers Paradise hotels, apartments offer huge balconies with a grand view of the ocean, beach or the hinterlands. As self-contained apartments, everything you need is provided for, so you can definitely treat it like your own home.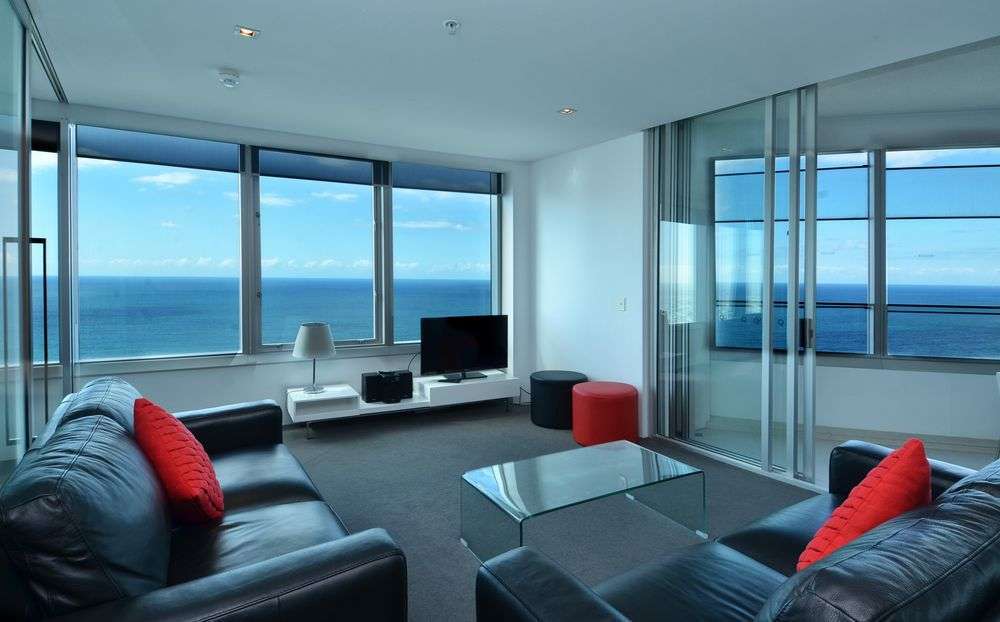 Here's one of the guest reviews:
Fantastic location & apartment. We stayed at apartment 4204 in the Q1 during the January holidays of 2015. The location is fantastic, it is close to public transport, the beach and shops/restaurants. Our apartment held 5 adults very comfortably. The view was great especially with weather on our side, from this height you could see all the way down to Byron Bay. We would not hesitate staying here again and would recommend it to anyone!! (Leah)

Crown Plaza Surfers Paradise
Rank: 7
Reviews: 4/5
Approx price: $169/night
One of its greatest advantages of this hotel is its location: it is close to the beach and two of the best shopping malls in the region. It serves generous breakfasts and has very friendly and accommodating staff. The hotel offers venues for both corporate and personal events.
Wyndham Surfers Paradise
Rank: 8
Reviews: 4/5
Approx price: $152/night
The apartments in the hotel feature a more modern furnishing with ample size for the bedroom. Guests can use the car park with no extra charge. Aside from the living room, the kitchen is spacious and has all the needed facilities. Some apartments don't have views, but at just $152.00 per night its decent value.
Mantra Wings
Rank: 9
Reviews: 4/5
Approx price: $154/night
Based on the reviews, the hotel has very accommodating and helpful staff. If you request nicely during your reservations, they will do their best to honour it. For me, that's added value since not all Surfers Paradise hotels do that.
Marrakesh Resort Apartments
Rank: 10
Reviews: 4/5
Approx price: $107/night
Certainly its price is a great attraction since it's the cheapest on our list. But it also has a good location too: it's between Surfers Paradise and Broadbeach. It means it's not too crowded and noisy. It's a good choice for a budget holiday.
Conclusion
You see, a Gold Coast holiday doesn't have to break the bank. These top 10 Surfers Paradise hotels can give you the best value for money. For a truly great apartment, consider Apartment 4204. Don't hesitate to contact us at HRSP.com.au for availability or to reserve your booking.
Related Topics