Third Party Hotel Booking Sites Aid Gold Coast Accommodation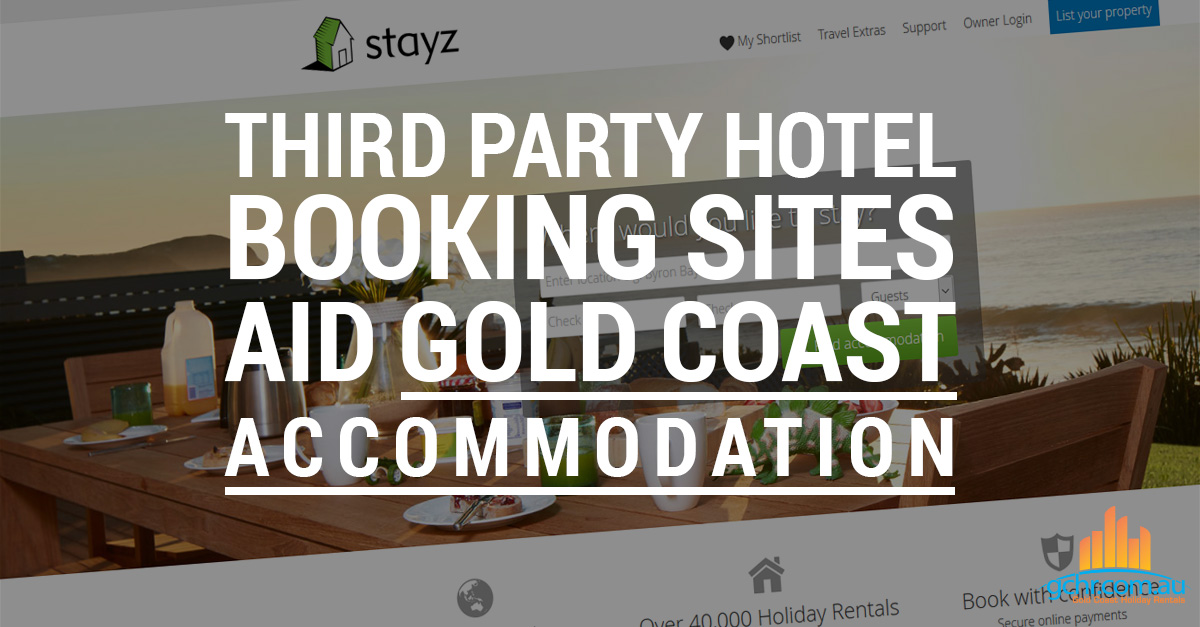 On a global scale, Gold Coast Holiday Rentals is a small fish in a big sea, when it comes to accommodation booking websites. While we continue to receive an increasing number of bookings year in and year out, we, like so many other Gold Coast accommodation providers rely heavily on the "bigger fish" for exposure. In fact, 54% of Gold Coast Holiday Rentals' bookings last year came through trusted third party hotel booking websites such as Stayz, Homeaway, AirBnB and JetStar Hotels. This goes to show not only how valuable they are to Gold Coast accommodation providers including myself, but also shows their popularity in the holiday accommodation sector.
Today, I'll look at these well-known third party hotel-booking websites and highlight the benefits of each. In doing so, I hope you're able to make a more informed decision when booking accommodation for your next Gold Coast holiday.
Stayz
Part of the Homeaway network of sites, stayz.com.au is the number one accommodation booking website in Australia. Featuring over 40,000 holiday rentals, including whole homes in more than 2,000 locations Stayz also offers a wide range of our Gold Coast accommodation. This website offers secure online payments for hotel bookings and is widely used by people to look for Gold Coast accommodation. Simply search for 'HRSP' in the location field on the Stayz website to see our accommodation offerings.
Homeaway
Of all hotel booking websites in Australia, Homeaway is perhaps the least well-known of the bunch. However, since it now owns the very popular Stayz website, it still manages to reach a wide audience. As such, all of our Gold Coast accommodation options that can be found on the Stayz website can also be found on homeaway.com.au. While this website offers everything that Stayz has to offer, including a large number of accommodation options on the Gold Coast, we have, however, noticed a decline in the bookings generated from Homeaway in 2016, as compared to 2015.
AirBnB
AirBnB is one of best known accommodation booking website globally. The standout feature of this website is that you can rent unique properties from local hosts around the world, including Gold Coast Holiday Rentals. However, our internal data reveals that the buzz around this website is starting to lull and slow down. Fewer bookings have been generated in 2016, as compared to 2015 out of the 50+ Gold Coast accommodation option listings we have featured on this website. Nevertheless, you can still find a good amount of our accommodation on the Gold Coast listed on the AirBnB site.
JetStar Hotels
JetStar Hotels is yet another very popular hotel booking website in Australia. This website offers some great deals, does not charge any booking fees and also offers a price match guarantee. We offer Gold Coast accommodation in all of our properties on jetstar.com.au. Simply search for 'HRSP' as the hotel keyword on this website to take a look at the wide range of accommodation options we have on offer.
These are four of the most popular hotel booking websites, which you can use to conveniently book our Gold Coast accommodation. While we promote our accommodation offerings through these four websites, you must keep in mind that some online travel agents charge commissions for hotel bookings and you must do some research on the prices before finalising your bookings. Other than that, you can safely resort to these websites, or our very own website; hrsp.com.au, for quality and luxurious accommodation on the Gold Coast.
Conclusion:
Third party hotel booking websites certainly aid us in offering out our Gold Coast accommodation to people all over the world. Of many online travel agents, Stayz, Homeaway, AirBnB and JetStar hotels are the sites through which we receive maximum bookings for our Gold Coast accommodation. These websites are our trusted third party online booking sites, which we use extensively to promote our accommodation offerings.
For the Gold Coast accommodation that you may not have discovered otherwise, consider making your booking through a hotel booking website, such as the ones I have mentioned above. You will find a wide range of our accommodation options listed on these websites, which you may not come across otherwise. Alternatively, you can book direct with us here at hrsp.com.au
Related Topics
Gold Coast Accommodation for International Visitors