Holiday accommodation too good to be true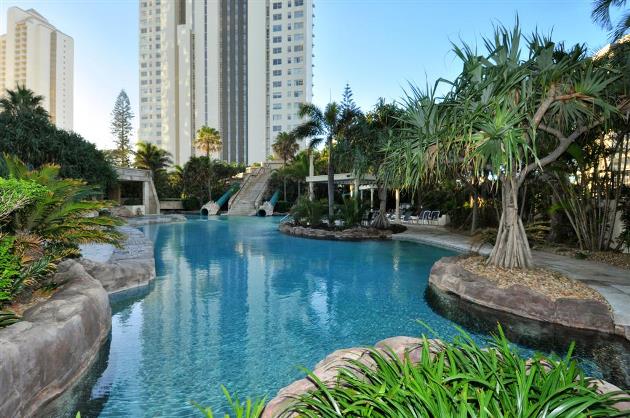 HRSP.com.au has a wide variety of holiday accommodation in the heart of Surfers Paradise, perfect for an affordable holiday with your partner, family or friends.
If you're heading to the Gold Coast and seek remarkable holiday accommodation, then Sun City Resort is just the place you've been looking for; spacious 3 bedroom apartments, just a few steps away from the beach, world class amenities, 4 star luxuries at affordable rates; this holiday accommodation is too good to be true.
Our apartments at Sun City Resort have a lot to offer for large families with teenagers, tiny tots or their elders in tow. The adults can soak in the generously sized, indoor heated pool or outdoor pool, while the kids can have a safe splashing time at the wading pool or kill a few hours in the games room. Have a family time on the squash court, children's playground, barbecue area or head out shopping and dining along Cavill Avenue. The resorts tour desk will assist and arrange for your travel to other attractions, theme parks and shopping destinations, which are no more than 20 minute drive from the resort.
After a whole day of exploring Surfers Paradise and other Gold Coast attractions, come back to your accommodation and enjoy beautiful panoramic views of the blue ocean, golden sands and setting sun.
Plan ahead and secure your holiday accommodation now.
Related Topics
Gold Coast Cheap Hotels – How to get more for your money!