Best Luxury Hotels in Surfers Paradise
Not all luxury accommodation options should break the bank. In this article, I'll identify the top 10 luxury hotels in Surfers Paradise ranked by TripAdvisor. These hotels ooze luxury so enjoying a luxurious holiday in Surfers Paradise simply comes down to choosing which hotel you'll stay in! Here we go!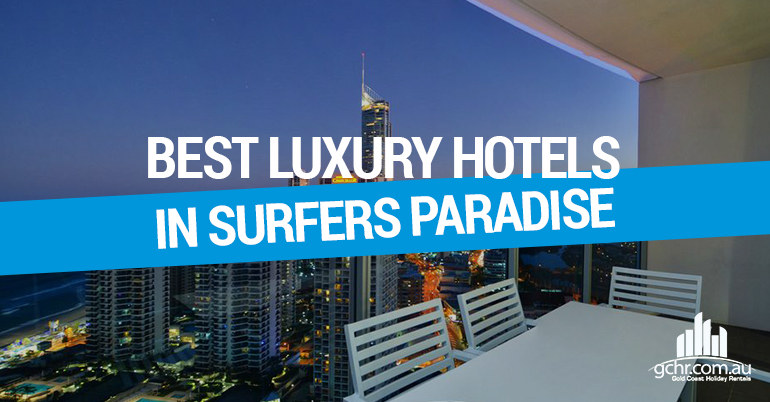 1. Surfers Paradise Marriott Resort & Spa
Review Score: 4.5
Rate: $236
As one of the biggest hotel brands in the world, Marriott in Surfers Paradise continues to impress its guests with its good location, superior customer service, and modern amenities in its public spaces and rooms. For a hotel just outside Surfers Paradise's city center, this is a good choice.
2. QT Gold Coast
Review Score: 4.5
Rate: $225
Very modern and sleek, QT Gold Coast boasts of a very spacious and airy interior. This stylish Surfers Paradise hotel features an impressive suite of spa services and a very lively bar scene.
3. Apartment 4204
Review Score: 4
Rate: $175
One of the most iconic luxury hotels in Surfers Paradise is of course Apartment 4204.
According to TripAdvisor, a holiday apartment at the iconic resort in which Apartment 4204 is co-located, can set you back about $393, but if you book yours from HRSP, we can offer you a beautiful apartment for only $175 per night, that's a huge savings! Apartment 4204 is located on the 42th floor and boasts beautiful ocean views. It can sleep up to 8 guests in 2 bedrooms and also offers 2 bathrooms and a large balcony. Check out one of our apartment reviews:
Thank you so much for a very easy check in. Have stayed here a few times and absolutely love it. Clean tidy and with everything we needed. I'm sure we'll be back again (Karen)
Visit Apartment 4204 to view rates and availability
4. Wyndham Surfers Paradise
Review Score: 4
Rate: $193
You can never doubt the high-end customer service offered by Wyndham. When you walk inside the lobby, you will see a concierge desk where you can book your tours, airport transfers, and even reservations for restaurants. This hotel has its own entertainment district so you don't have to go far to have a blast.
5. Crowne Plaza Surfers Paradise
Review Score: 4
Rate: $147
Like Marriott, Crowne Plaza has become one of the standards of hotel luxury accommodation with many of the apartments featuring large glass windows with a beautiful panorama of the beach, ocean, and hinterland.
6. Watermark Hotel & Spa Gold Coast
Review Score: 4
Rate: $143
There's nothing budget with this Surfers Paradise hotel. It offers a day spa, gym and the large pool. Children can also use the games room. For meetings and social functions, guests can use the board room and the ballroom.
7. Orchid Residences
Review Score: n/a
Rate: $175
Located within perhaps the world's most famous hotel brand, the popularity of our Orchid Residences apartments is no surprise. At affordable prices, and an amazing location smack bang in the very heart of Surfers Paradise, it's a tourist's dream to stay at such a destination.
From only $175 per night, you can stay at Orchid Residences, which as mentioned, is co-located within a luxury Surfers Paradise Hotel. Orchid Residences gives you access to hotel amenities while having your own apartment. HRSP.com.au manages 20 luxury hotel apartments offering 2 and 3 bedroom accommodation at this destination. In the meantime, read a guest review:
Customer service: 8 Quality of the room: 9 Property features: 9 Feedback: We were very happy with our Booking at the Hilton through HRSP. We had no problems at all with being a private booking at the Hilton and would book through HRSP again for the Hilton and other properties at the Gold Coast (Debra)
Visit Orchid Residences to view rates and availability.
8. Crowne Plaza Hotel Gold Tower Surfers Paradise
Review Score: 4
Rate: $175
This great hotel currently scores highly in sleep quality and cleanliness, followed by location, service, and value for money. It's one of the best hotels for traveling couples and families as it offers great resort style facilities and is within walking distance to Cavill Mall and Surfers Paradise Beach.
9. Mantra Circle on Cavill
Review Score: 4
Rate: $150
At Circle on Cavill, HRSP.com.au manages 2 luxury apartments for you enjoyment. The cheapest costs only $150 a night, although you can get this for $135 night on sale. Located on the 10th floor both apartments offer captivating ocean views that will make your stay a memorable one. Here's what one of our guests had to say:

The Circle on Cavil apartment was perfect for my 21st Birthday/ girls weekend! Thank you to HRSP I was very impressed with the competitive pricing and hassle free service. (Emily)
Visit Circle on Cavill to view rates and availability.
10. Vibe Hotel Gold Coast
Review Score: 4
Rate: $96
A huge advantage of the Vibe Hotel in Surfers Paradise is its location that is close to almost everything good of the region such as Surfers Paradise Beach. It also serves poolside cocktails and at just $96, it truly is great value for money.
Conclusion
For less than $100 a night, you can stay in one of the luxury hotels in Surfers Paradise. Not only that, your accommodation can be a self-contained apartment, which features everything you need to feel very comfortable all throughout your stay. If Apartment 4204, Orchid Residences or Circle on Cavill caught your eye, jump on to HRSP.com.au and book your accommodation with us today.
Related Topics