Surfers Paradise Apartments for International Tourists
If you're for overseas and looking to visit Australia or, more specifically, planning to visit the Gold Coast on your international travels, then no doubt you'll be on the hunt for some affordable accommodation. If so, this article is just for you.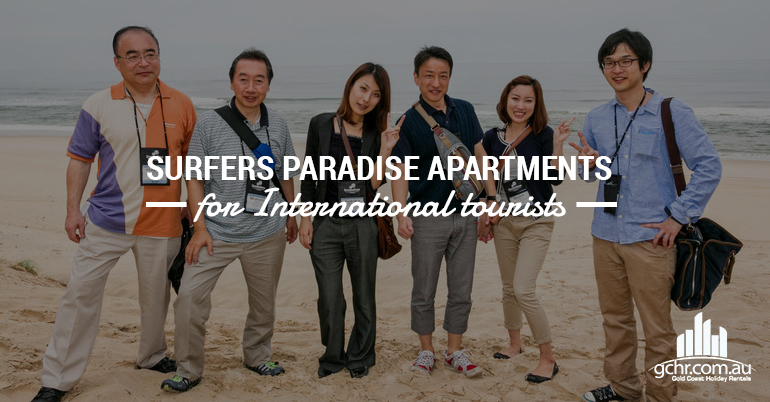 Over the last few blog posts, I've been sharing some tourism-related statistics. I am not trying to impress you here but simply want to let you know that the Gold Coast is becoming more competitive, especially when it comes to travel and more so when it comes to finding affordable Surfers Paradise Apartments.
Previously, I mentioned that the number of domestic travellers in the area has decreased, but today, I'm going to share some stats on our international travellers because you may be in for a surprise with the heft competition you're up against when it comes time to securing an apartment that ticks all the boxes.
Australia has always been a favourite destination among plenty of travellers around the world, and one of the foremost reasons is because we offer an amazing outdoor environment. We know how to give them a sense of adventure whether they are on land, sea or air.
In fact, in the latest press release provided by World Tourism Organization, the number of international travellers traveling the world significantly increased last year (from January to October) with a 5% increase to 1.1 billion travellers! With cheaper, and more competitive flights and accommodation on offer across the globe I must say I'm not all that surprised to see an overall increase but what about individual countries?
Well, the Americas still take the lead with an 8% increase in international travellers, a huge jump from 2013. BUT Asia and the Pacific, which covers Australia, came in second with a boost of 5% during the mentioned period. Breaking down this area, Japan and South Korea come in very strongly, however, Oceania, which is New Zealand and Australia, increased 6%, which is higher than our regional average.
This increase may very mean it well get tougher to secure accommodation for your stay. So to help you out, let me give you the inside scoop why you should book Surfers Paradise apartments for your stay and outline the benefits you'll gain from booking this type of accommodation.
Why Surfers Paradise apartments are perfect for your visit
The popularity of Surfers Paradise continues to grow and this is only matched by the increase in international visitors, and one of our strongest assets is the luxury Surfers Paradise apartments on offer.
They definitely rule the roost when compared to the number of hotels and other accommodation options on the Gold Coast, simply because they offer better value for money and have the highest number of visitors. But on top of this, with so many new developments in the works and strong support from the government, we can also look forward to even more apartments in Surfers Paradise and across the Gold Coast in the near future.
In the meantime, when you talk about Surfers Paradise apartments, they're equal to the best in Australia, especially in regards to this new hotel,which offers luxury 1, 2, and 3 bedroom apartments in Cavill Avenue. At HRSP.com.au, we offer extremely popular Surfers Paradise apartments which are co-located within the most famous Surfers Paradise hotel.
Let me explain why these apartments are getting snapped up so fast:
They are big; we're talking about more than 40 square metres per apartment.
They are ideal for families and friends; a 2 bedroom apartment, for example, can fit 4 to 6 people. If you need extra beds, you can simply request one when booking the apartment.
You have more privacy; stay in and prepare your own food, do your laundry and many of the other things you'd normally do in the comfort of your own home.
Guests can enjoy all these benefits plus the amenities that are offered by the parent hotel, such as gyms, spas, pools, etc.
One can be yours from a very reasonable price of just $175 a night.
But that's not all; Surfers Paradise apartments can provide you with:
Fantastic value for your money, especially when you're travelling as a group or as a family. Even if an apartment may be more expensive than a hotel room initially, you'll save money by enjoying your accommodation more, and have more space to do so. Besides, you can always share the costs among yourselves. Here's simple math: if a 3 bedroom apartment in Surfers Paradise costs $200 but fits at most 8, it means you'll be paying only $25 a night! And you get all these cool apartment facilities. How awesome is that?
A much better travelling experience. As you're able to share your accommodation with friends or family, you'll be able to stay up late talking about your experiences over dinner or on the balcony while watching the ocean waves crash toward the beach's shores. It also makes planning activities a whole lot easier when all in the one apartment.
An amazing location. If you think that only hotels can afford to place themselves in strategic locations, then you haven't checked out our Surfers Paradise apartments. Many of these are only a few metres away from the beach, public transport and even shopping and entertainment districts, helping you save more money on transport.
Conclusion
Surfers Paradise apartments are your best choice when you're visiting the Gold Coast, Australia. It's the smartest way to travel, really.
If you're looking for the best Surfers Paradise apartments, visit HRSP.com.au and search from our home page. We have apartments available at Chevron Renaissance, Orchid Residences (Located within one of the best Surfers Paradise hotels), Circle on Cavill, Moroccan Resort and Sun City Gold Coast.
Related Topics