Surfers Paradise apartments, perfect for a week on the Gold Coast!
Surfers Paradise apartments are the perfect way to enjoy a holiday on the Gold Coast
There's no way you can fully experience all that the Gold Coast has to offer over the course of a weekend. That's why, when speaking with guests who book our Surfers Paradise apartments, I always recommend that they stay at least 4 nights. Thankfully, it seems that I don't have to twist too many arms to get this message across. Looking at our latest statistics, guests book an average of 4.9 nights per stay, which in my opinion is ideal. By visiting the Gold Coast for 5-7 days, you can explore Surfers Paradise on foot and venture out to see the other amazing destinations that the Gold Coast has to offer.
There is no better accommodation option to help you enjoy you holiday than Surfers Paradise apartments. They not only offer you more affordable accommodation over longer stays, but with the flexibility of being able to book a 1, 2 or 3 bedroom apartment, they are absolutely ideal for a family. Continue reading on as out outline why you should book a Surfers Paradise apartment for your upcoming visit and of course, I'll throw in a couple of recommendations also.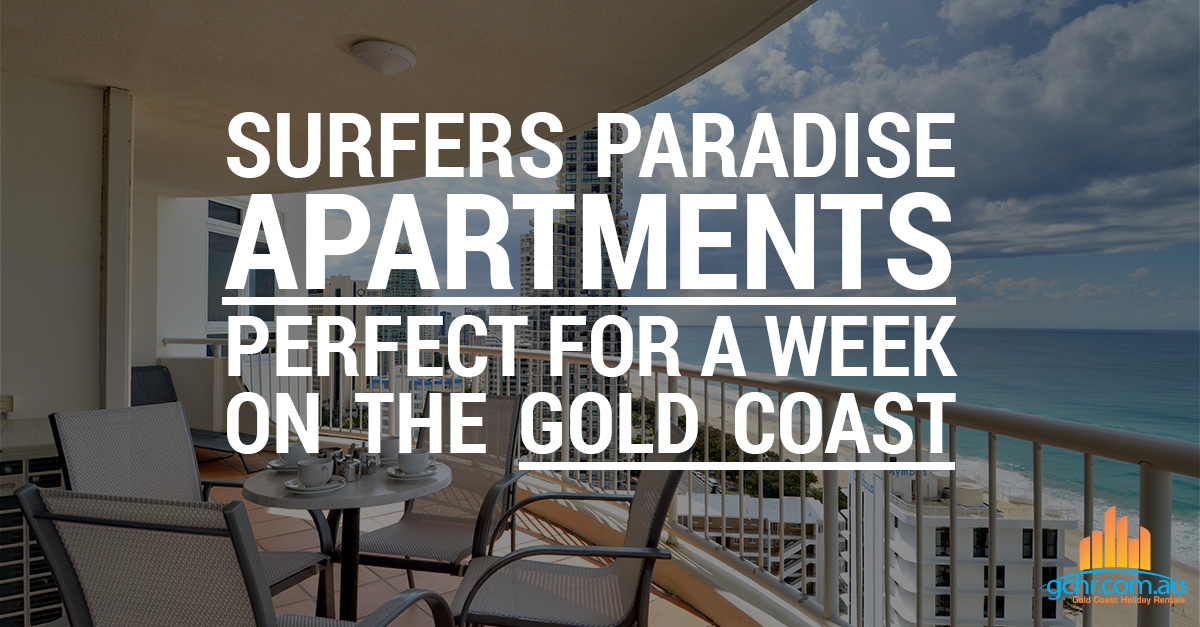 Why you should book Surfers Paradise apartments for your holiday
You should always look to choose Surfers Paradise apartments over hotels for your holidays. Serviced apartments offer a range of benefits over hotels and are usually much more affordable. While serviced apartments offer far more space than hotels, they also make your holiday much more authentic. While cost savings and lifestyle are some of the reasons you should choose apartments over hotels, many Surfer Paradise apartments offer better amenities than hotels, including gyms, spas, saunas, swimming pools, BBQ areas and much more. Once you stay in one of our apartments, you will never seek hotel accommodation in Surfer Paradise ever again!
Some great Surfers Paradise apartments you should choose to stay at
Gold Coast Holiday Rentals has over fifty, 2 and 3 bedroom Surfers Paradise apartments specifically built for family holidays. I should also mention that the average stays of our guests in 2 bedroom and 3 bedroom apartments have each increased over the last year. For 3 bedroom apartments, the average stay increased from 4.7 to 4.8 nights while for 2 bedroom apartments, the average stay increased from 4.9 to 5.0 nights. It just goes to show, families are looking to make the most out of their Gold Coast holiday, and we love it!
You can check our listings to see all the apartments we have on offer or you can also consider the following 3 apartments for your Gold Coast holiday: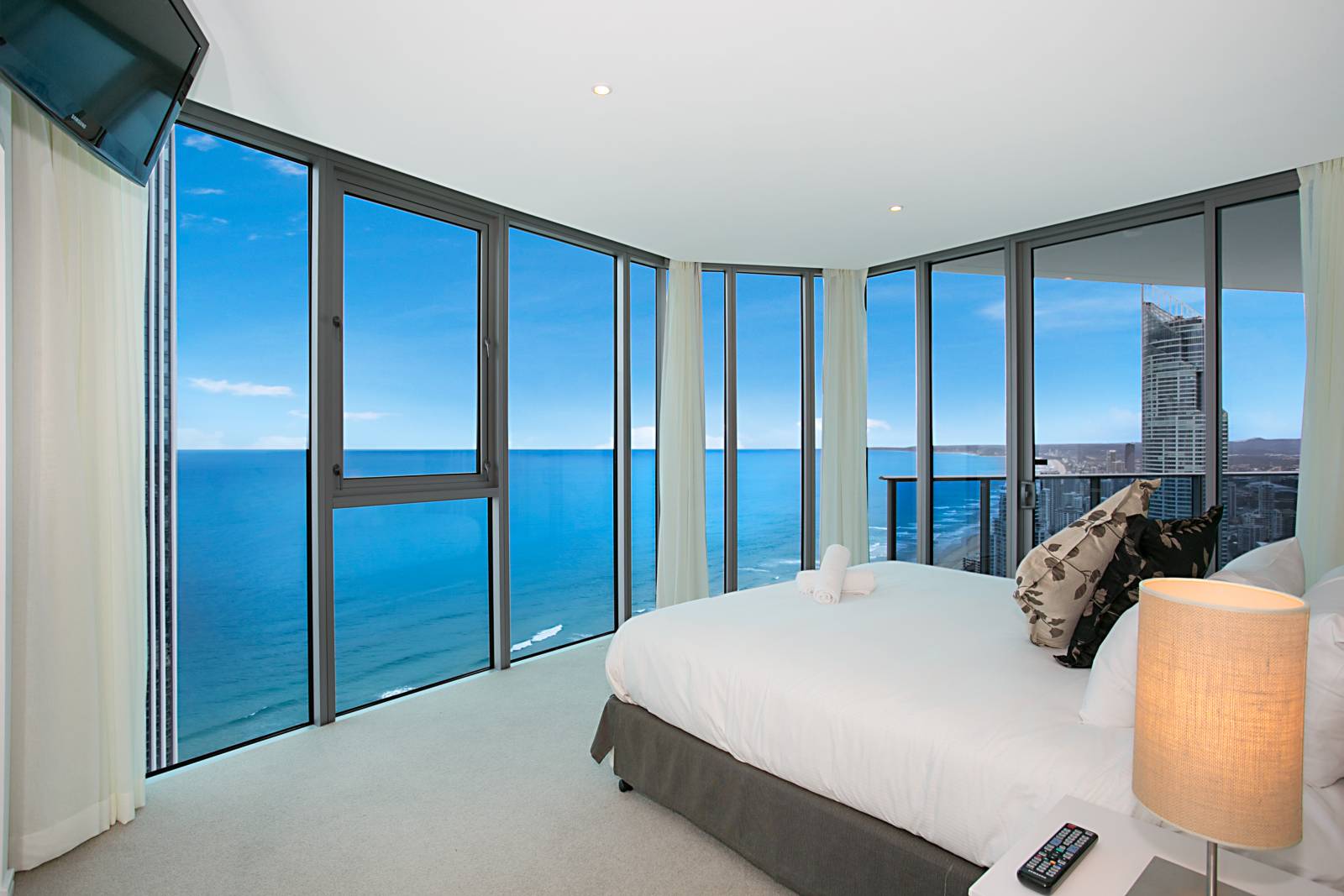 Orchid Residences, Apartment 25102: This 3 bedroom apartment at Orchid Residences is luxurious and fully furnished, complete with air conditioning, free Wi-Fi, premium Foxtel and separate bathrooms for each bedroom. The apartment features elegant interiors and boasts of a spacious dining and living area, with plentiful entertainment options. What's more is that the apartment includes a fully equipped gourmet kitchen, making it ideal for family holidays. Bookings for this apartment start at only $375 per night. View this apartment.
Also Read: Get more from your Gold Coast Holiday at Orchid Residences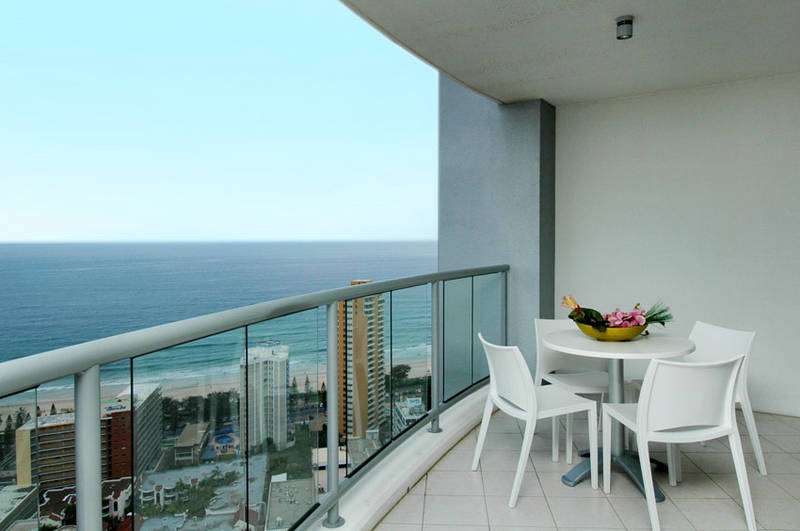 Chevron Renaissance, Apartment 1312: This 3 bedroom apartment in the Chevron Renaissance building presents incredible value for money. This self-contained apartment features full air conditioning, premium Foxtel and boasts of spacious bedrooms with attached toilets. The apartment also has large dining and living areas and has a number of entertainment systems as well. Available at only $135 per night, this apartment definitely offers the best value for money for families. View this apartment.
Also read: Why Chevron Renaissance should be at the top of your accommodation list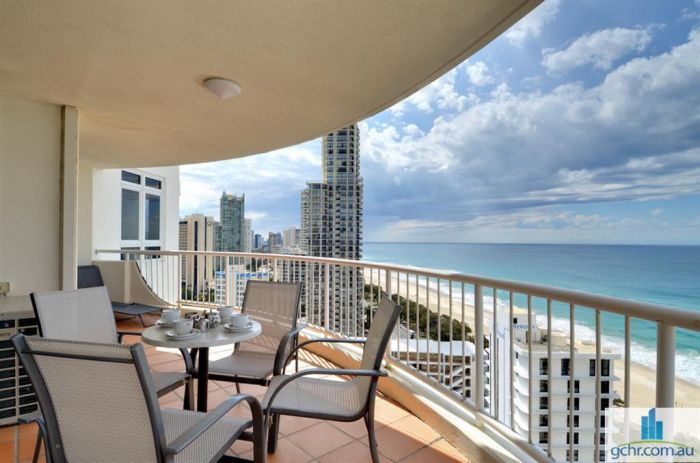 Moroccan Resort, Apartment 286: This 3 bedroom apartment at Moroccan Resort is ideal for family holidays. Available for only $225 per night, this apartment features full air conditioning and has entertainment systems in the living areas and master bedroom. A spacious dining area and a fully equipped gourmet kitchen are other highlights of this luxurious apartment. The apartment also includes laundry facilities and a balcony which presents grand views of the beach and the ocean. View this apartment.
Also read: Moroccan Resort Boasts 4 ½ Star Facilities
These are only three of the best Surfers Paradise apartments for family that we have on offer at Gold Coast Holiday Rentals. We have plenty of other options for you as well, so in case you are unable to find accommodation at these apartments, you can also make bookings at our other apartments.
Conclusion:
For your upcoming holiday with your family, you should definitely choose Surfers Paradise apartments. Apartments are affordable, offer far more space and amenities and also present a unique lifestyle, which you cannot expect to find at a hotel.
If you're ready to book a Surfers Paradise apartment for your upcoming holiday, give us a call or start your search via our website. We offer a range of quality serviced apartments in Surfers Paradise, which are specifically suited for family holidays.
Related Topics