Top 5 Activities for a Gold Coast Family Holiday
I have always believed that the best companions for any travel are your own family, and it looks like I am not the only one who shares the same sentiment. Based on National Visitor Survey prepared by Tourism Research Australia, family groups rank second in terms of travel party (visitors) at 1.061 million or an increase of 34% from 2013. Queensland has also experienced a boost of domestic family travel by 26%. The family group comes in second to adult couple, which rose by 27% in 2014.
In other words, Gold Coast family accommodation is very popular. However, before you book your Gold Coast family holiday; let's look at the top 5 activities undertaken by domestic visitors over the last year so you can get an idea of what you'll be doing on your upcoming holiday:
1. Eat out lots!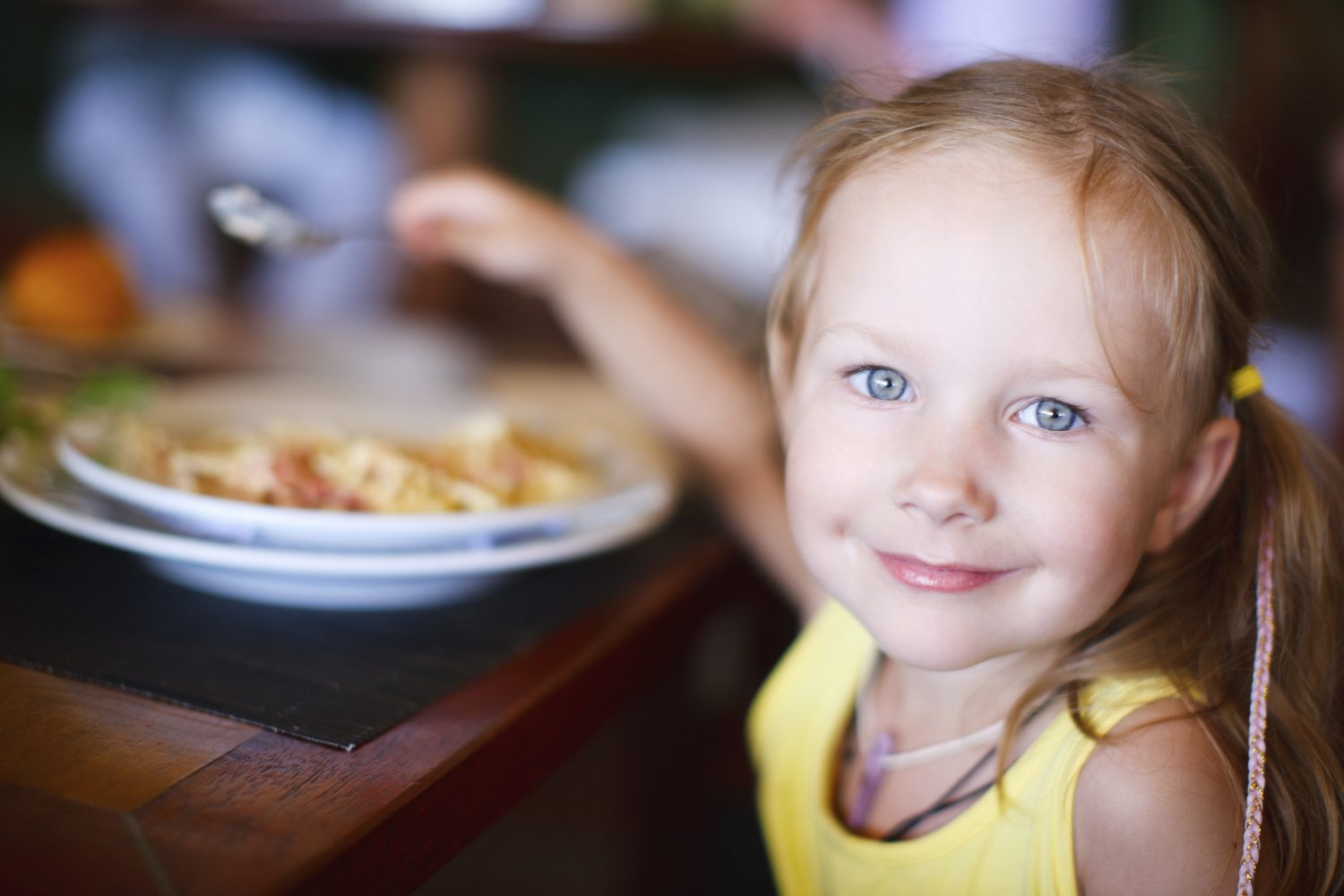 A large number of travellers, especially in Queensland, enjoy nothing more than wining and dining on their holiday. And I don't blame them… isn't that what a holiday is all about? The Gold Coast has become one of the culinary havens of Queensland – if not Australia – and not just for the cuisine, but for the amazing views and memorable experiences one can have whist dining at a local restaurant. The dining atmosphere on the Gold Coast is amazing: cocktails by the pool, seafood by the beach, dinner on a cruise, need I say more?
The leading restaurants have some of the most innovative chefs, and as competition gets tougher, these dining options are motivated to offer something new or interesting to customers and holiday travellers. I have no doubt that you'll be dining at more than a few of our local restaurants throughout your stay. Check out my Gold Coast dining guide.
2. Hit the beach.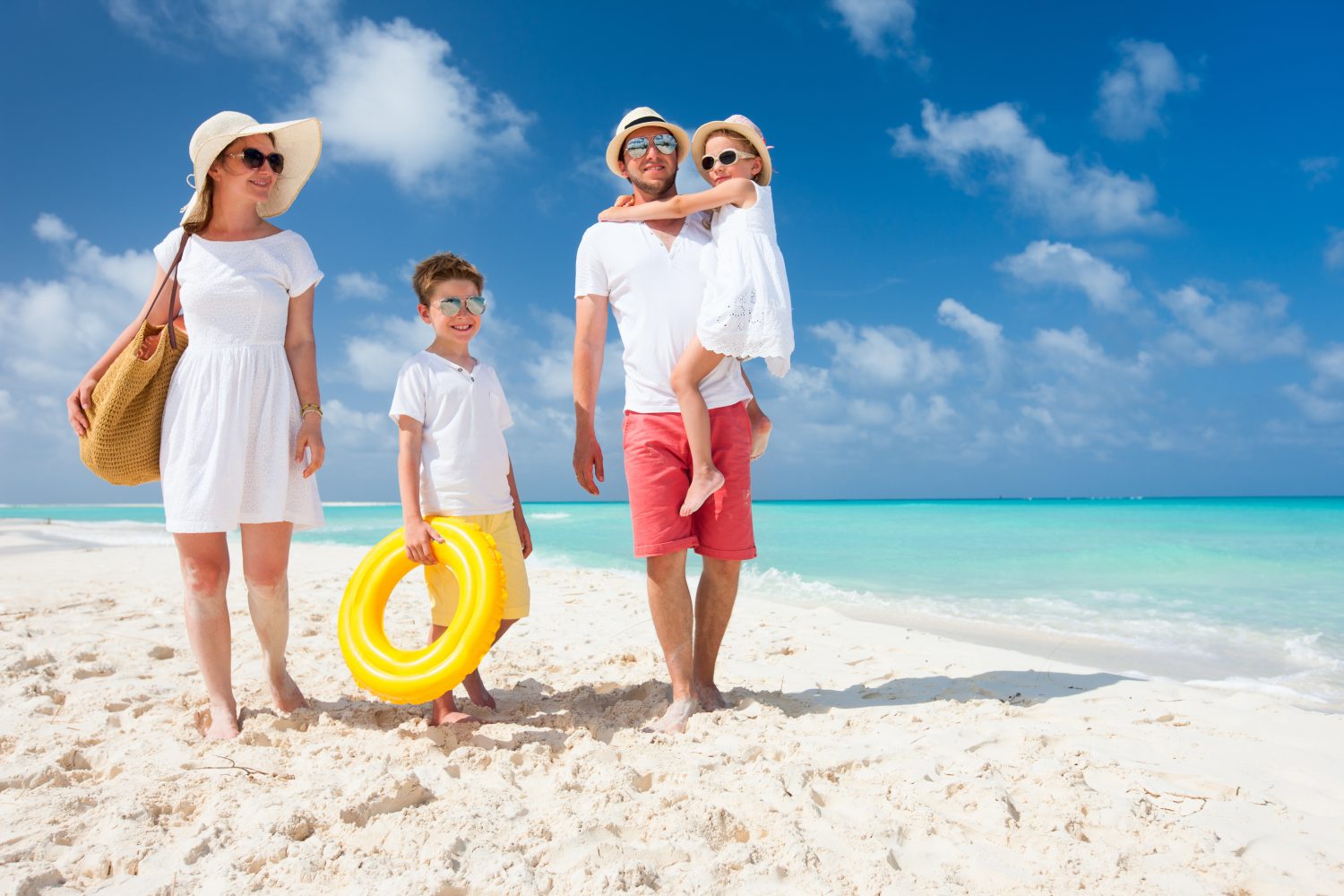 This is a given since the Gold Coast is primarily defined by the beach. Surfers Paradise beach is the highlight of the city, as well as other beaches that are close to it. Many of the activities also centre here from races to water sports events. If you're idea of a Gold Coast holiday is hitting the beaches, be sure to read my Gold Coast Beach Guide.
3. Shop till you drop.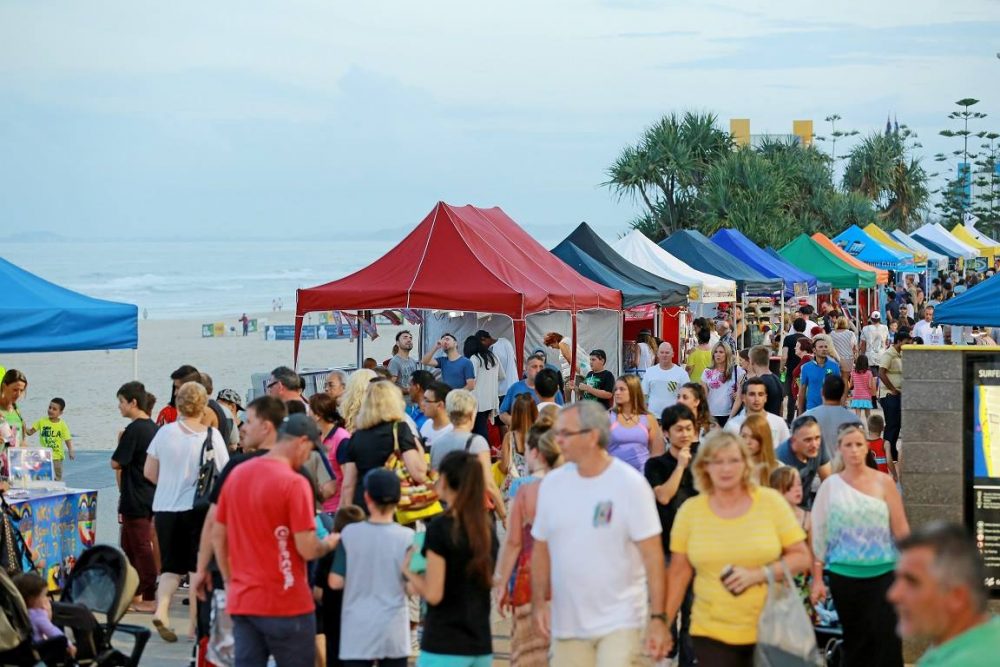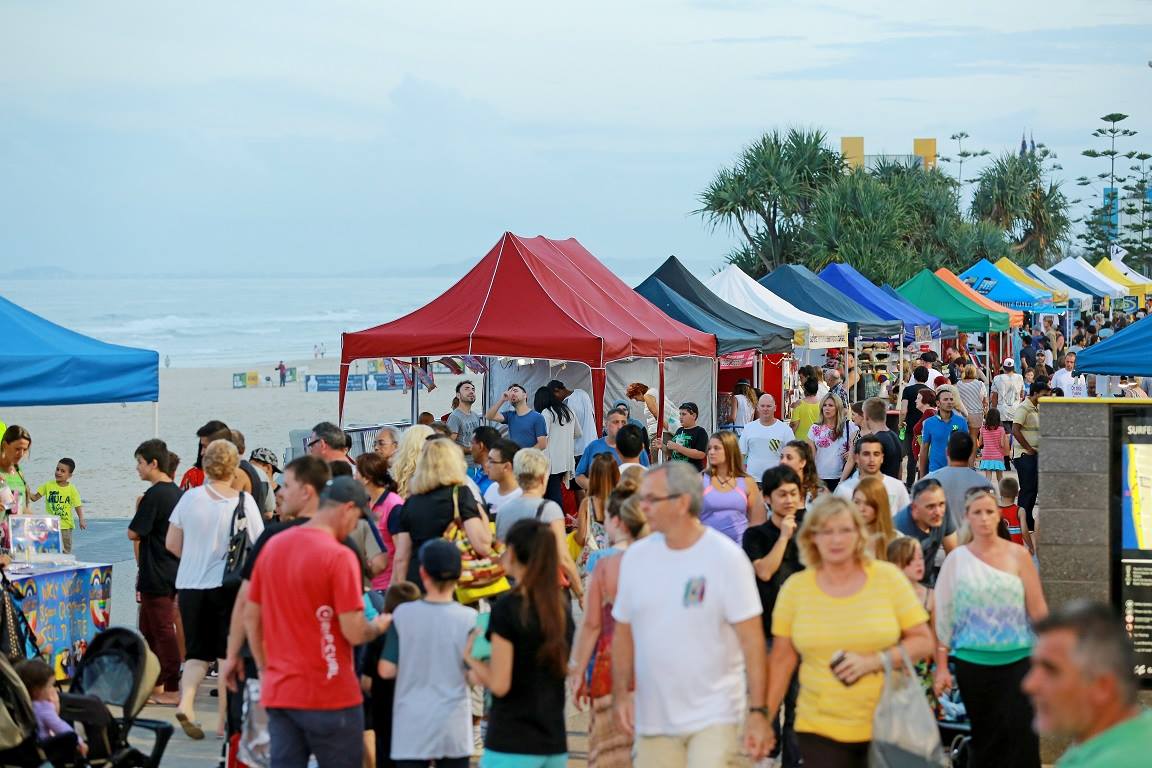 What would a holiday be without a little retail therapy! Gold Coast is home to the largest shopping centre in the Southern Hemisphere so not only are they huuuggeeeeee, they're also unique. You'll find Pacific Fair and Surfers Centro very close to the beach, and I mean they're only a few metres away. That makes visiting key places in Surfers Paradise & Broadbeach very convenient, especially if you're travelling with children in tow.
Beachside markets are also always a hit. A tradition in Surfers Paradise & Broadbeach, the markets are some of the most amazing places to interact with the locals, understand their culture, and buy souvenirs! If you're looking to shop till you drop, then check out my Gold Coast Shopping Guide
4. Visit friends and family.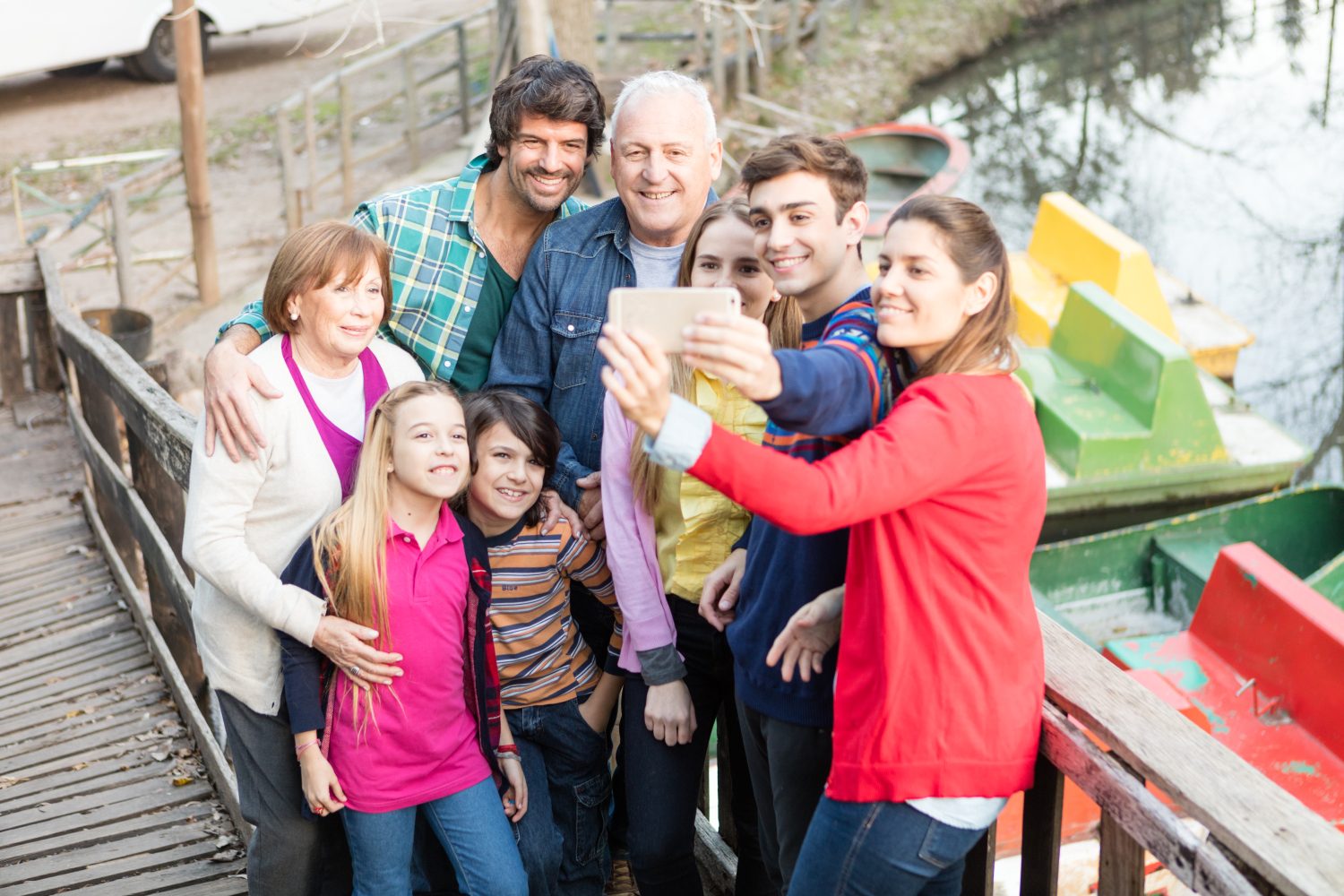 The number of visitors visiting family members and friends on the Gold Coast has slightly decreased this past year, but I can certainly think of worse places to go to see loved ones. You won't need an excuse to see your friends or family if they're on the Gold Coast – it's a win-win really!
5. Enjoy the local tours & attractions.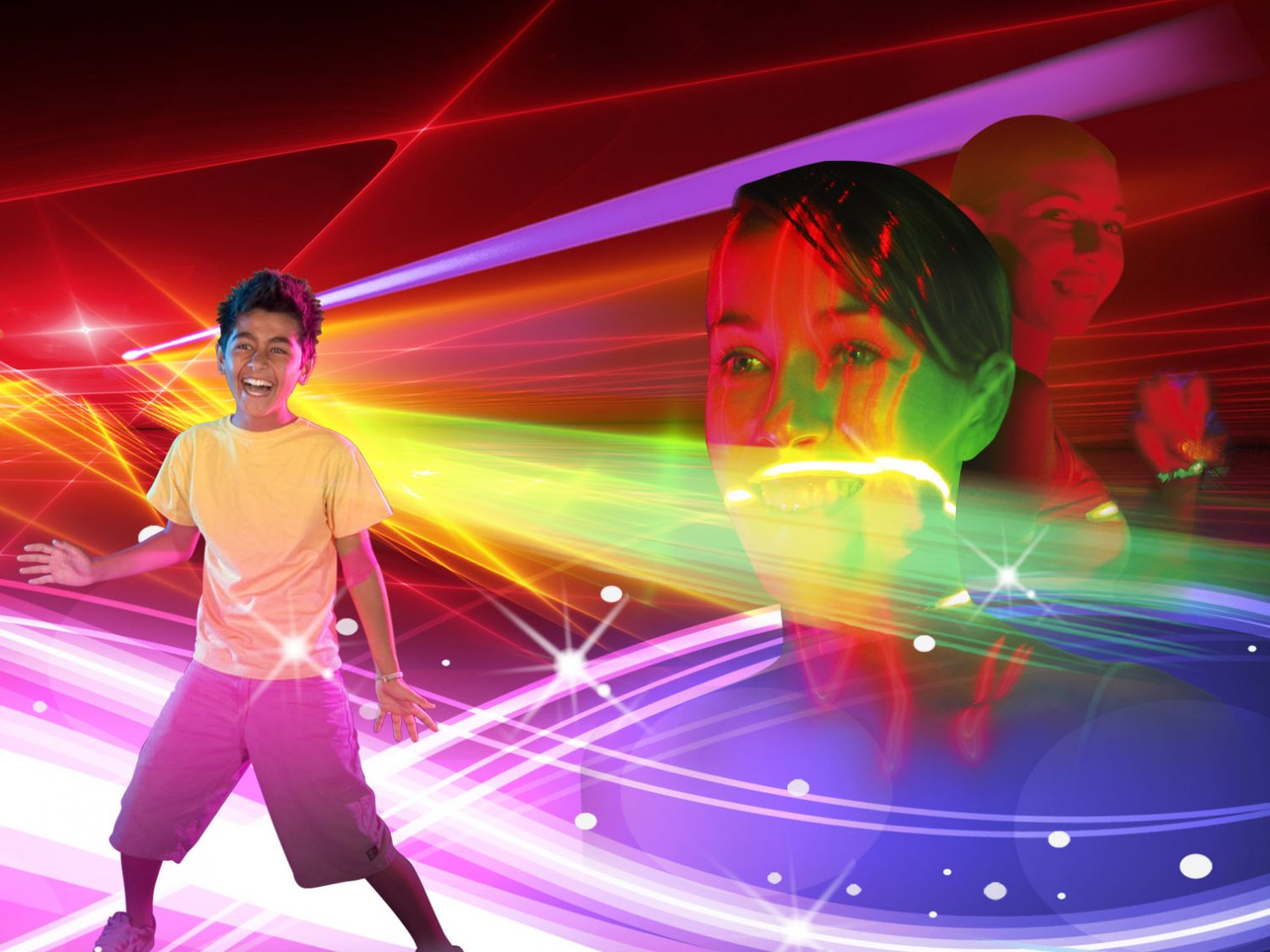 Yes, the report revealed a very interesting point: general sightseeing is only fifth among the general activities enjoyed by family groups. Aside from the beach, they visit attractions like Infinity, DreamWorld, MovieWorld and even Tamborine Mountain. Many accommodation choices in the area have a concierge desk that can help book or create tours. For more information, read about the best Gold Coast attractions & activities.
Conclusion
If you love the beach and the best dining experience with your family, there's no other place to be than Gold Coast. For Gold Coast family accommodation, enjoy the self-contained apartments on offer by HRSP.com.au. We look forward to your visit.
Related Topics
What to Expect from your Gold Coast Holiday